Vindman Accuses 'Pro-Putin' Marjorie Taylor Greene of Supporting War in Ukraine
Retired Army Lieutenant Colonel Alexander Vindman, who served as an expert on Ukraine during President Donald Trump's administration, accused Representative Marjorie Taylor Greene and others in the Republican Party of being "pro-Putin" and encouraging Russia to invade Ukraine.
Vindman, who was born in Ukraine, made the comments on Sunday after Greene attempted to blame the ongoing conflict on President Joe Biden.
"Tragically, people are dying because of Biden's poor decision making leading up to Putin declaring war on Ukraine," Greene tweeted on Sunday. "Biden's weakness and failure as a leader not only has put America last but is a danger to the entire world."
In response, Vindman instead accused the Georgia Republican of supporting President Vladimir Putin by "cheerleading him," and undermining U.S. efforts to stop the war.
"Nope. It's because you and your pro-Putin party encouraged Putin to invade, by cheerleading him," he said on Twitter. "Worse yet, you undermined [Biden's] efforts to signal punishing costs... you undermined U.S. efforts deter the war. You have blood in your hands. The American people will not forget."
Vindman's remarks were not the first time he accused members of the GOP of being pro-Russia. Ahead of Russia's invasion last month, Vindman warned that some Republicans were "fanning the flames" for Putin to attack Ukraine by suggesting that the U.S. is "weak, divided, and distracted."
Vindman and other foreign policy experts have said that such messaging within the GOP has put a strain on Biden's ability to signal a strong, united front against Russia's aggression.
On Monday, Greene responded to Vindman's comment on Twitter by calling him a "clown" and accusing him of being "clueless about Americans being fed up with sending our sons and daughters to die in foreign lands."
That message prompted several others on Twitter, including fellow Republican Representative Adam Kinzinger, to jump to Vindman's defense.
"MTG is intensely pro-Putin. This tweet even has twinges of Putinism in it. She blames Biden for not being tough, then in anger puts out a tweet that makes Putin smile. (Never say what you'll never do). MTG enabled Vladimir. MTG would never fight for anything that's not self," Kinzinger wrote on Monday.
Last week, Greene received backlash for speaking at a far-right political rally where attendees cheered for Putin and offered praise for Russia. That rally was organized by Nick Fuentes, whom the Anti-Defamation League (ADL) has labeled a white supremacist.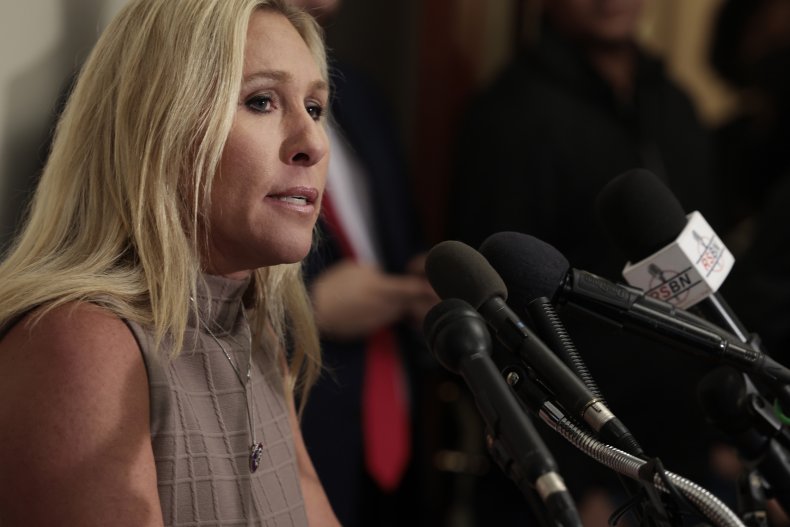 Russia and Ukraine have been at war since Putin first moved to invade Ukraine on February 24. An adviser to Ukrainian President Volodymyr Zelensky said Monday that at least 202 schools, 34 hospitals and over 1,500 residential buildings have been destroyed by Russian forces. Meanwhile, hundreds of Ukrainians have so far been killed and more than 1.5 million people have been forced to flee the country amid ongoing violence.
Biden has strongly condemned the ongoing conflict and initiated severe economic sanctions against Moscow but has repeatedly denied the prospect of sending U.S. troops to the region.