Vindman Accuses Trump Allies of 'Encouraging Putin to Attack Ukraine'
Retired Army Lieutenant Colonel Alexander Vindman on Sunday accused allies of former President Donald Trump of "fanning flames" and encouraging Russia to invade Ukraine amid escalating tensions in the region.
"These people and a great deal of the GOP leadership will have blood on their hands. They're fanning flames, encouraging Putin to attack Ukraine," Vindman tweeted. "Putin and his regime perceive opportunities because such fools suggest the U.S. is weak, divided, and distracted."
Along with his statement, he shared a video of Republican Rep. Marjorie Taylor Greene falsely claiming that Hillary Clinton received the majority of her financial donations from Ukraine during her presidential run in 2016.
The Georgia Republican made the remarks during a rally in Texas on Friday, in which she complained about ongoing U.S. involvement as fears of a burgeoning war between Russian and Ukraine continue to grow.
"They'd rather talk about Russia, Russia, Russia and Ukraine, and talk about possible war, then talk about the real truth that Ukraine—don't forget this—was the number one donor to Hillary Clinton when she was running for president," Greene stated.
Vindman's suggestion that the GOP is creating a divisive climate around the Russia-Ukraine conflict comes as several other Republicans recently complained that President Joe Biden has either been too "weak" with Russia or too focused on the issue. Analysts have noted that such mixed messaging within the GOP has put a strain on Biden's attempt to signal a united front against Russia's aggression.
Republican Senate candidate JD Vance, a Trump supporter running for office in Ohio, said Friday that he doesn't "really care what happens to Ukraine one way or another" and that he is "sick" of Biden's involvement.
Elsewhere, conservative leaders such as Fox News host Tucker Carlson and political commentator Candace Owens have accused Biden of needlessly stoking tensions in the region, and even suggested that the U.S. should side with Putin.
Last month, Democratic Representative Tom Malinowski said that his office was inundated with calls from Carlson viewers who told him the U.S. should be supporting Russia's "reasonable" positions. Meanwhile, Owens suggested this week that U.S'. biggest foreign policy issue is anti COVID-19 mandate protests taking place in Canada, rather than concerns that Russia's invasion of Ukraine could be imminent.
"STOP talking about Russia. Send American troops to Canada to deal with the tyrannical reign of Justin Trudeau Castro," Owens tweeted Friday.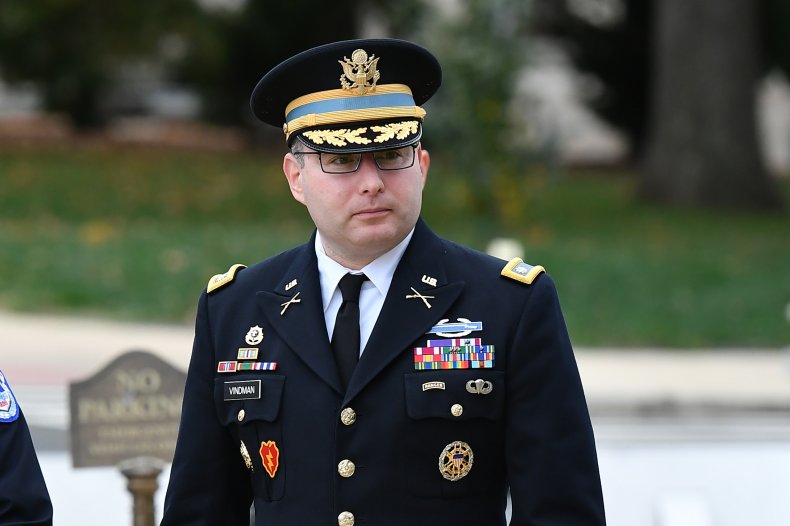 Vindman's statement on GOP messaging also came after Biden said Friday he's "convinced" Putin has made the decision to spark a war in the region, and that Russian troops may invade the country in the coming days. In the past several weeks, Putin has amassed as many as 190,000 troops along the Ukraine border.
The U.S. has attempted several diplomatic negotiations with Putin in order to avoid a worsening conflict, but such talks have not appeared to ease tensions. Biden and Vice President Kamala Harris have warned there will be severe economic consequences against Moscow in the event of an attack.
"We will impose far-reaching financial sanctions and export controls. We will target Russia's financial institutions and key industries. And we will target those who are complicit and those who aid and abet this unprovoked invasion," Harris said on Saturday.
"Make no mistake; the imposition of these sweeping and coordinated measures will inflict great damage on those who must be held accountable," she added.
Vindman previously served under Trump's administration and offered key testimony regarding the former president's involvement with Ukraine during House impeachment proceedings in 2019. Earlier this month, Vindman filed a lawsuit against Donald Trump Jr., Trump advisor Rudy Giuliani and other former White House officials, accusing them of "unlawful intimidation and retaliation" after he gave his testimony.