Rep. Malinowski Says Tucker Carlson Fans Are Telling Him U.S. Should Support Russia
New Jersey Democratic Representative Tom Malinowski said Monday that fans of Fox News host Tucker Carlson have been calling his office to tell him the U.S. should be "siding with Russia" amid escalating tensions between Russia and Ukraine.
"My office is now getting calls from folks who say they watch Tucker Carlson and are upset that we're not siding with Russia in its threats to invade Ukraine, and who want me to support Russia's 'reasonable' positions," said Malinowski, who is also a member of the House Foreign Affairs and Homeland Security committees tweeted.
Malinowski's statement comes as fears of a possible Russian invasion into Ukraine have risen in recent weeks, with Russia sending at least 127,000 troops to the country's border. Earlier this week, the White House said that Russia would be met with a "swift, severe, and united response from the United States and our Allies," if the country does seek to invade.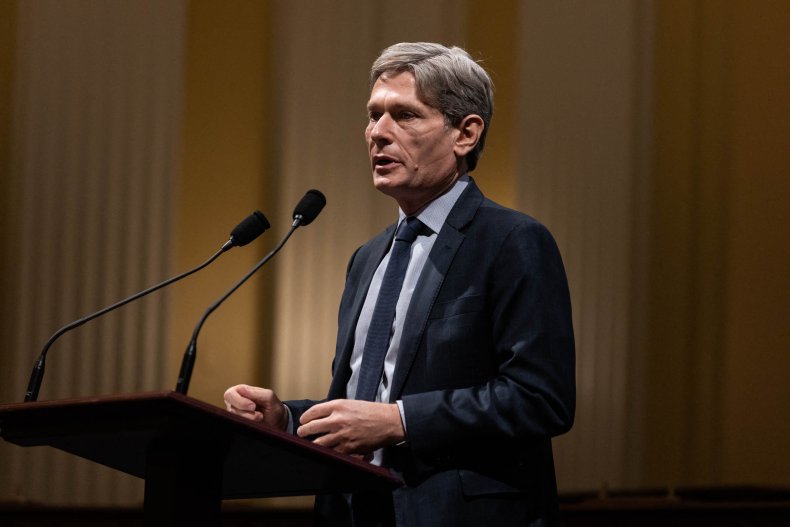 The Pentagon announced Monday that 8,500 U.S. troops are being placed on alert for possible deployment to the area if the situation worsens. The U.S. State Department also recommended that all U.S. citizens in Ukraine evacuate from the country immediately.
"The United States is taking steps to 'heighten the readiness' of its forces at home and abroad so they are prepared to respond to a range of contingencies," Pentagon Press Secretary John Kirby announced, while adding that the U.S. would also be in a position to deploy "additional brigade combat teams."
By contrast, Carlson recently argued that the U.S. should avoid stoking tensions with Russia, stating that it could lead to a serious and lengthy war. In an op-ed published by the news outlet on Saturday, Carlson accused "neocons in Washington" of "recklessly stoking conflict" in the Eastern European region for years.
"We're really going to fight a war over some corrupt Eastern European country that is strategically irrelevant to us? With everything else that's going on right now in our own country?" Carlson wrote.
"This country is now closer to a legitimate war than we have been in decades. And to be clear, we're talking about an actual war here. Not a protracted series of airstrikes against some impoverished dirt patch they're telling you is an existential threat to the nation," he added.
A number of Republican lawmakers, including Representatives Paul Gosar, Thomas Massie, and Anthony Sabatini have similarly sided with Carlson and urged the Biden administration not to invoke a war with Russia.
Newsweek reached out to Malinowski's office for comment.