As tensions between Russia and Ukraine are expected to hit a boiling point in the next few days, White House officials have had plenty to say regarding the conflict and what they plan to do if things go south.
On Wednesday evening, President Joe Biden dedicated part of his lengthy one-year address to the conflict between the two nations, which has been triggered by Ukraine's commitment to joining NATO. During the address, Biden said that Russia should be held accountable for its potential decision to invade the country.
"Russia will be held accountable if it invades, and it depends on what it does," he said, continuing with, "it's one thing if it's a minor incursion, and then we end up having a fight about what to do and not do, etcetera. But if they actually do what they're capable of doing with the force amassed on the border, it is going to be a disaster for Russia if they further invade Ukraine."
It was not long before those involved in the Biden administration began clarifying his comments. White House National Security Council spokeswoman Emily Horne responded to a tweet from CNN reporter Jim Sciutto as the conference continued.
"He was referring to the difference between military and non-military/para-military/cyber action by the Russians," she wrote. "Such actions would be met by a reciprocal response, in coordination with Allies and partners."
Shortly after the address ended, White House Press Secretary Jen Psaki also released a statement shedding new light on Biden's comments, which some had interpreted as potentially downplaying the potential impact on a Russian invasion.
"President Biden has been clear with the Russian President: If any Russian military forces move across the Ukrainian border, that's a renewed invasion, and it will be met with a swift, severe, and united response from the United States and our Allies," she wrote in the Wednesday press release. "President Biden also knows from long experience that the Russians have an extensive playbook of aggression short of military action, including cyberattacks and paramilitary tactics. And he affirmed today that those acts of Russian aggression will be met with a decisive, reciprocal, and united response."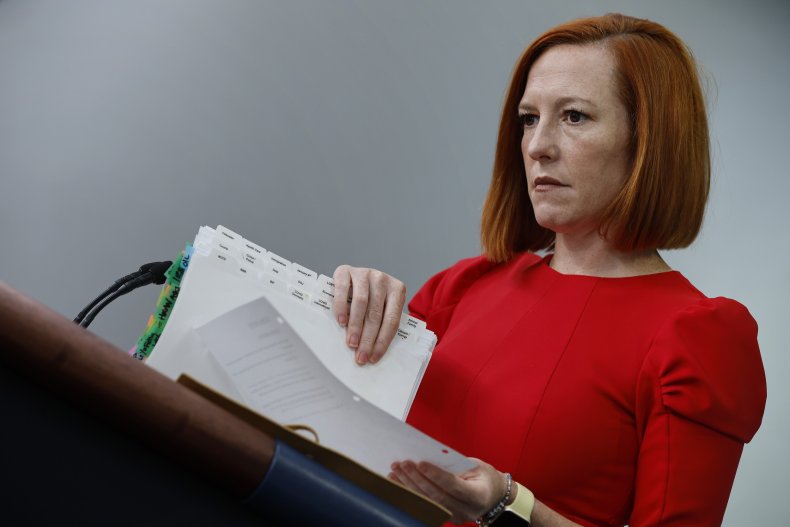 The morning after the address, the administration continued to discuss what Biden meant by his words. In an interview on Fox News, Psaki addressed the comments again and gave further clarification into the matter.
"There's a range of tactics that Russians use, whether it's the little green men as they're called or it's cyberattacks, and we will be prepared to respond to that as well," she told America's Newsroom anchors Bill Hemmer and Dana Perino. "We're prepared for a range of tactics they may use but if they move their military into Ukraine, we will be responding."
Vice President Kamala Harris also took time to address the comments on The Today Show, as well. In an interview with Savannah Guthrie, Harris said that "aggressive action" is the only thing that could potentially prevent a Russian invasion into Ukraine.
"We are clear and have been clear for quite some time, that our first approach and priority and preference is that these issues could be resolved diplomatically," she said. "We have also been clear and continue to be clear, that if Russia takes aggressive action, it will be with severe cost."
Later on Thursday, Psaki addressed the comments for the third time during the White House's daily press briefing.
"I can assure you that our allies and partners know exactly what the president's position is," she told reporters. "They knew what it was yesterday. They knew during the press conference. They knew after the press conference because we have been engaged closely [with them.]"
Biden himself also took time to clarify his stance on the U.S. response to a potential invasion. In a meeting with the Infrastructure Implementation Task Force, the president wasted little time addressing his statement.
"I've been absolutely clear with President Putin. He has no misunderstanding. If any assembled Russian units move across the Ukrainian border, that is an invasion," he explained. "It would be met with severe and coordinated economic response that I've discussed in detail with our allies, as well as laid out very clearly for President Putin."
Still, Biden expressed confidence that any potential interference from the United States on behalf of Ukraine would be major.
"But there is no doubt," he continued, "let there be no doubt at all that if Putin makes this choice, Russia will pay a heavy price."
During an appearance Thursday evening on NBC Nightly News With Lester Holt, Biden's chief of staff, Ron Klain, downplayed the president's gaffe.
"Well I think the president was quite clear and reiterated his point of view this morning, very clearly," Klain told Holt. "President Putin should have no doubt: Any move by the Russian assembled military across the border of Ukraine is an invasion, it will be met with a very severe economic response from the United States and our allies."
"There is no ambiguity about that, the president has told that to President Putin directly, he reiterated it this morning. If President Putin makes this move it will be a horrible mistake," Klain continued.
When asked if he believed that President Biden had been "inarticulate" with his prior comments, Klain pushed back on that assertion.
"[Biden] has made his views very clear to President Putin, he has made his views clear to the allies...the president of Russia is on notice."
Klain continued by stating that, if Russia was to move troops across the border into Ukraine, the U.S. would have the support of NATO allies in implementing economic sanctions.
Update (01/20/2022, 6:50 p.m. ET): This story has been updated with comments from White House chief of staff Ron Klain.