Vindman Approved for Promotion but Retired Before Possible Partisan Battle With Trump
Army Lieutenant Colonel Alexander Vindman's submission for retirement came shortly after his application to be promoted was approved by the Pentagon and right before it was set to reach the White House in a move that may have averted a looming partisan battle that could have held up the promotions of more than 1,000 U.S. service members if the promotion had been denied.
Vindman, who served as a key witness in impeachment proceedings against President Donald Trump and was up for promotion to the rank of colonel, announced he was leaving the Army through a message shared Wednesday by his lawyer, David Pressman.
The statement, which was sent to Newsweek, accused the Trump administration of waging "a campaign of bullying, intimidation, and retaliation" that "attempted to force LTC Vindman to choose: Between adhering to the law or pleasing a President. Between honoring his oath or protecting his career. Between protecting his promotion or the promotion of his fellow soldiers."
"These are choices that no one in the United States should confront, especially one who has dedicated his life to serving it," it added, arguing that Vindman was "bullied by the President and his proxies" over his subpoenaed appearance at Trump's impeachment trial in November.
The White House had reportedly ordered an inquiry into Vindman's behavior after his testimony that supported allegations that Trump knowingly pushed Ukrainian President Volodymyr Zelensky to investigate Democratic presidential candidate Joe Biden during a July 2019 phone call. A Pentagon spokesperson confirmed to Newsweek that Defense Secretary Mark Esper ultimately approved Vindman's selection for promotion Monday.
But Vindman's promotion would next have to be approved by Trump, a vocal critic of the 21-year veteran-to-be. Had Vindman's application been passed over, Senator Tammy Duckworth said last week she would block the promotions of 1,123 senior members of the armed forces.
"Our military is supposed to be the ultimate meritocracy. It is simply unprecedented and wrong for any Commander in Chief to meddle in routine military matters at all, whether or not he has a personal vendetta against a Soldier who did his patriotic duty and told the truth—a Soldier who has been recommended for promotion by his superiors because of his performance," she said in a statement at the time.
In a statement released Wednesday, Duckworth said that "Lt. Col. Vindman's decision to retire puts the spotlight on Secretary of Defense Mark Esper's failure to protect a decorated combat Veteran against a vindictive Commander in Chief." The statement said she had yet to receive confirmation that Esper approved Vindman's promotion and sent it to the White House.
She would keep her "partial hold in place until the Secretary of Defense provides a transparent accounting of this disgraceful situation."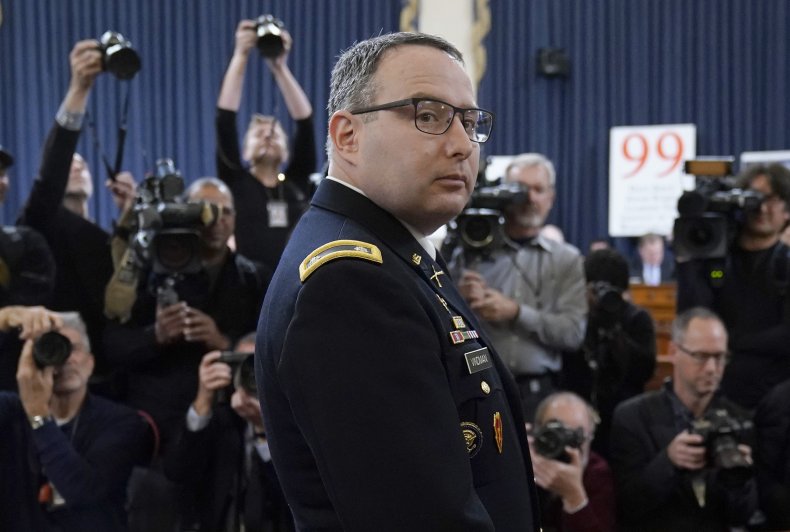 The Trump administration has previously taken action against Vindman, whose retirement still needs to be accepted by the Army in a process that retired Army officer and veterans advocate Fred Wellman told Newsweek "can take some time and the actual retirement date could be anywhere from a month from now to several months away if he has accumulated leave to use before his final separation."
Vindman was fired in February from his position as the White House's top Ukraine expert in February and his twin brother—also an Army lieutenant colonel—let go around the same time as a lawyer for the National Security Council. Pressman's statement Wednesday said Vindman's future in the military "will forever be limited" due to the administration's actions.
"In the process of doing his duty, Vindman's career became a pawn in the heavy partisanship initiated by the Trump administration's reprisals for doing his duty," one senior military intelligence officer told Newsweek. "His career became a pawn in a partisan political game, ultimately destroying his career and reputation."
His story follows a history of officials being fired or forced to resign after speaking out of alleged abuses under the Trump administration.
From Acting Attorney General Sally Yates' firing less than two weeks into the Trump administration in 2017 over her refusal to enforce a travel ban on seven Muslim-majority countries to the more recent removal of Navy Captain Brett Crozier from his post as captain USS Theodore Roosevelt after an urgent plea for assistance in curbing the spread of the novel coronavirus aboard the aircraft carrier leaked to media in May, about two dozen cases exist of apparent reprisal against those challenging the administration, according to a list compiled in April by the National Security Action advocacy group.
"The document we sent out earlier this year, sadly, continues to be relevant," National Security Action policy and communications director Ned Price told Newsweek. "Speaking truth to power has always been a bedrock principle among American public servants. During this administration, however, it's proven to be an occupational hazard."
"Lt. Col. Vindman's resignation makes him just the latest public servant forced to cease serving his country for no other reason than he fulfilled his legal obligation and his responsibility to the American people," Price, a former CIA officer, added. "He put the country's national interest ahead of the President's political interest. We are better off for it, but Trump was sure to exact a steep price."
In other instances, Trump's intervention was favorable, such as his controversial pardoning in December of Navy Special Operations Chief Edward Gallagher who received a court-martial conviction from the multiple charges that could have amounted to war crimes during his time in Iraq.
"From Chief Gallagher to Captain Crozier, the Trump administration has a history of publicly involving itself in the careers of individual service members for political reasons," the senior intelligence officer told Newsweek.
Mark Zaid is a national security lawyer who represented one of the whistleblowers whose complaint last August sparked the impeachment inquiry at which Vindman testified. Trump criticized and actively sought to expose the anonymous individual, who he suggested could be guilty of treason in remarks that Zaid told Newsweek represented behavior opposite of how an administration should approach such a situation.
"Protecting whistleblowers should never be a partisan exercise. Those who come forward lawfully should be rewarded, not retaliated against," Zaid said.
"Shamefully, this Administration has set back significant strides that had been achieved for Intelligence Community whistleblowers in the last few years," he added. "It will be up to future Administrations to repair the damage, particularly with respect to perception, President Trump has caused."
He said that while it was within the president's authority to become involved, "it is completely atypical and professionally imprudent for a president to intervene in these military cases at the time he did."