Russia Disputes Zelensky, Claims Vinnytsia Strike Was Military Target
Russian officials disputed Ukrainian President Volodymyr Zelensky's statements about this week's devastating attack on Vinnytsia, which killed at least 23 people and wounded more than 100 others, justifying the strike by pointing to military targets in the city.
On Friday, the Ministry of Defense of the Russian Federation was quoted by Russian state media RIA Novosti as saying that Russia ordered the strike because intelligence revealed that the Ukrainian Air Force command was meeting with representatives of foreign arms suppliers at a house in Vinnytsia.
The ministry claims that "at the meeting, they discussed the transfer to the Ukrainian military of the next batch of aircraft, weapons of destruction and the organization of the repair of the Ukrainian aviation fleet," according to an English translation.
"As a result of the strike, the meeting participants were destroyed," it said.
Zelensky has condemned the attack on Vinnytsia, calling it an act of terrorism and stating that there were no military forces on the ground at the time of the strike.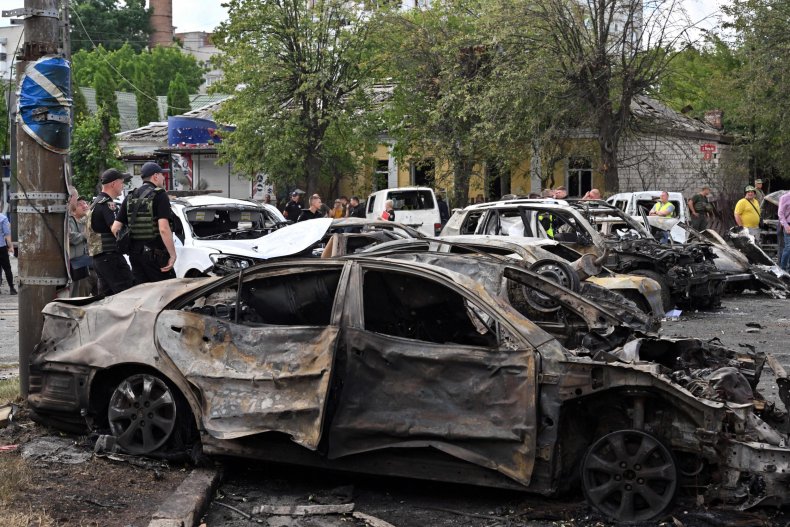 On Thursday, Russian cruise missiles struck the city in an attack far from the front lines of the war in Ukraine. Among the dead were three children under the age of 10.
Of the 66 people hospitalized, five remain in critical condition and another 34 sustained severe injuries, according to Ukraine's State Emergency Service.
Sharing a video of the aftermath of the strike, Zelensky wrote on social media, "Every day, Russia kills civilians, kills Ukrainian children, carries out missile attacks on the civilian facilities where there is no military target. What is this, if not an open act of terrorism?"
But Russian officials countered Zelensky's claims that there was "nothing military" in the city southwest of Kyiv, saying, "Yesterday, high-precision Kalibr missiles hit the garrison house of officers in Vinnytsia at that moment a meeting of the Ukrainian Air Force command with representatives of foreign arms suppliers was taking place there."
"Russia only strikes at military targets in Ukraine. The strike on Vinnytsia targeted an officers' residence, where preparations by Ukrainian armed forces were underway," Evgeny Varganov, a member of Russia's permanent U.N. mission, said on Thursday.
Serhiy Borzov, the governor of the Vinnytsia region, has criticized Russia for allegedly targeting civilians, telling the Associated Press that Russia "knew where they were hitting" with such high-precision missiles. Ukrainian Interior Minister Denys Monastyrsky called the attack a "war crime."
Vinnytsia is one of Ukraine's largest cities and has been the home to thousands of Ukrainians who fled from eastern Ukraine, where most of the fighting has taken place, since the invasion began on February 24.