Violence Erupts Following 2 Protests in Portland, Sparking Arrests, National Guard Activation
At least 10 people were arrested in downtown Portland Wednesday evening as protesters in the area grew violent and prompted local authorities to declare a riot.
The Multnomah County Sheriff's Office (MCSO) said two large protest groups gathered in the downtown area Wednesday evening but only one was believed to be connected to criminal activity reported in the city.
Defend Democracy Coalition, which organized one of the protests, told Newsweek the coalition was unaware of any arrests made in connection with its event.
"Although we were downtown, our event was not declared a riot nor were there any acts of violence by participants of our event," the coalition told Newsweek.
Shortly before 7 p.m. local time, the MCSO announced that Oregon Governor Kate Brown activated the Oregon National Guard to help local law enforcement respond to protest-related violence.
"We don't take this decision lightly," MCSO officials said of the National Guard activation in a Twitter thread. "Our goal is to keep our community safe. We encourage demonstrators to gather peacefully."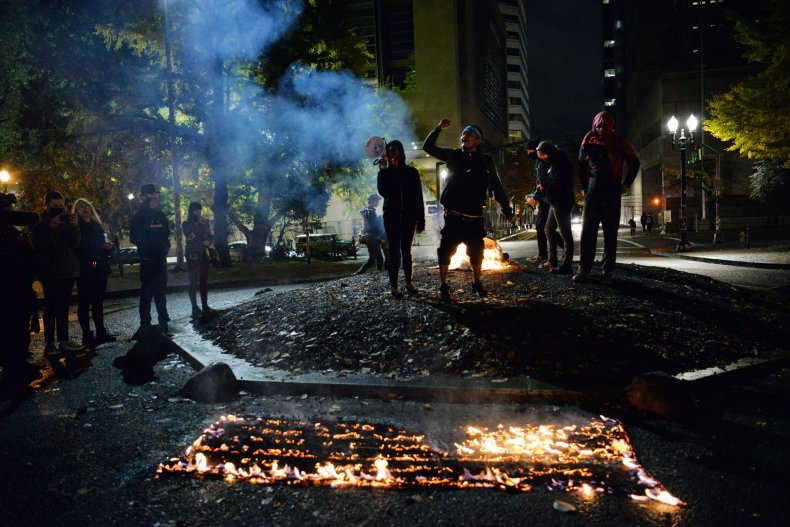 In a series of short videos that a KOIN-TV reporter shared on Twitter, some downtown businesses were seen with their windows smashed. The MCSO said authorities also seized items including fireworks, spray paint and hammers from protesters once violence erupted, and at least one Molotov cocktail was thrown at officers by 8 p.m. local time, as were glass bottles.
The MCSO later announced that the man who allegedly threw the Molotov cocktail was found to be wearing a tactical vest and had a rifle "with a full ammunition magazine attached." Authorities also found "multiple additional magazines, an improvised explosive device, a knife and spray paint cans" in the man's possession, according to the MCSO.
One protest group featuring an estimated 350 participants gathered at North Park Blocks, a park in Portland, before marching through the city, authorities said. The MCSO later identified that protest group on Twitter as the one believed to be connected to the bulk of the violence.
Another group estimated to have about 250 participants also began marching through the downtown area after gathering at Revolution Hall, authorities said. "Unified Command would like to thank these demonstrators for their [sic] efforts in managing their event safely," the MCSO said.
Defend Democracy Coalition, a group consisting of more than 50 organizations in the Pacific Northwest region, promoted its Wednesday event on its social media pages, encouraging attendees to start by gathering at Revolution Hall at 3 p.m. local time before beginning to march. In recognition of the ongoing coronavirus pandemic, Defend Democracy Coalition encouraged protesters to wear masks and practice social distancing.
"We probably won't know the next President tonight. That's okay," the coalition tweeted on Tuesday evening. "We did our jobs and voted in record numbers. We must demand that we count every vote, deliver our democracy, and swear in a government of, by, and for the people."
Videos from the protests shared by KOIN-TV earlier in the evening showed speakers addressing crowds while standing in front of a large sign that read, "Count every vote." Some protesters were also seen marching through the city streets with similar signs, video from the station's reporters showed.
In a video update posted on MCSO's Twitter page, Sgt. Kevin Allen said all of the individuals arrested thus far had been transported in marked police vehicles. Protesters and other individuals in the downtown area were encouraged to follow authorities' instructions and leave peacefully, he said.
The MCSO said that it supported protesters' rights to demonstrate, "but not to engage in criminal activity."
"If you engage in criminal activity you will be subject to citation or arrest," the MCSO said. "You also will be subject to use of force to include crowd control munitions or tear gas."
Portland has been a protest hotbed since George Floyd, a 46-year-old Black man, died while in police custody in Minneapolis, Minnesota, on May 25. As the outcome of the presidential election remained unknown Wednesday evening, protests began breaking out across the country as citizens encouraged election officials to make sure every in-person and mail-in ballot was counted.
Though the Associated Press quickly declared that Oregon's seven electoral votes would go to Democratic presidential nominee Joe Biden, neither he nor President Donald Trump had the 270 electoral votes required to win the presidency by midnight Eastern Time on Thursday. With the outcome of the race uncertain and legal challenges targeting ballot-counting efforts launched by Trump's campaign, protest groups like the Defend Democracy Coalition demonstrated to encourage election officials to "count every vote" while supporters of the president's re-election bid called upon officials to stop counting mail-in ballots received after Election Day.