Viral Video Captures Alleged Altercation at Dunkin': 'We Would Never at Starbucks'
An alleged verbal dispute between a Dunkin' employee and a DoorDash driver was recorded and subsequently posted to TikTok, where it racked up more than 760,000 views.
Ricardo Baaklini posted the video to his TikTok account, @ricardobaaklini. A voiceover urged viewers to tag Dunkin' in the comments section.
The video, which only showed the TikToker's face, opens with Baaklini asking for the employee's name after she told him that if he wanted to order, he needed to do so through the intercom.
"Am I supposed to be afraid of you?" the employee asked the TikToker. "What's my name? Go f**k yourself."
She said she told a co-worker that a "stupid idiot" went to the window and did not want to order and wanted to be "lazy."
"So I said, 'Take a lap, order at the intercom,'" she claimed.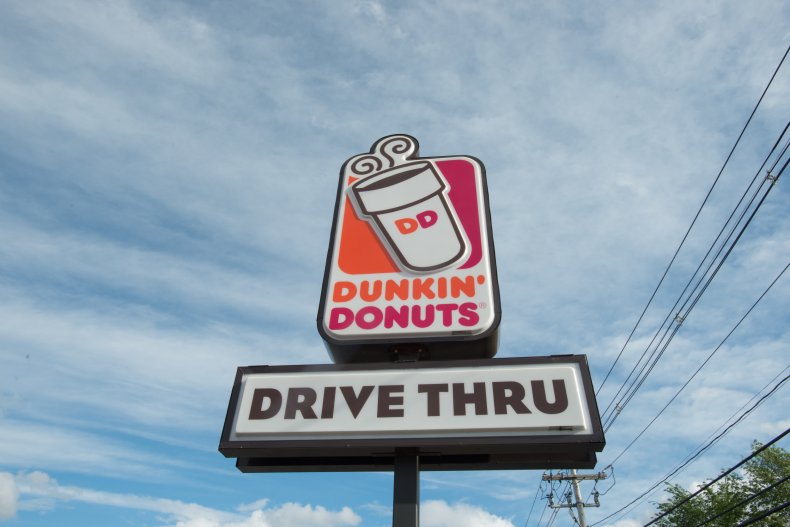 Baaklini asked why she responded in her manner and told her he was picking up a DoorDash order. He then said she needed to calm down before he reported her and criticized her hair.
A different employee is heard in the background and hands Baaklini part of the order before informing him she needed to make the drink.
He faces the camera, shakes his head, and turns back toward the window where he once again begins speaking to the employee.
"I know you're not talking, I ain't no b**ch, I don't know why you're talking," he said before further criticizing her appearances.
In a follow-up video, Baaklini explained that in his experience with picking up DoorDash orders from Dunkin', he skips the intercom and drives up to the window.
According to DoorDash's webpage responding to frequently asked questions, restaurants will receive a notification when a customer placed an order. After confirming an estimated prep and delivery time, a driver will arrive at the restaurant.
"Then, simply prepare the items and hand them off to a Dasher for delivery, or let customers come to you for pickup," the website stated.
The company's Partner Code of Conduct prohibits "unlawful discrimination or harassment" from merchants, customers and Dashers. DoorDash investigates incidents that are reported.
He said when he told the employee that he was there to pick up a DoorDash order, she thought he was ordering food for himself and said he needed to drive around to the intercom.
"Apparently there was a lady who did the same thing 'I did,' passed the intercom and [went] straight to the window so she could order food for herself," he said.
Despite telling the employee that he was there for a DoorDash order, he said the employee insisted that he drive around, getting increasingly frustrated.
Just as he prepared to drive around to the intercom, Baaklini said he overheard her calling him a "f**king idiot" to her fellow co-workers, which led to him recording the now-viral video.
Viewers jumped to his defense and wrote that the employee's reaction was unwarranted.
"BRUH...I work at kfc & we have people who come to the window to pick up door dash orders. & we give it to them with no problem," TikTok viewer xounique_ wrote.
Jazmine Olivarez commented that regardless of what he did, the employee should not have spoken to him in that manner.
"You were being respectful," the viewer wrote. "I'd understand if it was different but..."
Many tagged Dunkin' in the video and asked if something would be done. Some commenters took to Dunkin's verified TikTok account and commented under videos about the situation as well.
"Aye so you're not going to address how [your] employees treating people?" TikTok user Cierra wrote under a video posted by Dunkin'.
"Sooooo she fired?" asked alohaitsleon.
TikTok viewer Michelle wrote, "We would never at Starbucks."
Commenters asked Baaklini if he planned to take any action, to which he replied that he may return to the restaurant location.
"All members of the DoorDash community are expected to treat one another with respect," a DoorDash spokeswoman told Newsweek. "The behavior shown in this video is extremely concerning and has no place on our platform."
She said the company is investigating the incident.
Newsweek reached out to Ricardo Baaklini and Dunkin' for comment.
Another DoorDash driver went viral on TikTok in mid-November.
Newsweek reported that the delivery driver's car was crashed into, which was captured by a doorbell camera. The driver completed the delivery before she reacted to the crash.
Updated 12/29/2021, 5:46 p.m. ET: This story has been updated with comments from DoorDash.