Viral Video Shows Fast Food Workers Fighting Back Against Man Who Jumped Behind Counter
A viral video showed the moment an angry customer jumped over the counter and began screaming at the employees at a Chick-Fil-A about his food.
The video, uploaded by Caley or @notcaleyy on TikTok, amassed more than 2.7 million views and 13,300 comments since it was posted on Friday.
"No one gets paid enough for this sh*t #malekaren," the caption of the video read.
Caley explained in the comments section that the altercation occurred at Century City Mall in Los Angeles, California.
In the now-viral video, a female employee yelled at the tall, male customer who was standing behind the counter. The man was surrounded by female employees and they watched as their coworker yelled at him.
The man yelled back at the woman, but it was unclear what words the two exchanged in the video. Eventually, the employee was pulled away by coworkers as the man began yelling for them to give him his food.
"Security," someone yelled as the man continued to scream behind the counter and made his way deeper into the restaurant kitchen.
That's when the security guard began ushering people away from the scene and the video ended. Many in the comments mentioned that the security guard should have assisted the employees.
"Security stopping the wrong ppl. He needs to stop the guy behind thee counter," one user wrote.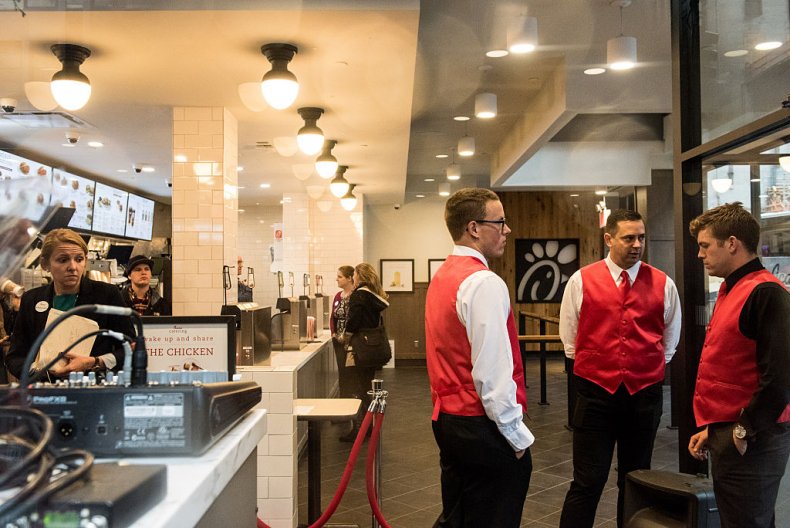 "They are there to basically call the cops," someone replied to the comment. "Most security aren't allow to do much because of liability issues."
Others joked that the fight must have been caused from someone forgetting to say "my pleasure" or because they "ran out of chicken." Many mentioned that the mistreatment of food service workers needed to stop and that sometimes employees need to stand up to customers.
"I love seeing fast food workers stick up for themselves!!" someone wrote.
"Once a customer goes behind the counter as an employee you have every right to swing," another user commented.
This is not the first time an angry customer confrontation has gone viral on the popular platform.
Newsweek previously reported on a video that showed an apparent customer throwing her soup in the face of a fast-food employee. The video, posted by user @section_8 on TikTok, amassed more than 7.9 million views and also led to the arrest of the suspect.
According to police, the customer called the restaurant and complained that her hot soup melted the plastic lid and that she wanted a replacement. The suspect then returned to the restaurant and after a verbal altercation, she threw the soup in the employee's face.
Police confirmed the suspect is banned from the restaurant and that she faced charges for assault causing bodily injury.