Viral Video Shows Ribeye Steak Locked Up in Chains at Walmart
A TikToker showed in a viral video steak at a Florida Walmart locked up in chains with a security lock, sparking a debate among commenters regarding food safety measures.
TikToker @oakwood19136, or Michael Fromhold, shared the viral video to the platform, garnering 4.3 million views in just four days. The short 12-second video started with him holding a package of ribeye steaks priced at $20.83, however, the packaging is encased and chained up with a wired covering and an electronic security lock to prevent theft.
"Yo, you gotta be kidding me," the TikToker said as he held the steak in the meat aisle of Walmart.
"Walmart now has the steak locked up," he added while panning the camera to show the security lock on the side. "Holy s**t, it's come to this. This is getting bad now man."
This isn't the first time Walmart has locked up products. The retailer stopped locking up "multicultural" personal care products in glass cases after coming under fire in recent years. According to USA Today, a woman sued Walmart in 2018 when she saw personal care products that were marketed toward African Americans locked up three different times. However, the lawsuit was dropped.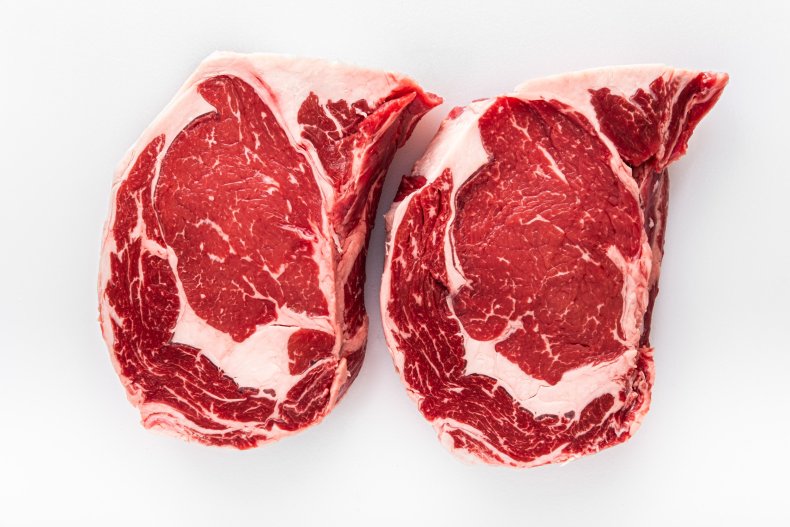 The viral video has received 154,000 likes so far with over 18,000 comments. The content has started a debate among viewers about whether or not security measures are necessary. While others had jokes about the situation as they made light of the matter.
One viewer joked by pointing out that they think "Walmart also sells wire cutters."
The jokes came rolling in over the locked-up steak. "I only eat cage-free beef!" someone quipped.
Another TikToker made a joke involving law enforcement. "Police watchin too... It's a steak-out," they said.
Others had negative comments about seeing the steak locked up. "It's a sad world we live in now," a viewer said.
Some people think things are only going to get worse. "Sorry to say it'll only get worse as inflation continues to rise and food shortages start to impact us," a TikToker expressed.
One person brought up another point about the issue of checking out with locked-up meat. "How are we supposed to get that thing off?" they asked. "They only have two employees in the whole store, and we have to check out ourselves."
Inflation was brought up more than once in the comments. "That's inflation for you, and everything is getting costly," a viewer said.
However, not everyone was surprised or against the meat being chained up. "They have to," someone wrote. "What else can they do? People today will steal the eyes out your head and come back for the holes these days."
Another was on the side of the business. "Good move Walmart," they said.
Newsweek reached out to Walmart and @oakwood19136 for comment but did not hear back in time for publication.