Viral Video of Teacher Slapping Student Sparks Outrage
Footage of a teacher allegedly slapping a student across the face repeatedly has gone viral online and caused international outrage from parents.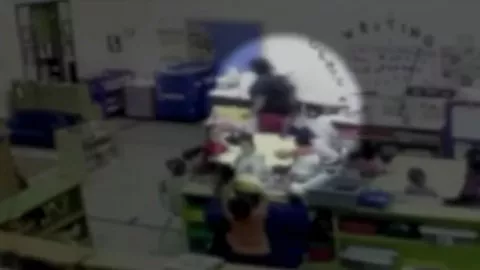 According to The Independent, the incident took place at a coaching center in Srinagar, India. The unidentified student in question allegedly did not ask his teacher for "permission" to do something. It is not immediately clear what lead up to the point before the corporal punishment began.
The 44-second video surfaced on Reddit on Thursday. In the video, the teacher is heard yelling at the boy in Hindi at the front of the classroom. Before the student can answer, the teacher slaps his head repeatedly with such force that it knocks off the boy's glasses and face mask. The student remains quiet and looks down at the floor during the altercation.
Social media users in the area identified the abuser as Fayaz Ahmad Zewali, a chemistry teacher at the school.
Twitter users were horrified by Zewali's actions. "This Brutality by Fayaz Ahmad Zewali who happens to teach chemistry at Hope classes is Unacceptable," one person wrote. "How can a teacher be abusive like this? This is insane."
Another demanded law enforcement get involved. "Legal action must be taken against this man for thrashing a young student. This is illegal and must stop," one tweeted. "Great job whoever took this video. This is exactly how fist-wielding 'teachers' should be brought to account."
Zoom News confirmed that police are investigating the situation. "We have registered a case," said Raees Hussain, spokesperson for the Srinagar Saddar Police Station. "This frightening action has caused a lot of resentment among the local people and this can have a great psychological impact on the student."
An official court summons obtained by The Independent added, "This horrendous action has created a huge outcry among the local population and might have left [an] immense psychological impact on the student."
Kashmir's Coaching Centers Association also confirmed with the outlet that they are conducting an internal investigation. "We condemn the incident, but people should not read into it too much. Unfortunately, a witch hunt has been launched by people against the teacher and the coaching institute, both of whom are known for their reputation," the organization's official comment on the matter read.
According to Section 17 of India's 2009 Right to Education Act, "physical punishment and mental harassment" of children are strictly prohibited. It calls for disciplinary action against any person who uses corporal punishment in classrooms.
The Independent reported that the teacher acknowledged he "lost [his control," calling it an "accident."
"I am worried about the study of these students," he said.
Zewali is not the only person receiving media scrutiny for his alleged actions against children. Earlier this week, a Georgia daycare was shut down after leaked video footage apparently showed employees forcing Black children to wait for their food until the white kids finished eating.
{{#isDisplay}} {{/isDisplay}}