Viral Video of Woman Shutting Down Man at Gym Viewed Over 12M Times: 'Don't Come Near Me'
People filming themselves at the gym to document their progress is common, but there are times that unwanted behavior is caught on video. Chelsie Gleason, who goes by justchesslee on TikTok, uploaded a video that showed her working out but was interrupted when a man tried speaking to her and later leaned into her face.
"Being a female is fun," the caption read on her video, which has since racked up more than 12 million views.
"I was just trying to work out when this happens," a voiceover said in the video, as Gleason is seen curling weights at a Crunch Fitness gym facility. "I've never met this guy and he's been harassing me for months."
Gleason told Newsweek the man would approach her whether she was alone or with other people to make comments about her form or how she looked. She said she saw him four to five times each week because they happened to go to the gym at the same time.
The man, Gleason said, spoke with other people at the gym about conspiracy theories.
"This escalated to him getting upset and yelling at me, following me around to different areas of the gym," she explained. "The video was the first time he'd gotten in my face."
Gleason said she knows the other people who go to the gym at the same time she does, as well as some staff members. Most of the time, someone else would intervene.
As the video continued, an arrow on the bottom right of the video pointed to a man who was talking to Gleason, but she does not respond. The voiceover explained that she kept her headphones in and tried to ignore him.
The man began to walk away, but he circled back and pointed at Gleason before leaning in close to her face.
"Don't come near me," Gleason told him, as she dropped the weights and took a few steps backward.
The man walked off without another word.
TikTok viewers flooded the comment section to support Gleason and to encourage her to notify an employee at the gym.
"Retired personal trainer here, please show this video to the staff!" one comment read. "Trust me they do NOT want this at their gym!"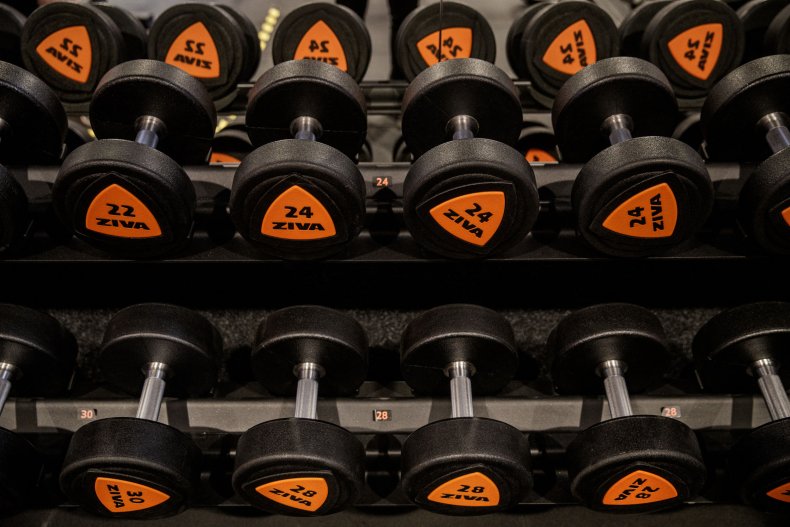 Another personal trainer echoed the sentiment and said the incident was "wildly unacceptable." She wrote that the staff and management will be able to help Gleason.
Others said Gleason should notify staff because there is a possibility that it may happen to another gym-goer.
"Imagine if a shyer girl is walking to her car at night and he's out there...he needs to be kicked out," a TikTok viewer wrote.
Commenters also applauded Gleason for standing up for herself.
The official TikTok account for Gymshark, a company that sells fitness apparel, commented on the video as well.
"The gym should be a safe space for everyone," the comment read. "We're sorry it hasn't been for you lately. Proud of you for sticking up for yourself!"
"This [made] me sick to my core," another comment stated. "What is wrong with these people? You was ready to throw down and I'm so proud of you boo."
Not long after Gleason posted her video, she wrote in her video's comment section that the man was found and banned from the gym.
TikTok viewers took to the official Crunch Fitness TikTok page to commend the company for banning the man.
"Thank you for taking decisive action to make it safe for everyone to [work out]," one commenter wrote. "It really makes your business shine!"
Gleason told Newsweek that even before she took the video, she spoke with the staff and they were already investigating the man. She said she believed the video may have sped up the process of banning him from the gym.
"Our philosophy at Crunch is 'no judgments,' where we promote positive self-esteem and respect all races, cultures and nationalities in a fun atmosphere," a spokesperson for Crunch Fitness told Newsweek. "All of our gyms are committed to creating a safe and welcoming environment for all members."
Gleason said she posted the video to spread awareness because it is not uncommon for people to be harassed.
"I just want people to know that it's OK to be loud and make a scene and speak up if you're uncomfortable and having a problem with someone around you," she said.
She said she's had a positive experience with gym culture, aside from this incident.
"You know the gym is a great environment and everyone there has pretty similar goals and we all lift each other up and encourage and support one another to be the best we can all be," Gleason said.
This is not the only time a man had his gym membership revoked due to his actions toward another woman at the gym.
Newsweek reported on a man part of the online "incel" community who filmed himself being kicked out of a gym because he asked a woman if she wanted a massage after making comments about her body.
Updated 10/29/2021, 5:54 p.m. ET: This story has been updated with comments from Chelsie Gleason.