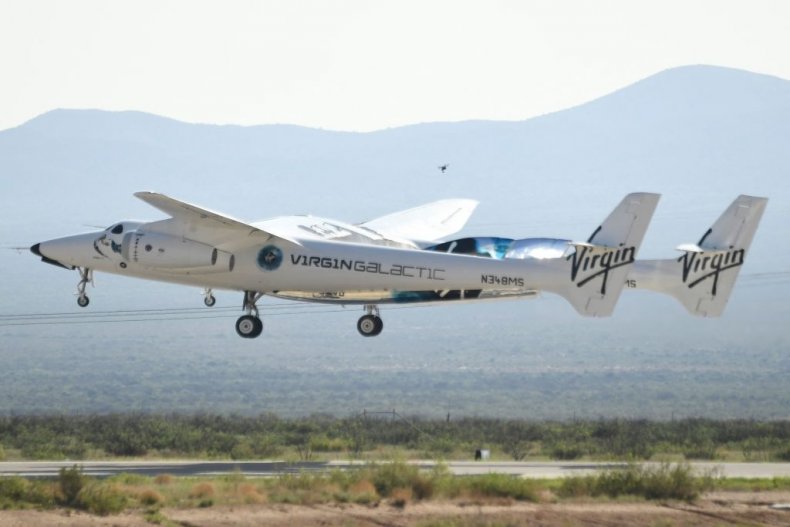 The Virgin Galactic rocket plane carrying company founder/billionaire Richard Branson and his crew returned back to Earth after it launched into space Sunday morning.
For the first time, the rocket plan, called the Unity 22 mission, (marking the 22nd test flight for the VSS Unity spaceplane) carried a full crew of two pilots and four mission specialists, including Branson.
The rocket plane is about the size of an executive jet, and was launched via its carrier aircraft, VMS Eve, from Virgin Galactic's homeport near the city of Truth or Consequences, New Mexico.
Weather issues on Sunday had earlier prompted a slight delay from its originally scheduled launch time of 9 a.m. ET until around 10:40 a.m. Along with Branson, the crew included Sirisha Bandla, vice president of government affairs and research operations at Virgin Galactic; Colin Bennett, lead operations engineer; Beth Moses, chief astronaut instructor at Virgin Galactic; and Dave Mackay and Michael Masucci, the primary pilots.
As ABC News reported, the crew reached an altitude of 46,000 feet over the New Mexico desert. Then the VSS Unity spaceplane detached itself from VMS Eve and headed off into space. The plane reportedly reached mach 3 at an altitude of weightlessness. At the top of the arc, crew members were able to see the darkness of space, along with the curve of Earth from the rocket plane's windows.
The spaceplane later returned back to Spaceport America safely around 11:40 a.m. ET.
In total, the rocket ship's space travel took only about 15 minutes from when it detached from the carrier to its landing, The Washington Post reported. It marked the first step in Virgin Galactic's intention to start taking paying customers on the space launches next year.
As the plane began its return to Earth, Branson could be heard speaking into a camera in the plane's cabin, calling the launch "an experience of a lifetime," according to The New York Times.
The 71-year-old Branson later tweeted: "I have dreamt about this moment since I was a child, but going to space was more magical than I ever imagined," along with a photo of the journey.
The flight marked a milestone in commercial space travel, as Branson, who founded Virgin Galactic, has been head to head with Amazon CEO Jeff Bezos and his space tourism company, Blue Origin.
However, Branson told Reuters in an interview last week that he didn't think space travel was a race. "If it's a race, it's a race to produce wonderful spaceships that can make many more people be able to access space. And I think that's both of our aims."
Virgin Galactic directed Newsweek to a press release on the launch, and Branson is quoted as saying: "I truly believe that space belongs to all of us."He said that after 16 years of research, "Virgin Galactic stands at the vanguard of a new commercial space industry, which is set to open space to humankind and change the world for good. It's one thing to have a dream of making space more accessible to all."
According to the press release, Michael Colglazier, chief executive officer of Virgin Galactic, said that the flight test for Unity "is a testament to the dedication and technical brilliance of our entire team, and I'd like to extend a special thank you to our pilots and mission specialists, each of whom will be performing important work."
Virgin Galactic only had its first successful human flight from Spaceport America in May. In 2014, an earlier prototype of the rocket plane crashed during a test flight over California's Mojave Desert, killing one pilot and seriously injuring another.
Marco Caceres, a senior space analyst for the Virginia-based consulting firm Teal Group told Reuters that while the ride with Branson is more of a publicity stunt than anything else, the venture of Virgin Galactic will be taken more seriously after the flight.
"There's plenty of multimillionaires in the world that would like to go up on an adventure, so long as they see it as relatively safe," he said.
Branson's space travel rivals Bezos and Tesla's Elon Musk sent their wishes to Branson prior to Sunday's flight.
"@richardbranson wishing you and the whole team a successful and safe flight tomorrow. Best of luck!" Bezos wrote in an Instagram post Saturday.
"Will see you there to wish you the best," Musk, the founder of SpaceX, tweeted earlier.
Virgin Galactic has shared plans to further test flights of the spaceplane before potentially beginning commercial flights next year.
Updated 1:13 PM ET, with additional information.