Virginia Governor Refers to Slavery as Indentured Servitude While Discussing Lessons from Blackface Scandal
Virginia Governor Ralph Northam referred to slaves as indentured servants while speaking about his blackface scandal on CBS This Morning.
The embattled Democrat, who has faced calls to resign from politicians of both parties, conducted an interview with Gayle King, which aired on Monday.
"We are now at the 400-year anniversary — just 90 miles from here in 1619. The first indentured servants from Africa landed on our shores in Old Point Comfort, what we call now Fort Monroe, and while—" the governor said.
"Also known as slavery," King interjected.
"Yes," he replied.
Northam's mistake comes after a series of scandals in Virginia have sparked intense focus on the state. In addition to the emergence of a picture on Northam's yearbook page showing a person in a KKK costume standing next to a person in blackface -- which Northam denied being in -- Virginia Attorney General Mark Herring said that he had worn blackface to a party and reports said that State Senator Tommy Norment had edited a yearbook containing racist slurs. Two women have also accused Virginia Lt. Governor Justin Fairfax of rape. Fairfax has denied the allegations and refused calls to step down.
Northam, who said he had dressed in blackface in a different instance than the one documented in the yearbook, has also resisted calls to step down. While speaking with King, he said "this is really an opportunity, I believe, to make awareness of this issue, to really have a frank dialogue and discussion about race and equity in this country."
"Virginia needs someone that can heal. There's no better person to do that than a doctor," he said. "Virginia also needs someone who is strong, who has empathy, who has courage and who has a moral compass. And that's why I'm not going anywhere."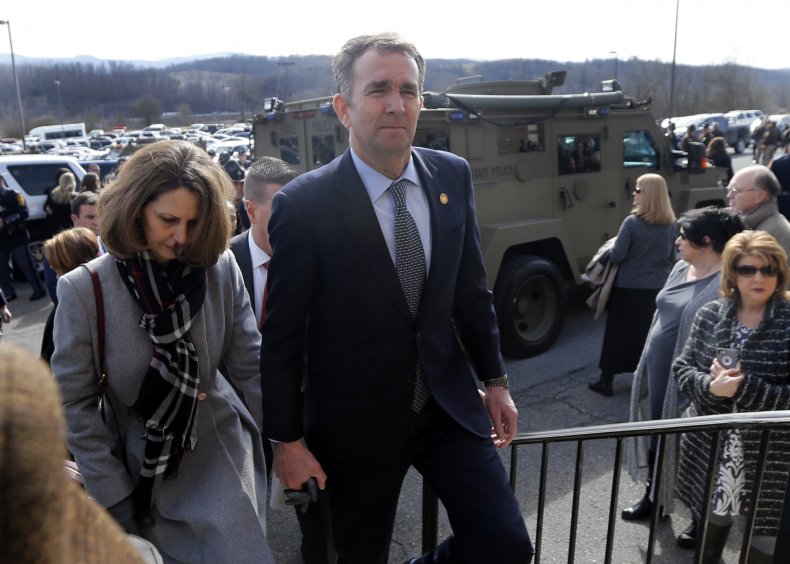 Northam disappeared from the public spotlight much last week, as national discussion over the state's various scandals grew. The Washington Post reported that he was meeting with African-American legislators and leaders and reading texts by black authors during his time away from the public.
A Washington Post-Schar School poll released Sunday found that 47 percent of people in the state want the governor to resign and 47 want him to continue serving in his role. A majority of African-Americans want him to remain in his position, with 58 percent saying he should continue serving his term.