A photograph from Virginia Governor's Ralph Northam's medical school yearbook shows two men, one in a Ku Klux Klan robe and hood and another in blackface, posing on the same page as the governor's.
The photo was obtained by The Virginian-Pilot on Friday from Northam's medical school library, the Eastern Virginia Medical School. The yearbook is from 1984, which is when the governor graduated from the school, according to the publication. In a statement, Northam later released a statement in which he confirmed that he was one of the men in the photo, though not revealing which offensive costume he was in.
"Earlier today, a website published a photograph of me from my 1984 medical school yearbook in a costume that is clearly racist and offensive," he said. "I am deeply sorry for the decision I made to appear as I did in this photo and for the hurt that decision cased then and now."
Northam, however, suggested he was not ready to resign over the photo.
"I recognize that it will take time and serious effort to heal the damage this conduct has caused," he said. "I am ready to do that important work."
The yearbook page obtained by the publication shows three photos of Northam under the page titled Ralph Shearer Northam. In one photo, Northam can be seen wearing a jacket and tie while a second photo shows him in a cowboy hat and boots. A third photo on the yearbook page shows him sitting on the ground and leaning against a car.
The fourth photo on the page shows two people holding drinks while one wears what appears to be a white Ku Klux Klan robe while another man wears a bow-tie and jacket with his face painted black. Underneath the photo, it reads "Alma Mater: Virginia Military Institute; Interest: Pediatrics." There is also a quote underneath the information that reads: "There are more old drunks than old doctors in this world so I think I'll have another beer."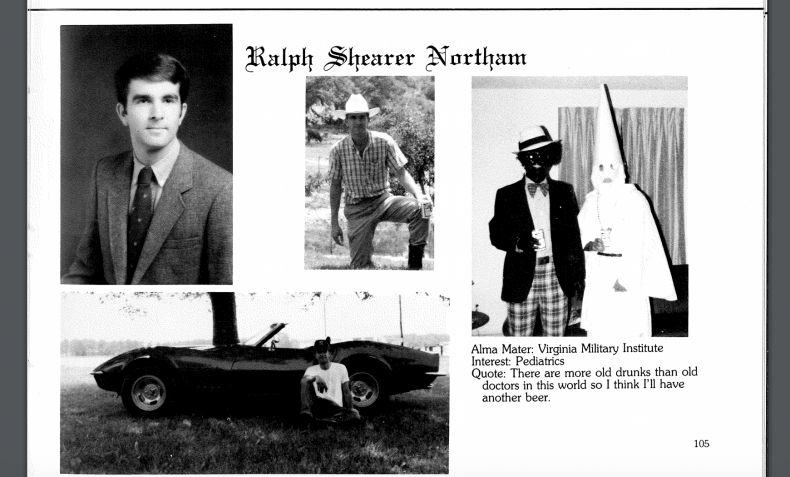 A spokesperson from the Eastern Virginia Medical school confirmed to Newsweek that the picture is from a 1984 student-produced publication. The photo was first published by conservative news outlet Big League Politics.
"Not the best way for @GovernorVA to kick off Black History Month," the tweet from the conservative news website, along with a story about the photo, reads.
Northam, who is a child neurologist, was recently slammed for his comments about abortion after a clip appeared to show Northam saying that an infant could be killed after birth.
"If a mother is in labor, I can tell you exactly what would happen," said Northam in a radio interview. "The infant would be delivered. The infant would be kept comfortable. The infant would be resuscitated if that's what the mother and the family desired, and then a discussion would ensue between the physicians and the mother."
The clip left out the intro to his statement where the Virginia governor clarified that a procedure like that could only be done in circumstances with an infant that had fetal abnormalities or where the mother's life was in danger.
Earlier this month, the Florida secretary of state resigned after photos surfaced of him in blackface. Former Secretary of State Michael Ertel dressed up as a woman who was a Hurricane Katrina victim, wearing a blue T-shirt, a black wig and his face painted black, the Tallahassee Democrat previously reported.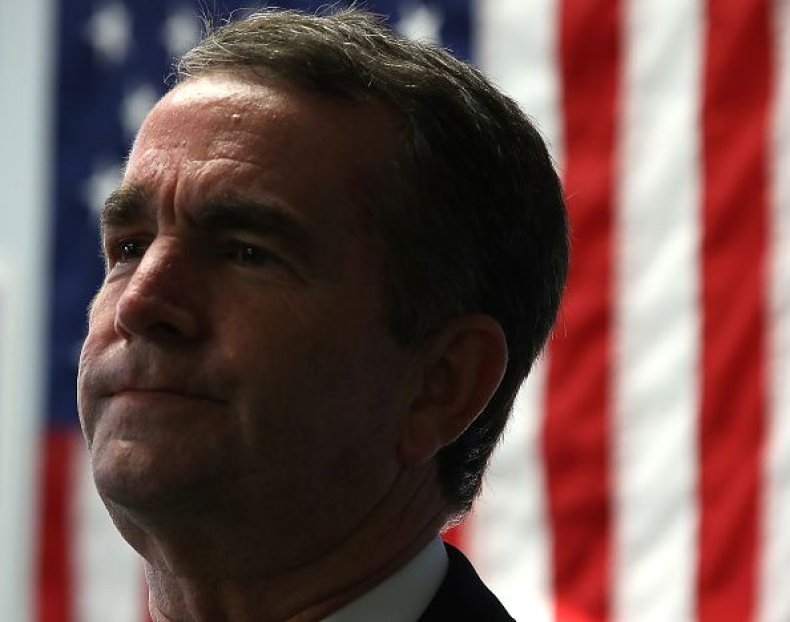 This story has been updated to include a photo from the Eastern Virginia Medical School Library and later to include a statement from Ralph Northam.