A Virginia man who was arrested by Capitol police at an inauguration checkpoint in Washington D.C. with 500 rounds of ammunition has called the incident an "honest mistake."
Wesley A. Beeler, 31, of Front Royal, was stopped at a checkpoint north of the Capitol building around 6:30 p.m. on Friday in a white truck and produced credentials that were deemed "not authorized to enter the restricted area," according to police documents.
Authorities found an unregistered gun in Beeler's vehicle, "509 9MM rounds of hollow point & ball ammunition" and shotgun shells. Beeler was arrested on five charges, including carrying a concealed weapon, possessing an unregistered firearm, unlawful possession of ammunition and possession of a large capacity ammunition feeding device, according to Capitol police.
In an interview with the Washington Post, Beeler called the incident an "honest mistake" and said he accidentally drove into the restricted area checkpoint "after getting lost in D.C. because I'm a country boy."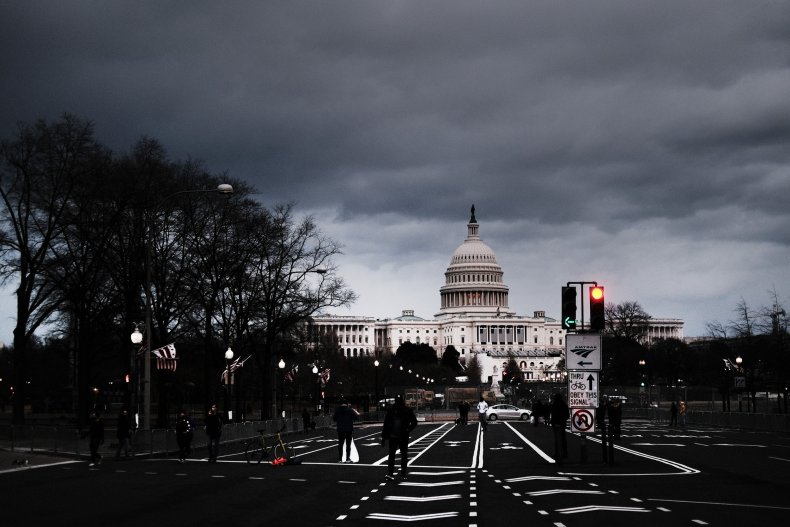 Beeler said he worked as a contractor for MVP Protective Services, a private securities business, and the company had provided him with the credentials that he showed checkpoint authorities. "I showed them the inauguration badge that was given to me," he explained.
Beeler also claimed that he forgot to remove the gun and ammunition from his vehicle before entering D.C. "It was just me forgetting to take it out of my truck before I left for work," he said. "I don't know what the D.C. laws are. It still comes back on me, but I'm not a criminal."
Newsweek reached out to MVP Protective Service for comment. This story will be updated with any response.
Concerns about violence in D.C. and other states leading up to President-elect Joe Biden's inauguration has risen in the aftermath of last week's attempted insurrection, which left 5 dead.
FBI Director Chris Wray said the bureau is seeing an "extensive amount of concerning online chatter" that suggests violence may occur in the next few days. In response, D.C. security officials have closed the National Mall through January 21 and prohibited access to the inauguration. More than 20,000 National Guard troops have also been deployed to patrol the area.
A slew of states across the country are closing their Capitol buildings on January 20, including Texas, California, Virginia, Indiana, Illinois, Oregon, Ohio, Pennsylvania, Kansas, Utah, Washington, Wisconsin and Maine.
Many of these states have already limited public access to their Capitol buildings in response to the pandemic, but will be boosting security, with some summoning the National Guard, in anticipation of violence on inauguration day.