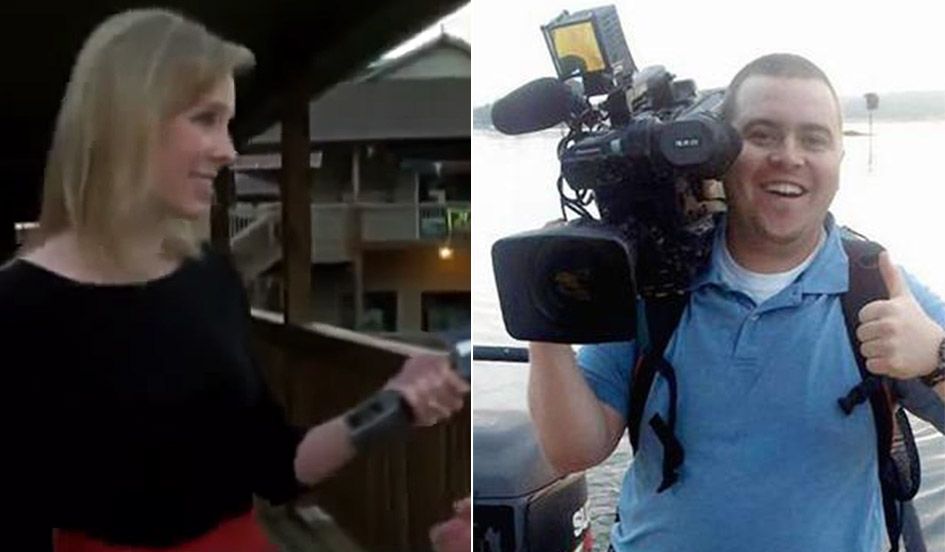 Updated | A morning television news team in Roanoke, Virginia, was shot and killed Wednesday while reporting from the Bridgewater Plaza in Smith Mountain Lake. Alison Parker, 24 years old and a morning reporter for WDBJ7, and Adam Ward, 27, a member of the crew, were killed. Vicki Gardner, who was being interviewed by Parker, was shot and injured in the incident. She underwent surgery and is in stable condition.
Police quickly identified Vester Lee Flanagan, 41, in connection with the shooting and apprehended him around noon. About five hours after the shooting, Flanagan was driving a car he rented earlier in the month and using a license plate reader, a state trooper stopped him. The trooper initiated a traffic stop on Interstate 66, state police said in a statement. Flanagan didn't comply with the stop and drove away from the trooper. He shot himself and crashed. Authorities transported him to a Fairfax hospital, where he died at 1:26 p.m., state police and Franklin Sheriff Bill Overton confirmed at a press conference held in Hardy, Virginia.
Flanagan worked for the station under the name Bryce Williams. From a Twitter and Facebook account, Flanagan posted a first person video of the shooting. "Alison made racist comments," he tweeted. "Adam went to [human resources] on me after working with me one time!!!"
The video, posted to both Twitter and Facebook, was quickly removed by the companies, but not before it had been viewed thousands of times. In it, a man is seen walking up to the news crew carrying a hand gun. He is wearing a blue plaid shirt and shoots Parker, the on-air reporter, at a close proximity, from about five feet away. The video then goes dark and more shots are heard. The video was swiftly removed from Twitter after being live for ten minutes. It was later removed from Facebook. Ward is seen filming in the video, though his shooting is not depicted.
Flanagan also sent a "lengthy" manifesto to ABC News, which was turned over to authorities. Sheriff Bill Overton confirmed they are continuing to review the document. The video posted by Flanagan was still being reviewed by authorities, though they offered limited content beyond confirming it was posted.
"He was sort of looking out for people to say something he could take offense to. After many incidents of his anger coming to the fore, we dismissed him and he did not take that well. We had to call the police to escort him form the building," Jeff Marks, general manager of the news channel, said during a noon broadcast on WDBJ. Marks described Flanagan as someone "who was difficult to work with." In 2001, Flanagan sued an employer for discrimination and settled out of court.
"As we reflect with heavy hearts on this tragedy, it is appropriate to begin to ask questions about how we can prevent these senseless events in the future. Keeping guns out of the hands of people who would use them to hard our family, friends and loved ones is not a political issue; it is a matter of ensuring that more people can come home safely at the end of the day," Virginia Governor Terry McAuliffe said in a statement.
Flanagan's motive remains unknown. Speaking at a press conference, authorities said they were still working to investigate his motive. "It appears his life was spiraling out of control," authorities said. The news channel manager was also unaware of Flanagan's motive.
Solina Lewis, a friend of Ward and his fiancé, remembered Adam in a brief statement to Newsweek:
Adam was one of my really good friend's fiancé. They were going to get married next year. He was sweet, hard working, he came over to my apartment and put furniture together for me without Melissa even there. Even though he had to get up for work and do the early morning live shot the next day.

He was an incredible person, a great journalist and would have been a great father and husband. Its such a loss of a human being. I've known Melissa for years. I stayed abreast with their story, when they got engaged.

This is big news, national news, but I just can't hammer home enough that he was a phenomenal person and that's what we lost. That's what this gunman stole from our industry, from Melissa and from me.
Parker was remembered as a vibrant reporter who was engaged to another member of the news crew.