Virginia School Board Meeting Falls Victim to Bart Simpson Inspired Prank
A Virginia school board ended up on the receiving end of a hilarious prank straight out of the Bart Simpson playbook last week.
During The Simpsons heyday, a popular running gag saw Bart make anonymous calls to Moe's Tavern requesting to speak to amusing and inventively named patrons like "Seymour Butz."
The joke being that when Moe proceeded to ask the assorted barflies aloud for help (telling them, for example, "I wanna Seymour Butz") there would be much amusement all round.
While those kinds of gags may be less commonplace on the show these days, an unidentified prankster is continuing to mine the format for comedy gold in real life.
Last Thursday, August 26, a meeting of the Henrico School Board fell victim when board member Reverend Dr. Roscoe D. Cooper III began calling up members of the public who had been registered to speak.
It quickly became apparent that the names listed to be called for public comment during the meeting weren't actually real names at all.
Not that Cooper or anyone else on the school board noticed any issue.
"It's not uncommon for people not to show up, so I honestly didn't think anything of it," he told Newsweek. "It wasn't until after I read all of the names that I received a text message saying: "Those names may not be real people lol.'"
In the space of one hilarious minute, he asked, in turn, for each of "Phil McCraken", "Suck Mahdick", "Ophelia McCaulk", "Eileen Dover", "Don Kedick" and "Wayne Kerr" to take to the podium, pausing as each name went ignored.
Cooper, , who is a Pastor at Rising Mount Zion Baptist Church, says he wasn't familiar with pranks of this kind prior to the incident.
"I had no clue," he explained. "The names looked legit, and so were their associated districts and board members. I had a duty to call them. I've since learned of the pranks from The Simpsons."
It wasn't long before social media picked up on the prank, with a Twitter post of the video racking up 7 million views and over 76,000 retweets.
Cooper said that the reaction among his friends, family and colleagues has been mixed.
"My sons laughed and shook their heads. They've clowned me in our group chat and said 'Pops, do better lol.'"
"Some people have had a great laugh, while others feel it was disrespectful to our work as a school division and school board."
Cooper said that they don't know who the culprit was, but that the joke was "harmless" and provided him and his fellow councillors with something to laugh about.
"There's been so much heaviness in the world, it's cool some people got a good laugh at my expense," he said.
The pastor revealed that the gag was especially welcome after he suffered a family bereavement.
"Our entire board had a great laugh at it and so did my family. We started the month mourning the killing of my brother, and we're now ending the month getting a good laugh."
This brief moment of levity serves as a stark contrast to the scenes that have played out in other school board meetings across the U.S., where officials voting on the introduction of mask mandates have faced thinly veiled threats and unsubstantiated accusations linking face coverings with child sex trafficking.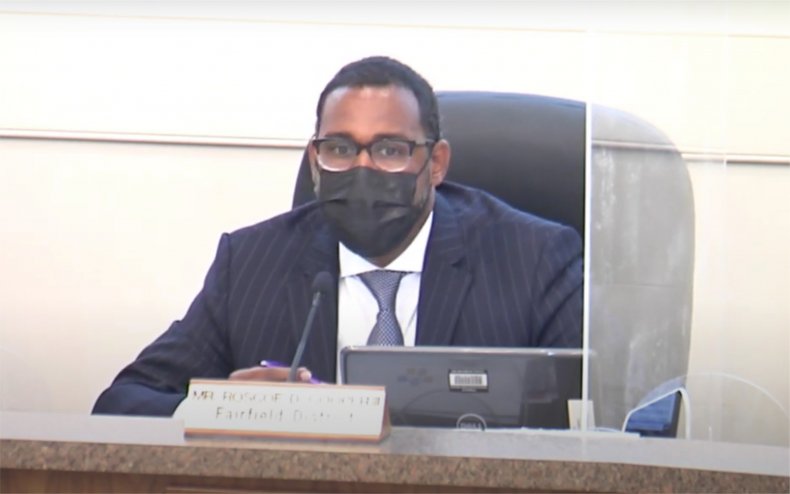 Update 9/1/21 at 3:11 a.m. ET: This article was updated with comment from Henrico County School Board Chair Reverend Dr Roscoe Cooper.