Soccer Player Sues Coach, Claims She Was Singled out over Disapproval of BLM
A former soccer player at Virginia Tech is suing her former coach after claiming she was forced off the team for refusing to kneel.
In the lawsuit, filed March 3 in the Roanoke Division of the United States District Court's Western District of Virginia, Kiersten Hening alleged she was marginalized coach Charles "Chugger" Adair for disagreeing with the school's support of the Black Lives Matter (BLM) movement.
Hening claimed that "because she refused to kneel, he [Adair] benched her, subjected her to repeated verbal abuse, and forced her off the team."
According to the case, as an actor of Virginia, Adair's actions violated Hening's First and Fourteenth Amendment rights.
The lawsuit indicates that Henning disagreed with the school's suggestions to have athletes wear Black Lives Matter masks, armbands and wristbands. Conversely, Adair was said to be supportive of the proposals.
"While Hening supports social justice and believes that black lives matter, she does not support the BLM organization," it states.
"She disagrees with its tactics and core tenets of its mission statement, including defunding the police and eliminating the nuclear family."
The suit states Hening and a fellow Hokies player refused to kneel during the reading of a unity statement issued by the Atlantic Coast Conference prior to their game against Virginia on September 12.
Like Hening, her teammate was also a starter on the team, but her parents had informed Adair of her intentions and warned against retaliation, as per the lawsuit.
The coach then allegedly proceeded to single out Hening, who is listed as a midfielder and defender on the team's website, at halftime.
"At the next opportunity—halftime of the Virginia game-Coach Adair berated Hening for her stance," the suit reads.
"He singled her out and directly attacked her, pointing a finger in her face. He denounced Hening for 'bitching and moaning,' for being selfish and individualistic, and for 'doing her own thing.'"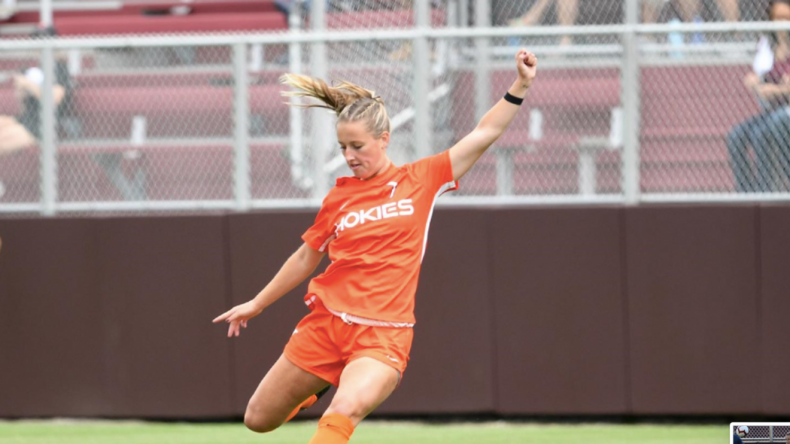 While she played the entire game against Virginia, Hening subsequently only played 29 minutes in the next game against Clemson and was on the field for only five minutes against North Carolina.
By contrast, according to the school website, she started 19 of the 22 games she played during her freshman season in 2018 and was named in the starting line-up in 18 of the 19 games she played the following season.
Through her lawsuit, Hening is looking to be reinstated in the team, as well as being financially compensated for unspecified damages and to cover costs and expenses.
The suit also seeks to have Adair undergo First Amendment training.
Taking a knee during the national anthem has been a thorny political issue in the U.S. since former San Francisco 49ers quarterback Colin Kaepernick first knelt during the anthem to protest against racial discrimination and police brutality in 2016.
The ensuing social justice protests developed into a polarizing issue during Donald Trump presidency.
Trump repeatedly accused protesters of disrespecting the national anthem and the flag and called for NFL players to fire players who took a knee.
The NFL initially banned kneeling, but changed its stance as nationwide protests erupted again following George Floyd's killing in May last year.
The NBA and MLB have both allowed players to kneel and players in the English Premier League have knelt before kickoffs this season.
On Wednesday, however, the International Olympic Committee (IOC), said athletes will not be allowed to take a knee or protest against human rights abuses on the podium of Tokyo 2020 or the Beijing 2022 Olympics.
"We're asking the Legal Affairs Commission commission to come up with a proportionate range of different sanctions so that everyone knows, going into going into a Games, what they can and cannot do," Kirsty Coventry, the IOC Athletes Commission chair, said.
The move comes after a survey of 3,547 athletes from 185 countries found 70 percent were against protests on the field of play and official ceremonies.