The feud between President Donald Trump and the NFL took a new turn on Sunday, after Trump questioned whether league commissioner Roger Goodell could allow players to kneel during the national anthem this season.
Since former San Francisco 49ers quarterback Colin Kaepernick first knelt during the anthem to protests against racial discrimination and police brutality, Trump has staunchly opposed the demonstrations.
The president has repeatedly accused protesters of disrespecting the national anthem and the flag and what began as a social demonstration has developed into one of the most divisive political issues American sports have faced in decades.
Here's a timeline of what Trump has said on the issue of kneeling.
August 2016
After Kaepernick refuses to stand for the national anthem prior to the 49ers preseason game against the Green Bay Packers, Trump suggests he should find himself a new country.
"I have followed it [the controversy] and I think it's personally not a good thing," he tells The Don Monson Show.
"I think it's a terrible thing, and you know, maybe he should find a country that works better for him. Let him try, it won't happen."
March 2017
Speaking at a rally in Lousville, Kentucky, Trump suggests his cavalier style on Twitter may have influenced NFL owners into ignoring Kaepernick. At the time, the former 49ers quarterback remained unsigned after becoming a free agent at the end of the 2016 season—Kaepernick is yet to return to the NFL.
"They [NFL owners] don't want to get a nasty tweet from Donald Trump. Do you believe that?" Trump tweets.
September 2017
During a rally in Alabama, Trump dials up the anti-protests rhetoric by several notches, openly calling for team owners to fire players who demonstrate during the national anthem.
"Wouldn't you love to see one of these NFL owners, when somebody disrespects our flag, to say, 'Get that son of a b**** off the field right now. Out! He's fired. He's fired'," he said.
A few days later, the president claims the protests had a negative impact on the NFL's TV ratings.
"NFL attendance and ratings are WAY DOWN. Boring games yes, but many stay away because they love our country. League should back U.S." he tweeted.
"Great solidarity for our National Anthem and for our Country. Standing with locked arms is good, kneeling is not acceptable. Bad ratings!"
Trump reiterates his position less than a week later, during an interview with FOX & Friends co-host Pete Hegseth.
"The NFL cannot disrespect our country. They cannot disrespect our flag, or our National Anthem."
October 2017
Vice President Mike Pence attends the Indianapolis Colts home game against the 49ers, only to leave Lucas Oil Stadium after a number of players take a knee.
On Twitter, Trump suggests he had specifically asked Pence to leave.
Following Pence's stunt, Trump praises Jerry Jones after the Dallas Cowboys owner told ESPN that his players "need consequences" should they feel the desire to kneel during the national anthem.
"A big salute to Jerry Jones, owner of the Dallas Cowboys, who will BENCH players who disrespect our Flag.'Stand for Anthem or sit for game!'," Trump tweets.
In the same month, Trump slams the NFL after commissioner Roger Goodell declined to force players to stand for the national anthem.
"The NFL has decided that it will not force players to stand for the playing of our National Anthem," Trump tweets. "Total disrespect for our great country!"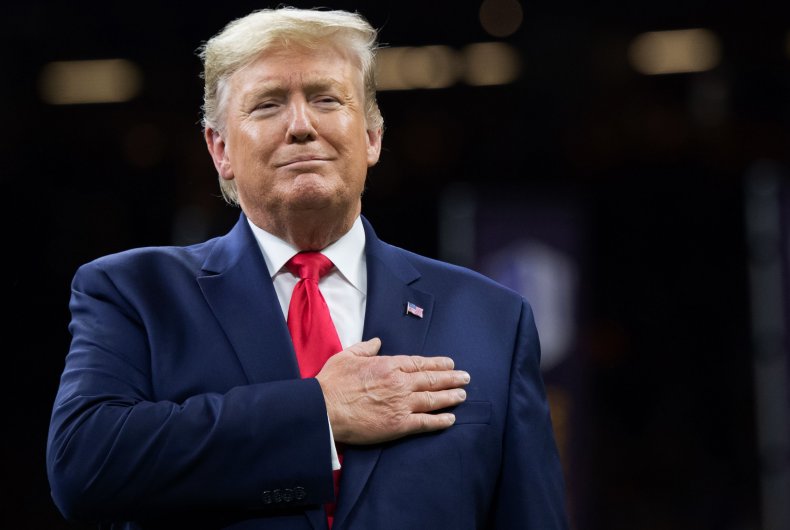 February 2018
The Philadelphia Eagles defeat the New England Patriots in Super Bowl LII, but the Super Bowl winners' traditional White House visit is canceled after a host of players decline to attend.
"The Philadelphia Eagles Football Team was invited to the White House," Trump says.
"Unfortunately, only a small number of players decided to come, and we canceled the event. Staying in the Locker Room for the playing of our National Anthem is as disrespectful to our country as kneeling."
July 2018
Trump calls for NFL Commissioner Roger Goodell to crack down on players who take a knee during the national anthem to protest police brutality and racism.
"The NFL National Anthem Debate is alive and well again—can't believe it! Isn't it in contract that players must stand at attention, hand on heart?," he tweets.
"The $40,000,000 Commissioner must now make a stand. First time kneeling, out for game. Second time kneeling, out for season/no pay!"
August 2018
Trump launches a petition against ESPN's national anthem policy, after the broadcaster revealed it would return to an old company policy of not televising the national anthem before NFL games.
The President describes the policy as "spineless."
February 2019
Trump claims the relationship between him and Goodell has improved, but doubles down on his stance over then anthem.
"I mean I was just one that felt very important, you can't be kneeling for the national anthem," he says during an interview with Margaret Brennan on CBS' Face the Nation.
"You have to respect our flag and our country. I want that as president and I'd want that as a citizen."
June 2020
Trump criticizes Drew Brees after the New Orleans Saints quarterback apologized for "missing the mark" with his previous comments on players protesting during the national anthem.
Brees issued an apology in an Instagram video, vowing to "do better" as protests in the wake of George Floyd's death extended into a second weekend.
The president tweeted: "I am a big fan of Drew Brees. I think he's truly one of the greatest quarterbacks, but he should not have taken back his original stance on honoring our magnificent American Flag. OLD GLORY is to be revered, cherished, and flown high..."
He added in another tweet: "We should be standing up straight and tall, ideally with a salute, or a hand on heart. There are other things you can protest, but not our Great American Flag - NO KNEELING!"
Trump also rebukes Goodell for acknowledging the NFL had failed to heed black players' demands for social justice and suggested the league commissioner could allow players to kneel in protests this season.
"Could it be even remotely possible that in Roger Goodell's rather interesting statement of peace and reconciliation, he was intimating that it would now be O.K. for the players to KNEEL, or not to stand, for the National Anthem, thereby disrespecting our Country & our Flag?," Trump tweets.
Uncommon Knowledge
Newsweek is committed to challenging conventional wisdom and finding connections in the search for common ground.
Newsweek is committed to challenging conventional wisdom and finding connections in the search for common ground.
About the writer
Dan Cancian is currently a reporter for Newsweek based in London, England. Prior to joining Newsweek in January 2018, he was a news and business reporter at International Business Times UK. Dan has also written for The Guardian and The Observer.