Vizio M7 Series Quantum 2021 Review: Epic Value for Movies and Gaming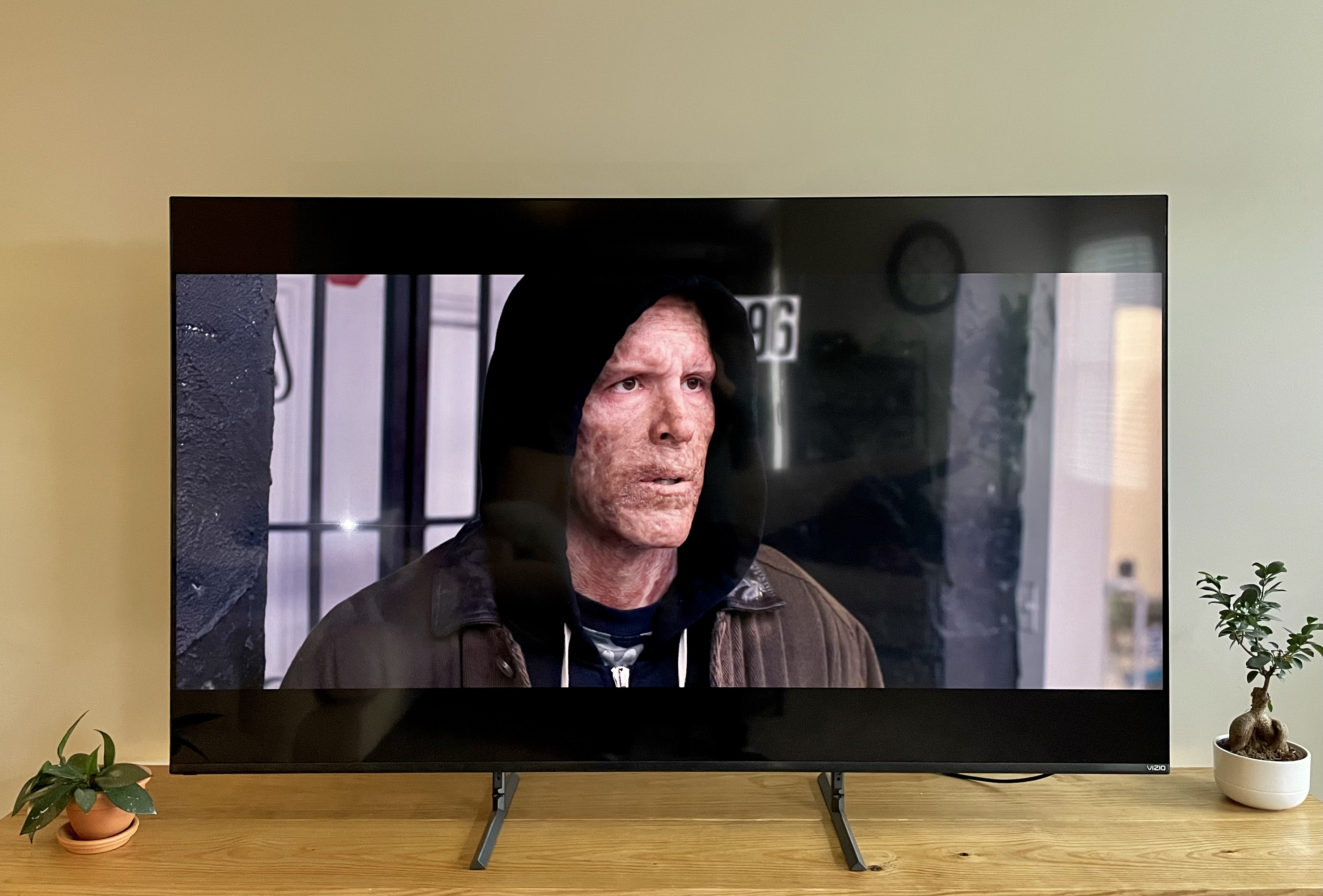 The new Vizio M7 Series Quantum model for 2021 is a nice upgrade that delivers a perfect mix of features and screen size for the value.
We love the updated style, which matches the Vizio P Series Quantum design, and the overall performance for movies and games.
This set does use a 60 Hz panel, which means that some gamers with the PlayStation 5 and Xbox Series X will want to look for a different option. It does support variable refresh rate to reduce screen tearing, and it does offer a low input lag.
The new voice remote, SmartCast smart TV system, plus support for Apple AirPlay and Google Chromecast, make it easy to put your favorite shows and movies on the screen.
The overall performance is good, with deep blacks and vivid colors, but the local dimming isn't the best, so you will see some blooming where bright areas bleed into the black. That said, it is still an outstanding value at the price.
The Vizio M7 Series Quantum line includes sizes from 50 inches to 75 inches, with prices starting at $569.99 at Best Buy and Amazon. Vizio also offers the M Series in a M6 Series Quantum model at a lower price.
The Vizio M7 Series Quantum model, number M70Q7-J03, we tested features a 70-inch screen and retails for $1,099.99 at Best Buy and Amazon.
Performance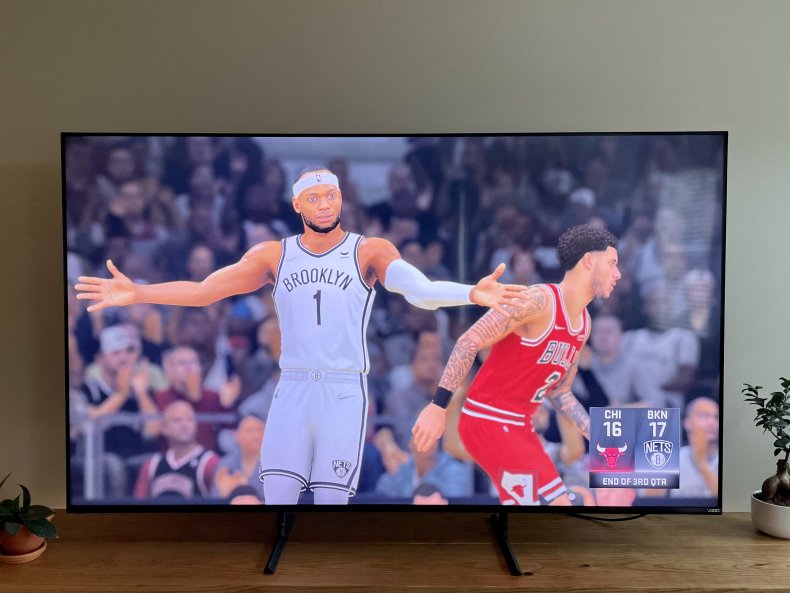 The Vizio M7 Series Quantum 2021 performs well across most uses. The set looks best in a darker room but handles reflections very well in brighter rooms.
We put the 70-inch set to the test with NBA 2K22 basketball video game on the PS5 for online and in-person matches. My 15-year-old routinely beat me, but this was no fault of the TV's, which delivered a great gaming experience even with only a 60 Hz panel. The low input lag and support for variable refresh rate make this an appealing choice for many gamers who don't want or need support for 120 Hz screens. The colors pop, and the larger screen means we can both sit on the couch and play head-to-head without the need to get too close to the TV.
The great native contrast helps deliver deep blacks, and the HDR support makes colors really pop. This set features full-array local dimming, but there is some blooming, which isn't desirable. This is where a bright white section of the image spills over into the dark. You may notice some smearing if you look closely during fast motion, but overall this is a great big screen for the price.
We enjoyed watching both NBA and college football on this set, with good overall performance. The TV does have a narrow viewing angle, which works well in our room, but if you plan to host many friends, this could be in a wide room.
If you watch TV shows in a bright room, the performance is good, thanks in part to the reflection handling, which keeps lights or windows from spoiling the image. However, upscaling performance—when the TV needs to take standard definition, or 720p, content and display it on the 4K screen—isn't as good as we see on higher-end sets from Samsung.
Even with the viewing angle limitation and the upscaling, this set performs very well and can easily fill the role of your main TV or upgrade a gaming room.
Design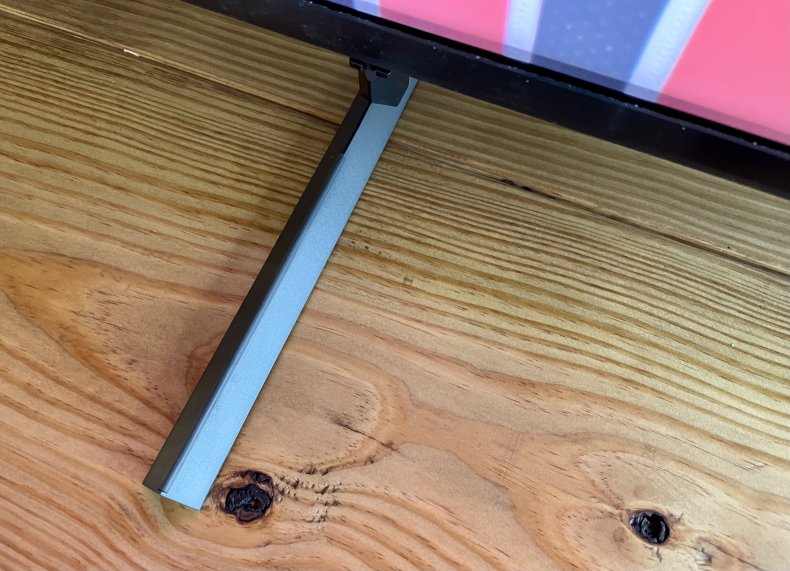 The new M7 Series Quantum design stands out because it is very similar to the P Series Quantum. Usually, there is a marked difference in the looks of TV sets when you go up to the premium model, but the M70Q7-J03 shares the overall style with Vizio's top model.
Unlike older Vizio models, the TV stand or feet are now closer to the center. This opens up more possibilities for entertainment stands, and it is even more important on a large set like the 70-inch model we tested. These feet can also mount at two heights. The first is low profile and great if you are using the TV audio, and the second raises it 3.5-inches, providing room for even a large soundbar. The TV feels very stable on these legs, even at the higher setting.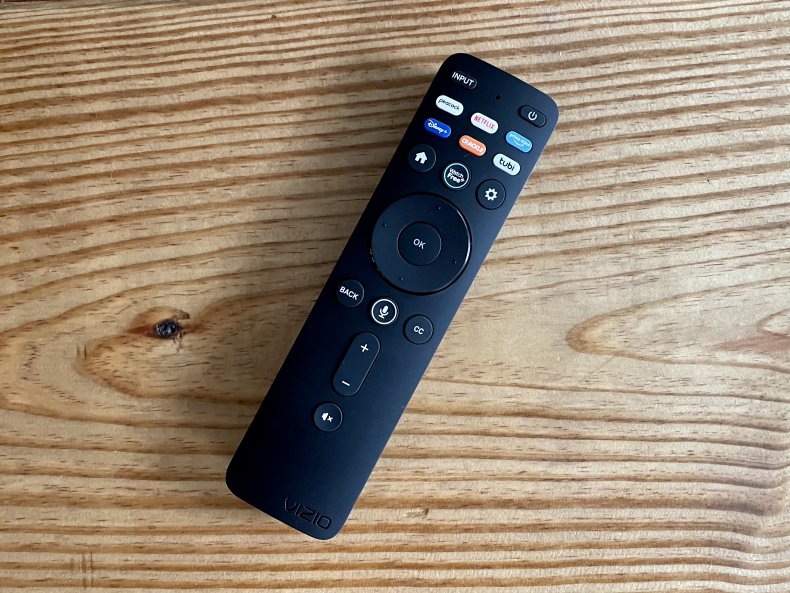 Vizio upgraded the remote control for 2021 with a new voice button that makes it easy to control common TV options with your voice. The TV is not always listening, so you will need to press the microphone and use your voice to switch inputs, open apps for streaming and control other TV settings. It is handy if you plan to use SmartCast.
Smart TV Features
The Vizio SmartCast system is good enough to be the only smart TV solution you'll need, thanks to the combination of Apple AirPlay and Google Chromecast, but there are some moments when it feels a little slow.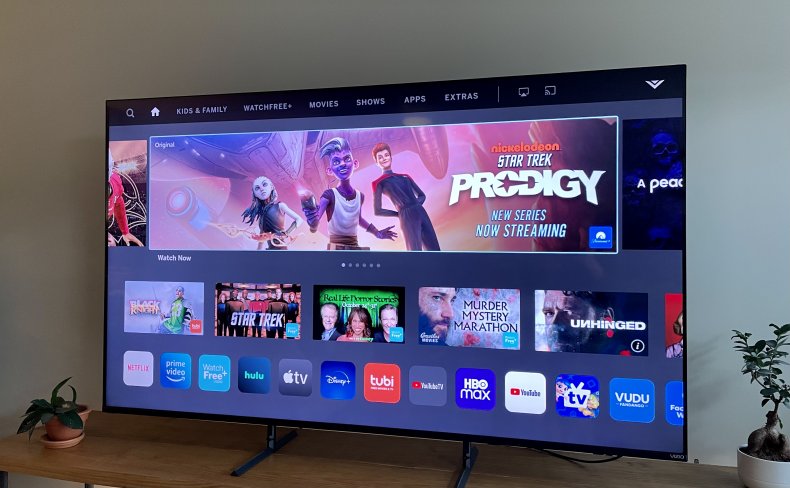 The system now supports Netflix, Disney Plus, Hulu, Amazon Prime Video, HBO Max and other services. You may need to use screen mirroring from your phone to utilize more niche services, but you can even watch Apple TV on the set directly.
In the Apple ecosystem, the support for AirPlay 2 and even HomeKit is handy. This allows us to mirror our phones to the TV and quickly turn the TV on with Siri. We do use an Apple TV 4K with the setup to watch Spectrum TV without mirroring. Spectrum does not offer an app for Vizio TVs.
The system also supports Amazon Alexa, Google Assistant and Siri for voice commands, adding additional control and smart-home integrations to the mix.
Is the Vizio M7 Series Quantum Worth Buying?
The Vizio M7 Series Quantum 2021 is an excellent deal at the price, and even the larger 75-inch model is a great option for an immersive home theater experience without breaking the bank. The overall performance is fantastic for users looking for a big screen without paying for features they don't need, like a 120 Hz panel.
Check the latest deals at Amazon, GameStop, Best Buy and Vizio. As always, the prices listed may fluctuate over time.
Newsweek may earn a commission from links on this page, but we only recommend products we back. We participate in various affiliate marketing programs, which means we may get paid commissions on editorially chosen products purchased through our links to retailer sites.