Putin Is Investing $1.5 Billion in One of His Top Allies
Belarusian President Alexander Lukashenko on Thursday said Russian President Vladimir Putin has agreed to provide Belarus with $1.5 billion for its participation in import substitution programs, according to a Belarusian state news agency.
"We recently made such a decision with President Putin. On our part, we offered the Russians specific projects that are very necessary and will be in demand in the near future not only in Belarus, but also in the Russian Federation," Lukashenko said, according to a translated story from the Belarusian Telegraph Agency (BelTA).
Lukashenko added, "The Russians allocate about one and a half billion dollars for these programs only [in] the territory of Belarus."
Putin and Lukashenko have long been close allies. Russia previously gave Belarus a $1.5 billion loan in 2020 after sanctions were placed on the country by the United States and the European Union following Lukashenko's victory in a disputed presidential election. Lukashenko said those sanctions were part of an alleged plot by the West to remove him from power, an allegation similar to comments Putin has made about sanctions imposed on Russia for its invasion of Ukraine.
Lukashenko has also been an outspoken supporter of Putin's war in Ukraine. He said in March to a Japanese television station that the West provoked the war and claimed it was "beneficial for the Americans." More recently, he sent a letter to United Nations Secretary General António Guterres in May that warned international contributions to Ukraine's security could lead to the conflict expanding into another world war.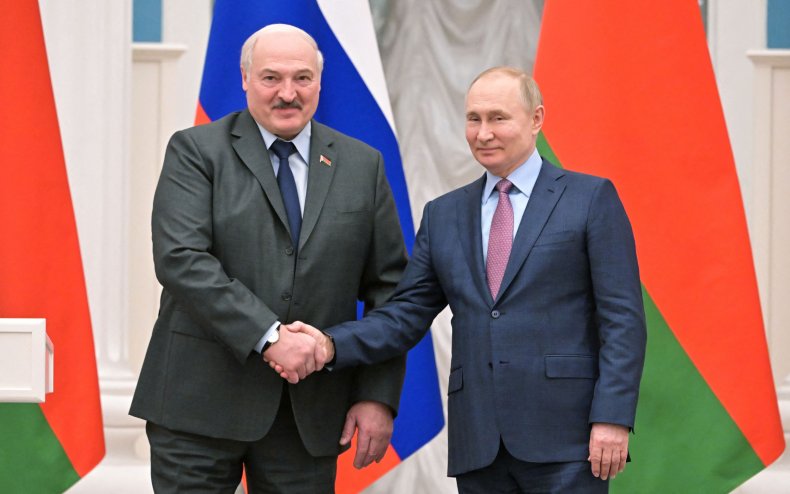 Putin recently discussed working with Belarus during an address made on May 26 at the Eurasian Economic Forum.
"We have opportunities to work with the Republic of Belarus in a number of areas of cooperation, and we will definitely do this, because the Republic of Belarus has retained certain expertise that is very important for us, including in microelectronics," Putin said during his videoconference appearance, according to a translation by the Kremlin.
Putin continued, "President Lukashenko and I just met in Sochi and talked about it and even agreed to set aside funding for those projects in Belarus. The products that these enterprises, these industries will make will enjoy demand in Russia. This is a very interesting and promising area."
BelTA previously reported that Lukashenko and Putin discussed import substitution during a May 16 meeting. Lukashenko has publicly championed the importance of import substitution—the idea that blocking imports will increase demand for domestically produced goods—as a method of bolstering the economy in Belarus and lessening reliance on Western products.
Lukashenko on Thursday again emphasized why he felt import substitution is important for Belarus.
"We understand that without import substitution, especially in critical sectors, the so-called critical imports, it will be very difficult for us to develop," Lukashenko said, according to BelTA.
Newsweek reached out to the Belarus Ministry of Foreign Affairs for comment.