Vladimir Putin Defends Joe Biden's Decision to Withdraw Troops From Afghanistan
Russian President Vladimir Putin has said that Joe Biden was right to take American troops out of Afghanistan but criticized the "mess" that the U.S. withdrawal left behind.
Moscow has been seeking to expand its influence in Afghanistan following the seizure of power by the Taliban and the exit of most western diplomats from Kabul.
On Wednesday, a Taliban delegation took part in talks in the Russian capital about the future of the country under the so-called Moscow format, which includes India, Iran, China and Pakistan.
During a question and answer session after his speech at the Valdai Discussion Club in the Black Sea resort of Sochi, Putin backed Biden's decision over the controversial U.S. withdrawal.
"Of course, the President of the United States...did the right thing to withdraw his troops from Afghanistan," Putin told the forum on Thursday, according to a transcript on the Kremlin website.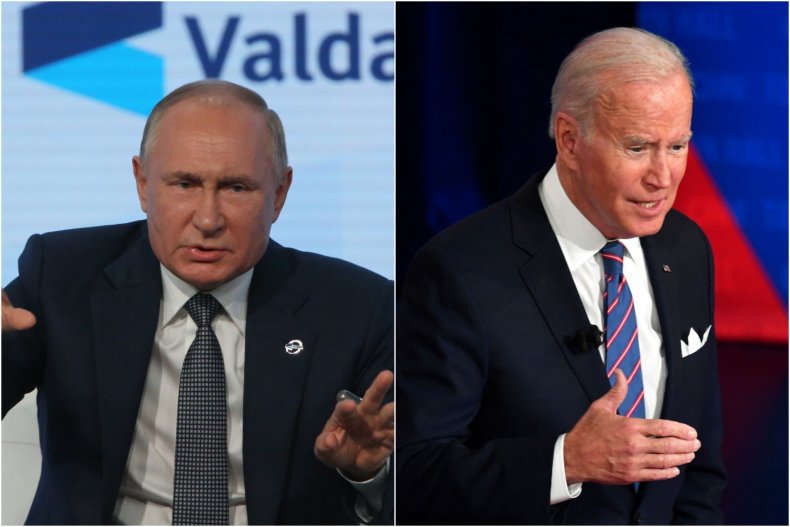 Putin said Biden "probably understood" even if he did not know "in detail" that he would face criticism domestically for the move, but "he went for it, accepted it and took on this responsibility.
"He did the right thing in deciding to withdraw troops but now, of course, we all need to look to the future."
Putin said that "the main responsibility" for the current chaos in Afghanistan was held by "those countries that fought there for 20 years."
"But since they...started this 'mess' they should no longer absolve themselves of responsibility for the events that are taking place and in the future," he said, adding "they have a lot of tools to influence the situation in Afghanistan."
"The first thing they should have done, in my opinion, is to unfreeze Afghan assets and enable Afghanistan to tackle socio-economic problems of paramount importance," he added.
The Taliban is banned as a "terrorist" organization in Russia but Putin has previously said that the group should be accepted on the international stage to help develop the country.
Russia sees the Taliban as crucial to fighting against Islamic State-Khorasan Province (ISIS-K) although experts say Moscow has no immediate plans to give diplomatic recognition to the Islamic Emirate of Afghanistan.
However, Putin suggested on Thursday that Russia would remove them from the list of terrorist organizations, saying. "Russia's position will be to move in this very direction."
When contacted for comment, a State Department spokesperson told Newsweek: "We note that our interests are aligned with some of the meeting outcomes from Moscow this week."
These included "the need for the Taliban to form a truly inclusive government and the need for the Taliban to uphold their counterterrorism commitments."
Earlier during his main speech, Putin criticized western liberalism and advances in gay and transgender rights.
He called on Russians to "rely on our own spiritual values, our historical tradition and the culture of our multi-ethnic nation," in comments made available in English on the Kremlin website.
He said that transgender rights supporters were demanding an end to "the traditional notions of mother, father, family and even gender."
He also referred to it being "truly monstrous" when children "are taught from an early age that a boy can easily become a girl and vice versa."
Update 10/23/21 9:54 a.m. ET: This article has been updated to include a statement by the U..S. State Department.