Putin Facing Troop Morale Crisis, Discipline Issues Over Low Pay: U.K.
Russian President Vladimir Putin is facing a troop morale crisis over low pay, according to the U.K.'s Ministry of Defence (MoD).
The MoD said in a Sunday, September 4, Twitter post that Russian forces suffered from discipline and morale issues as the war in Ukraine rages on.
An MoD spokesperson said: "Russian forces continue to suffer from morale and discipline issues in Ukraine. In addition to combat fatigue and high casualties, one of the main grievances from deployed Russian soldiers probably continues to be problems with their pay.
"In the Russian military, troops' income consists of a modest core salary, augmented by a complex variety of bonuses and allowances. In Ukraine, there has highly likely been significant problems with sizeable combat bonuses not being paid.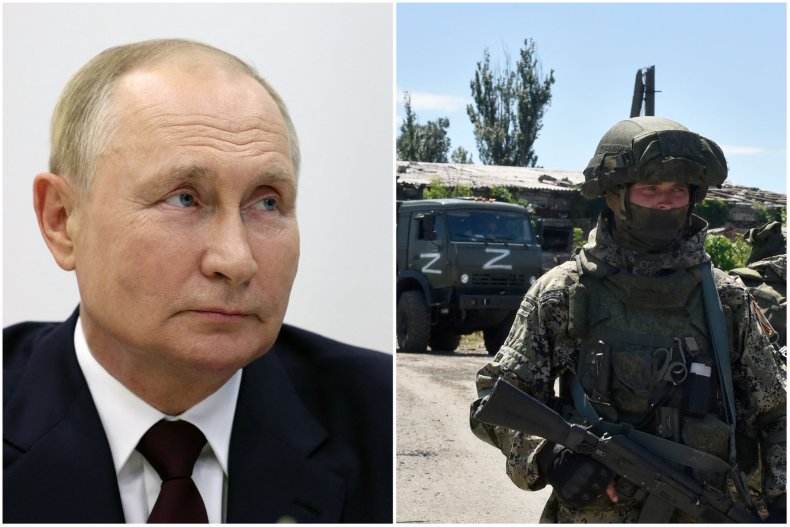 "This is probably due to inefficient military bureaucracy, the unusual legal status of the 'special military operation', and at least some outright corruption amongst commanders."
It added: "The Russian military has consistently failed to provide basic entitlements to troops deployed in Ukraine, including appropriate uniform, arms and rations as well as pay. This has almost certainly contributed to the fragile morale of much of the force."
Since the outbreak of the war, the U.K. government has staunchly supported Ukraine and its updates have regularly been favorable to Kyiv.
While the U.K.'s assessments have often been at the expense of Russia and in favor of Ukraine, undoubtedly Putin has failed to bring a swift end to the war and bring Kyiv under Moscow's influence.
Earlier this year, Russia pulled its forces away from Kyiv in order to further secure its control of the separatist regions of Luhansk and Donetsk as well as create a land corridor to Crimea, which was annexed by Moscow in 2014.
Ukrainian forces have since mounted a counter-offensive to regain Kherson, a city occupied since the start of the invasion.
Oleksiy Arestovych, an advisor to Ukrainian President Volodymyr Zelensky, said the strategy to regain ground involves the "systemic grinding of Putin's army."
Part of the offensive is based on Ukraine's use of HIMARS, or High Mobility Artillery Rocket Systems, which the U.S. recently provided in order for troops to actively combat Russian forces.
A Pentagon briefing earlier this week held by a "senior defense official" and a "senior military official" said Russian troop morale had plummeted as a result of Ukraine's use of HIMARS and warplanes.
Russian officials have struggled to recruit volunteers to fight in Ukraine since the end of July, according to Rotunda.
The outlet also shared an image of a leaflet that called for candidates between 19 and 59 with "not below average" education to serve for an average monthly salary of 200,000 roubles ($3,300).
Authorities in St. Petersburg have tried to get homeless people to enlist in the army after the Russian army suffered tens of thousands of troop losses.
Newsweek has contacted the Kremlin for comment.