Vladimir Putin Gives Russia One-Week Paid Vacation, Orders Military to Prepare to Stop Coronavirus Outbreak
Russian President Vladimir Putin has offered citizens a week-long paid vacation and has ordered new military checks to help stop the spread of the new coronavirus pandemic.
In a televised address to the nation Wednesday, Putin declared a week-long national holiday lasting from March 28 to April 5 in the country of roughly 144 million people. Essential industries such as medical institutions, pharmacies, shops, banks, financial institutions, transportation, as well as government bodies at all levels will continue to work.
"All recommendations must be followed," Putin said. "It is necessary to protect yourself and your loved ones, to show discipline and responsibility, and believe me, the safest thing now is to be at home."
Russia so far has reported comparatively few cases of the new coronavirus disease. As of Tuesday, the Russian Ministry of Health recorded 658 confirmed COVID-19 cases, including 29 recoveries and a single death.
Putin warned, however, that Russians should not be naive or careless in their approach toward a virus "that can affect everyone."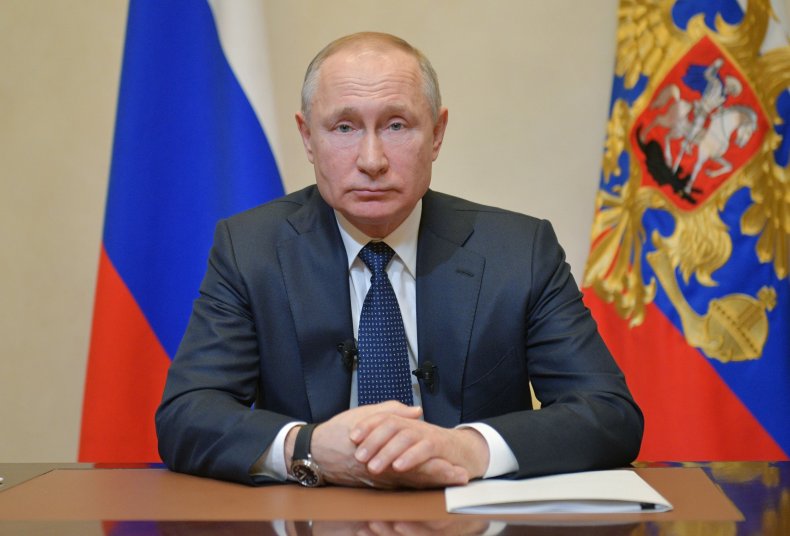 Also on Wednesday, Russian Defense Minister Sergei Shoigu announced a new series of military inspections designed to prepare the country's armed forces to counter the coronavirus spread. Shoigu said the three-day checks, which were ordered directly by Putin, would involve military command and control bodies, formations and military units of the Western and Central Military Districts, Aerospace Forces and Strategic Missile Forces, as well as Nuclear, Biological and Chemical Troops, Engineer Troops and individual medical support organizations.
"The purpose of the check is to increase the level of readiness of units to resolve, if necessary, tasks to fight coronavirus infection," the Russian Defense Ministry said in a press release, noting that the events will take place in two stages.
"At the first stage, the headquarters of the military districts, central bodies of military command will form groupings, combined squads for eliminating the consequences of the fight against diseases in the places of deployment of military personnel," the ministry said. "At the second stage, the ability of special-purpose medical units, full-time and combined medical units of military districts, formations and combat arms, as well as the mobile reserve of the General Staff of the Russian Armed Forces for timely deployment to fight infection will be tested within two days."
The number of confirmed COVID-19 cases around the world has neared 440,000, more than 110,000 of whom have recovered and nearly 20,000 of whom have died. The disease was first observed in China, which shares an extensive border with Russia.
While Wuhan city, the capital of China's central Hubei province, was once considered to be the epicenter of the outbreak, the majority of cases are now in the West, where Italy has recorded the most deaths of any country. Spain too has surpassed China in fatalities, while the United States now claims the most active COVID-19 cases.
Moscow has provided assistance to countries suffering struggling to curb COVID-19 infections. Russian military specialists arrived Monday at Italy's Pratica di Mare Air Base outside of Rome as part of a column mobilized to help the nation's growing coronavirus crisis and tasked with covering a near-375-mile-long journey across the embattled Mediterranean country. On Wednesday, the Russian military group, escorted by Italian police, reached Florence to stop for refueling and inspections.
The U.S. has also accused Russia of deliberately spreading unfounded claims made by Chinese and Iranian officials in order to discredit Washington's response to the pandemic. At home, major states such as New York and California have indefinitely shuttered non-essential businesses in order to beat the coronavirus as COVID-19 infections nationwide exceeded 55,000 but President Donald Trump has expressed a desire to reopen the economy by Easter, which falls on April 12.
"We had the best economy in the history of our country three weeks ago," the president said. "And then all of a sudden, we're supposed to shut it down, and then we're supposed to pay people not to go to work."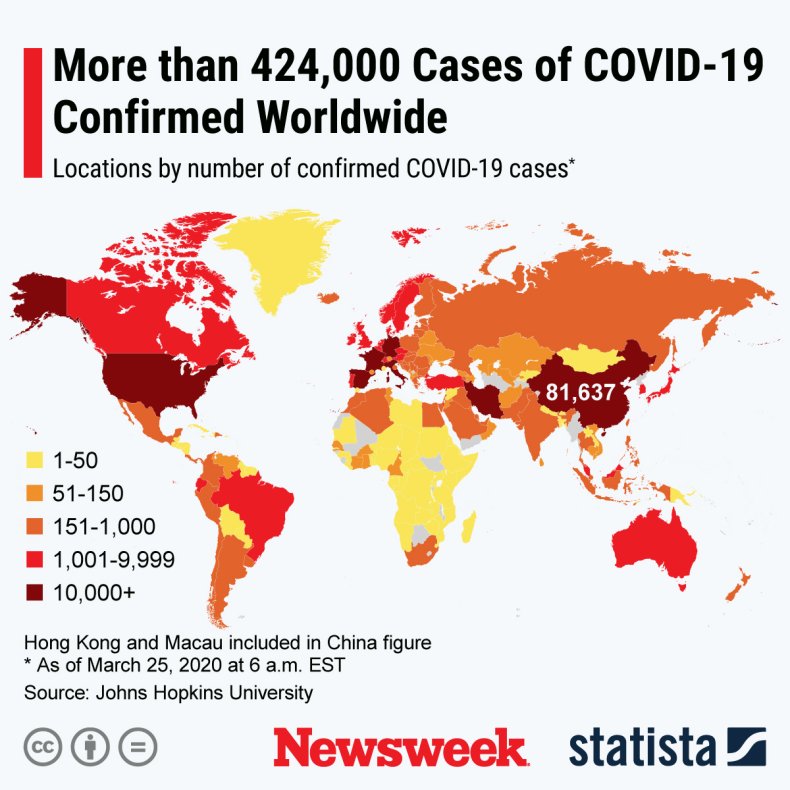 The above graphic was provided by Statista.