Vladimir Putin Gets Corrected by Schoolboy About Russian History
Russian President Vladimir Putin was given an unexpected history lesson by a teenage student after he made a mistake in describing a battle that was fought over 300 years ago.
Putin was addressing the students at the Ocean children's center in the Far East city of Vladivostok in a televised address to mark the start of the school year.
As he spoke on Wednesday, Putin said that the forces of Tsar Peter the Great, the founder of the president's hometown of St Petersburg, defeated the Swedish empire in the 1709 Battle of Poltava during the Seven Years' War
However, high school student Nikanor Tolstykh, from the city of Vorkuta, fearlessly corrected the president and said that the battle, which thrust Russia into the forefront of 18th-century European geopolitics, in fact took place during the Great Northern War.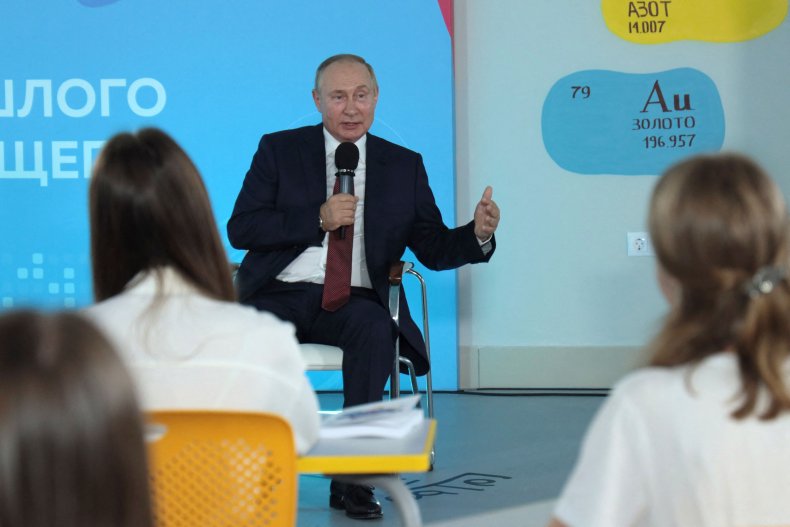 After Putin described the battle of Poltava and said how "the knowledge of the past" can allow a "better understanding of today," he could see the student was itching to intervene, and asked him, "you want to say something?"
Tolstykh took the microphone and said that the war Putin referred to "was not called the Seven Year War," but rather the Great Northern War between 1700 and 1721 in which Russia was one of the "improving maritime powers."
Putin in turn responded by saying: "Of course, thank you for the correction."
The Seven Years' War took place between 1756 and 1763, during which Russia in fact aligned with Sweden, as well as France and Austria, against Prussia, Hanover, and Great Britain.
On Thursday, Kremlin spokesperson Dmitry Peskov praised the boy's initiative and rejected the charge by his school principal that his correction of the president's military history was down to the "arrogance of the young."
"This is not arrogance at all," Peskov told reporters, according to the agency Tass, "We are convinced that no one will expel a child, especially such a talented and knowledgeable one."
"We hope that the child will not face any criticism from the school director," Peskov said, adding that Putin considered the address to the students as a "dialogue" and that as a stickler for facts himself, would often correct others.
"We know that he [Putin] has an absolutely phenomenal knowledge of history, and of course, he is always prepared to listen to such corrections, whether from a child or a specialist," Peskov said.
Putin frequently invokes Russia's more recent history to impart a sense of national pride among the population, in particular regarding the legacy of WW2.
Last year, he announced new probes into Nazi war crimes, and in April, signed into law tougher penalties for those who insult war veterans.