Vladimir Putin Hopes to Eventually Tap Someone 'Worthy' of Leading Russia After him
Russian President Vladimir Putin addressed a range of topics on state media on Wednesday, but his remarks about finding a "worthy" successor to fill his position opened speculation on his future plans as to how long he will lead the country.
Putin's current six-year term will end in 2024, and he has yet to announce whether or not he will seek to run for president again. The 68-year-old leader has the ability to seek two more six-year terms in office, which allows for the possibility of Putin remaining in power until 2036.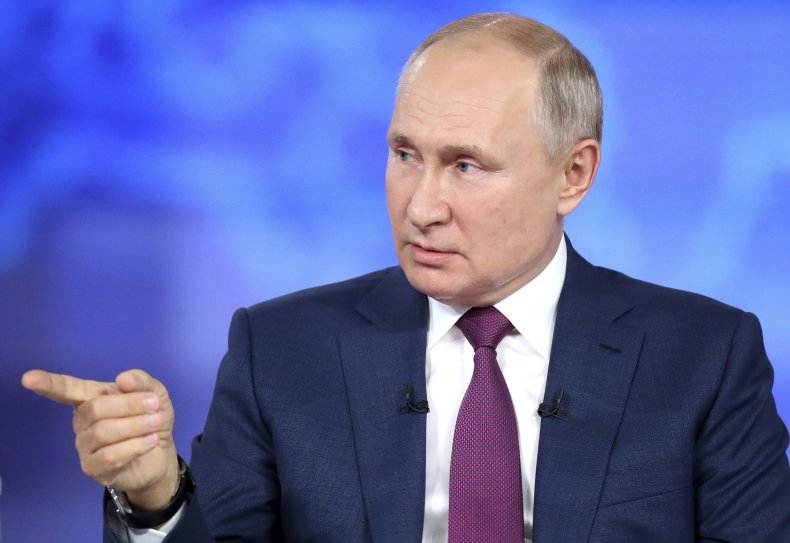 "A time will come when, I hope, I can say that such and such a person is worthy in my opinion of leading such a wonderful country like Russia, our homeland," Putin said during an interview on Wednesday.
He also said the decision of who leads Russia is in the hands of the voters and not him.
Putin was an officer in the KGB during the Cold War before he was named acting president in December 1999 by his predecessor Boris Yeltsin. He went on to become the elected president until 2008, when he was barred from a third consecutive term by the Russian constitution. At that time, First Deputy Prime Minister Dmitry Medvedev assumed power with Putin taking over the position of prime minister. Putin was then reelected as president in 2012, and he signed into law a change to the constitution that allows for more presidential terms.
After Alexander Lukashenko of Belarus, Putin is the second-longest serving European president, but the Russian leader is experiencing some turmoil from both inside and outside his country.
Current diplomatic relations between Russia and the West are widely seen as strained, due to Russia's alleged meddling in the United States' 2016 presidential elections and for such moves as arresting Kremlin critic Alexei Navalny.
Meanwhile, Putin is dealing with issues in his own country such as high inflation due to the COVID-19 pandemic's effect on Russia's oil-dependent economy.
Reuters said Russia's parliamentary elections in September might forecast voters' opinions leading up to the 2024 presidential election.
Putin made his comments regarding his theoretical successor during his regular "Direct Line with Vladimir Putin," a call-in show broadcast on TV and radio. The question-and-answer interview session is held annually—though it was canceled last year due to the pandemic—and Putin uses the show to speak on a variety of issues.
Along with the brief discussion about a successor, Putin spoke of an incident involving a British destroyer on the Black Sea last week, claiming the United States was involved. He also said he had been vaccinated with the Russian-made Sputnik V COVID vaccine, though he emphasized he doesn't "support mandatory vaccination."