What Vladimir Putin Said about Working with Joe Biden
Russian president Vladimir Putin has expressed hope that President-elect Joe Biden can usher in a new era in relations between Moscow and Washington DC, beginning with an arms reduction treaty that is set to expire.
This week, Putin congratulated President-elect Joe Biden for winning the U.S. election, whose result President Donald Trump still disputes.
During the annual media conference in which journalists and citizens around Russia asked pre-agreed questions, Putin said he believed that Biden was open to negotiating the new START treaty, which expires in February 2021, less than a month after he takes office.
In October, Putin proposed extending the New START for at least one year. This week, Russia's U.S. ambassador, Anatoly Antonov, said Moscow's 2019 proposal to extend the the treaty for five years without preconditions was "still in effect," Tass reported.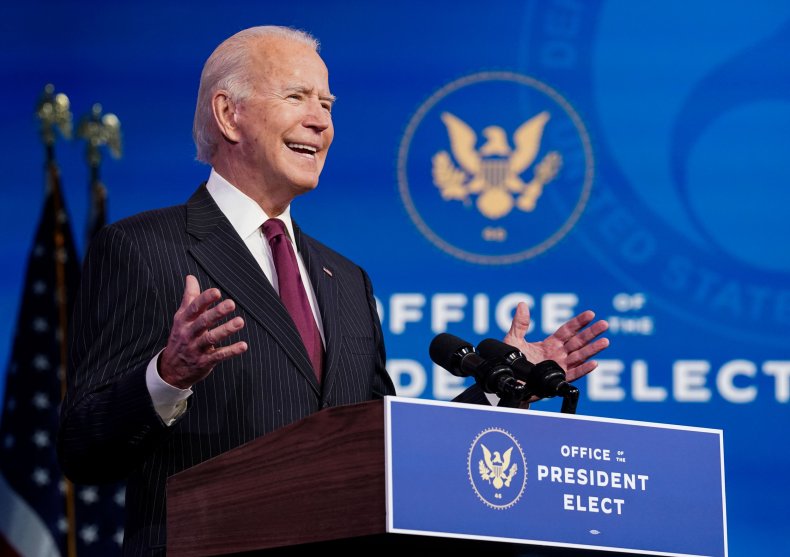 Putin said on Thursday: "We are ready to continue the dialogue. I know that the newly elected President, Mr. Biden, said that, well, it sounded like... a readiness to continue the dialogue, to preserve this fundamental document.
"We are ready for this," Putin added, "but we need some kind of reaction from our American partners," according to RIA Novosti.
Relations between the U.S. and Russia have worsened under Trump with increased sanctions being imposed on Moscow.
Putin was the final major world leader to congratulate Biden and did so after the electoral college confirmed that Biden's victory. Putin's message earlier this week spoke of his readiness for "interaction" as well as confidence that Russia and the U.S. can "despite their differences" help solve problems the world faces.
On Thursday, Putin offered a positive take on what the future relationship with the U.S. might entail under a Biden administration.
"We believe due to his domestic and foreign policy experience, the U.S. president-elect will sort things out," Putin said, adding that he hoped "all arising problems...or at least some of them—will be resolved during the next administration." The comments about Biden were tweeted by the Russian foreign ministry.
As a sign of the tough task ahead for the leaders, Putin blamed the west when responding on Thursday to a question over whether he felt he was responsible for a new "Cold War."
"We heard you say NATO won't expand east. But you did. NATO is approaching our borders. We're not supposed to respond?" Putin said.
He said that the arms race began after the U.S. had withdrawn from the ABM Treaty and he also took aim at the American withdrawal from the Open Skies Treaty.
Putin was also prickly when asked about why given the accusations Russia has faced over interference in the 2016 election, did Moscow not help Trump get elected this year.
He said such claims are "used to make relations between our two nations worse, to delegitimize the presidency of the outgoing U.S. president."
"And in this way, U.S.-Russian relations are all hostage to American domestic affairs. I think this is worse for Americans themselves.
"I hope Biden understands what is happening, he is an experienced person," he added.
The graphic below from Statista outlines President Vladimir Putin's time in power.