Is Vladimir Putin Married? What We Know About Alina Kabaeva
The White House announced on Wednesday that it was placing more sanctions on Russia for its invasion of Ukraine, including ones on the two adult daughters of Russian President Vladimir Putin. The news led to calls for sanctions to also be placed on Alina Kabaeva, a former gymnast, who is rumored to be Putin's mistress.
Putin, 69, has previously denied having a romantic relationship with Kabaeva and has long remained guarded in matters regarding his personal life. When he announced his divorce from his then-wife Lyudmila in 2013 after 30 years of marriage, it was done so during a casual interview with a television reporter, following the couple's taking in a ballet performance at the Grand Kremlin Palace.
Kabaeva, 38, has likewise never confirmed a relationship with the Russian leader, and the Kremlin allegedly kept reports linking Putin and Kabaeva from surfacing the press. A Russian newspaper, the Moskovsky Korrespondent, was shut down in 2008, a week after reporting Putin was leaving Lyudmila for the gymnast. (The head of the company that published the paper said the decision to close was not political, but a deputy editor insinuated otherwise.)
Georgy Alburov, who works for the jailed Russian opposition leader Alexei Navalny, has been among those who have led the charge for sanctions against Kabaeva. He began a Twitter thread on Tuesday that carried into Wednesday detailing why he feels she should be punished.
"Alina Kabaeva should be sanctioned immediately," Alburov wrote. "She is the beneficiary of Putin's corruption—her relatives get apartments and houses bought with money stolen from Russians. She is a member of Putin's inner circle, a member of his family who takes advantage of his position."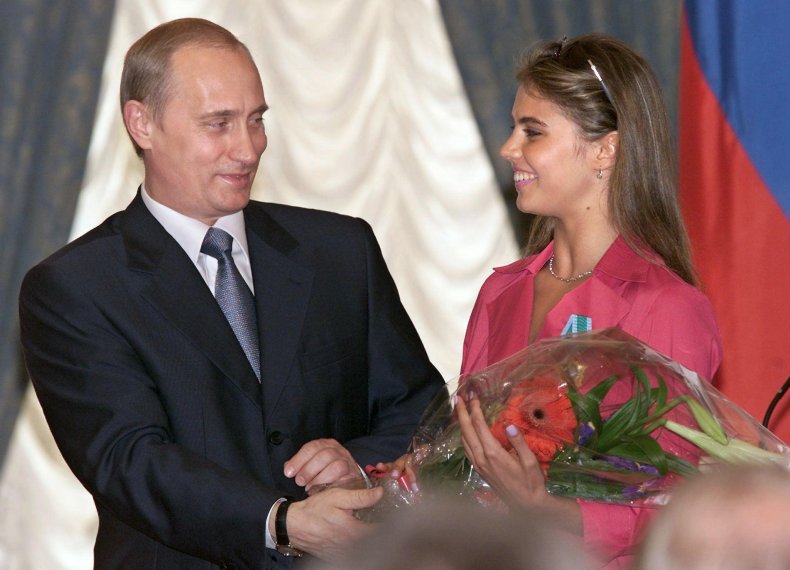 While any alleged relationship with Putin remains shrouded in secrecy, many details Kabaeva's public life have been widely reported. For one, she is among the most honored rhythmic gymnasts in Russia's history. Before retiring, she won two Olympic medals, including the gold for Individual All-Around for Rhythmic Gymnastics at the 2004 Summer Olympics in Athens, Greece. She also received 14 World Championship medals and 21 European Championship medals.
Following the end of her competitive career in gymnastics, Kabaeva moved into politics, serving several years as a member of Putin's United Russia Party in the state Duma, Russia's lower house of Parliament. While serving in government, she also posed for the cover of Vogue Russia in 2011.
In 2014, she resigned from the Duma and took the position of chair on the board of directors at the National Media Group, a large media conglomerate. There, according to The Insider, an independent Russian media outlet which cited leaked tax records, she collected an annual salary of around $10 million.
On Wednesday, Alburov claimed Kabaeva was fired from the National Media Group, citing her profile being removed from the company's website as evidence. Elsewhere on Twitter, Alburov detailed how Kabaeva's family allegedly benefited from her purported relationship with Putin. He claimed her mother was given a luxury apartment by Gazprom, a Russian majority state-owned corporation that has business interests in everything from the energy sector to the media.
Past reports in Western media, citing unnamed sources, claimed that Kabaeva shares two young sons with Putin, as well as twin girls born in 2015. It has also been alleged she and their children are currently residing in Switzerland, though the claim could not be independently verified by Newsweek.
Newsweek reached out to the Russian Foreign Ministry for comment but did not receive a response in time for publication.