Vladimir Putin Nominated for Nobel Peace Prize
President Vladimir Putin has been nominated for the Nobel Peace Prize, according to Russian media reports.
The request to recognize the president was made two weeks ago by a group of Russian writers led by Sergey Komkov, Tass reported although as yet, the reason for the nomination has not been given.
Komkov told a press conference: "This is actually my fourth nomination for the Nobel Peace Prize. It was sent on September 9 this year, and on September 10 this application was received by the Nobel Peace Committee in Oslo, at the headquarters of the Nobel Committee," RIA Novosti reported.
When asked for comment, a spokesperson for the Nobel Prize referred Newsweek to its statutes which say that no public list is made of the nominees and it is not disclosed for another 50 years.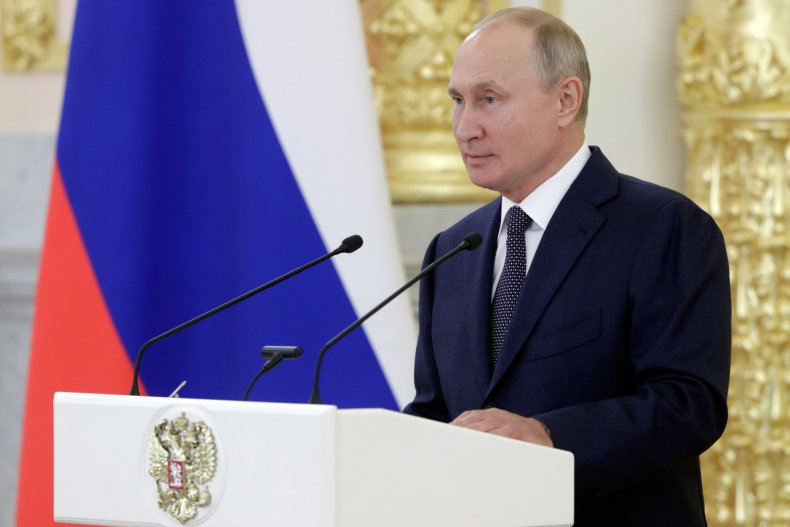 "None of the Nobel Committees do announce the names of nominees, neither to the media nor to the candidates themselves," the Nobel Prize website states.
Anyone who meets the Nobel Committee's criteria can nominate a contender and this includes lawmakers anywhere in the world, professors and academic groups.
Russian presidential spokesman Dmitry Peskov told reporters on Thursday: "You all know that completely different people are nominated for this award, this is an initiative of those submitting the nomination."
"If the decision is made (about awarding the prize) - great, if not, that's okay too," Peskov added according to TASS.
In 2013, Putin was nominated for the Nobel Peace Prize by State Duma Deputy Joseph Kobzon and the International Academy of Spiritual Unity and Cooperation of Peoples for "participation in resolving the Syrian conflict and trying to stop the U.S. military invasion of Syria," Meduza reported.
Last week, Putin critic Alexey Navalny, who is recovering in Berlin after he was poisoned in what is believed to be a politically-motivated attack, was nominated for the Nobel Peace Prize by a group of Russian university professors, according to Sergei Erofeev, a Russian scientist working at Rutgers University in New Jersey.
There was controversy earlier this month after President Donald Trump was nominated twice for the award. The first time was by the right-wing Norwegian politician Christian Tybring-Gjedde for peace talks between Israel and the United Arab Emirates. Days later, Trump was nominated by the Swedish parliament member Magnus Jacobsson for a breakthrough in ties between the governments of Kosovo and Serbia.
Among the contenders for this year's prize are the World Health Organisation as well as New Zealand Prime Minister Jacinda Ardern and environmental activist Greta Thunberg. The Nobel Committee said that the prize money this year had increased to 10 million crowns ($1.1 million) Dagens Industri reported.
This story has been updated.