Vladimir Putin Orders Mass Covid Vaccination of Russia Next Week Starting With Doctors and Teachers
Russian President Vladimir Putin has ordered a widespread coronavirus vaccination program to start in the country from next week, rejecting a suggestion from a government chief that he wait for a report into whether it could be implemented straight away.
During a video conference on Wednesday, Russian deputy prime minister Tatyana Golikova suggested to Putin that he wait for a report into the readiness of the country to roll out a vaccine, news agency RIA Novosti reported.
But Putin replied: "Let's make a deal. Don't report to me but start large-scale vaccinations next week."
"I understand we need to be cautious, but I know that the industry and the network are generally ready," Putin said, "Let's take that first step."
In August, Russia became the first country to register the coronavirus vaccine Sputnik V, although incomplete clinical trials and the speed of its development raised questions over its efficacy. Its developers say that phase three trials show it has a 95 percent efficacy rate.
Golikova, cautiously promised Putin "there's a chance for large-scale vaccination in December," the news agency reported.
Putin said that "more than two million doses have already been produced or will be produced in the next few days," adding that, "the production of the first registered vaccine against coronavirus infection Sputnik V will reach this level," Tass reported.
The Russian president said that a vaccination program can start with "the first two risk groups—doctors and teachers."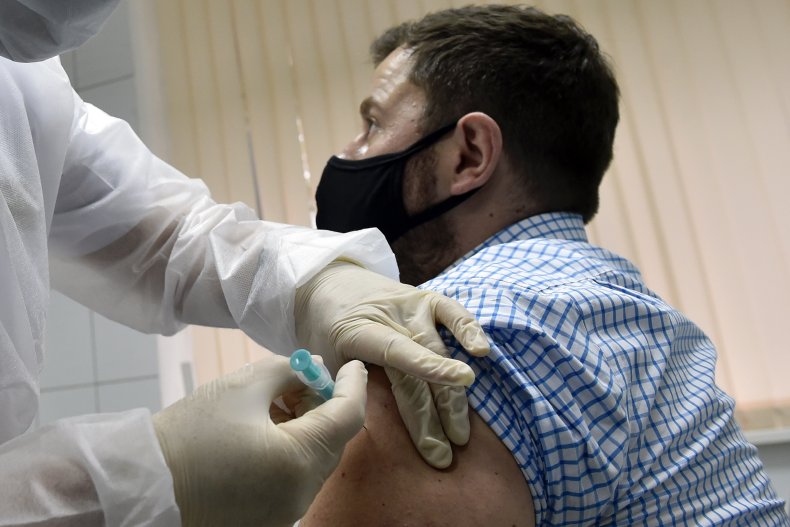 "If you think that we have come close to such a step, I would ask you to organize the work in such a way that by the end of next week, we will have already started this large-scale vaccination," he added.
It comes as Putin tries to grapple with growing numbers of positive tests and deaths. Russia confirmed on Wednesday 25,345 new coronavirus cases bringing it to over 2.3 million, the fourth highest in the world. It also recorded 589 deaths, bringing the death toll to over 41,000.
Last week, Russian defense minister Sergei Shoigu announced more than 400,000 military personnel would be vaccinated, with around 80,000 expected to get the inoculation by the end of the year.
Russia's Vector Institute has developed the country's second COVID vaccine, called "EpiVacCorona" which is expected to enter civilian circulation in early December, Tass reported.
Health minister Mikhail Murashko has said that hospital bed capacity is being tested and Russia is having to import foreign-made drugs due to a shortage of products at home.
As well as the vaccines Russia is developing, it also produces some drugs domestically such as Coronavir and Avifavir, both of which are based on favipiravir, a common treatment for the disease, Reuters reported.
"Supply volumes of anti-clotting agents have increased. But we still see that a shortage for the network remains, and so we are working with the trade and industry ministry on additional deliveries from abroad," Murashko told government officials on Tuesday, the news agency reported.
The graphic below from Statista shows the number of vaccine doses different countries have secured.