Russia Woman Arrested for Anti-Putin Snowman Rally Defiantly Repeats Her Protest
A woman in Russia arrested by police because she had put placards criticizing President Vladimir Putin on snowmen, has told Newsweek she would not be deterred and would continue to carry out her unusual protest.
In a case that would not be out of place in a novel by Franz Kafka, law enforcement officers knocked at Elena Kalinina's door on Wednesday to ask her about the signs hung around four snowmen outside her house in the Arkhangelsk region's Kholmogorsky District.
She had posted the images of the snowmen on her VKontakte page underneath the message "Mass picket in Zacachye"—referring to the village where she lives. They have been widely shared on social media and made headlines around the world.
The signs they were wearing had the messages, "Down with the Tsar and, "This is our country." Another used a diminutive form of Putin's first name and said, "Vova, it's over between us."
Her silent stand in the snowy winter of northern Russia came only days after more than 3,000 arrests took place in dozens of cities across the country on Saturday during demonstrations in support of jailed Kremlin critic Alexei Navalny.
Police officers destroyed the snowmen, took away the placards and brought her into a police station nearby Yemetsk for questioning. Kalinina said that she was allowed to return home pending an investigation.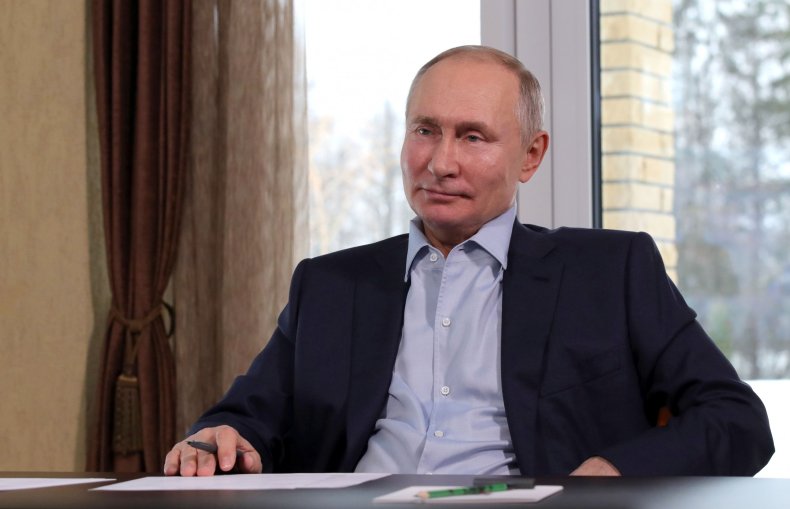 She told Newsweek on Friday that she had not heard anything further from the police and had even put up more snowmen and placards. "I have done it again and I will do it 100 times more if I have to," she told Newsweek in a message via VKontakte.
Protests across Russia have been spurred by growing anger against Putin who has had to deny claims from the opposition figure's Anti Corruption Foundation (FBK) that he was the owner of a $1.35 billion property on the Black Sea coast.
"I do not consider myself a member of any political party," Kalinina said, "I am against Putin. And like that most of the population in the country, I have opened my eyes and Navalny has contributed to this."
The new messages on the snowmen do not refer to Putin directly, and say: "I am alive", another says "you won't strangle me" while a third says, "you won't kill me."
Navalny's supporters have said they would continue demonstrating for his release with further actions planned for this Sunday and also on Tuesday.
It poses a tough problem for Putin as the Kremlin tries to fend off international criticism amid growing calls for Navalny's release. President Joe Biden expressed his concern at Navalny's fate in a phone call with Putin on Tuesday.
Meanwhile Kalinina, who will continue to make her voice heard in her own way, had some advice for the protesters who may face the full force of Russia's authorities.
"Don't give up. Water wears away the stone," she said. "What I learnt is that there is no one single method of protest—simply a series of different actions."
The graphic below provided by Statista shows how long Vladimir Putin has been in power in Russia.