Putin Rumored Girlfriend Calls Russian Media 'Weapon of War' in Rare Speech
The longtime rumored girlfriend of Russian President Vladimir Putin commented on the nation's state media during a recent rare appearance.
Alina Kabaeva, 39, has chaired the board of directors of the National Media Group since 2014. Founded in 2008, NMG describes itself as the largest Russian private media holding company and manages content across various platforms.
Her comments were reportedly made at an NMG anniversary-themed event.
"Our people need this success because information work today in the conditions in which we live and fight for our country is like a weapon of war," Kabaeva told attendees, according to a translation in a video circulating online. "It is as important as the Kalashnikov assault rifle. And war correspondents know this. Let's work."
Anton Gerashchenko, adviser to the Ukrainian minister of internal affairs, was among those posting the video on Twitter. He referred to her as "Putin's alleged lover."
Prior to her prominence in the Russian media market, Kabaeva was both a gymnast and a politician.
After moving to Moscow as a teenager, she became one of Russia's most decorated rhythmic gymnasts in history, winning two Olympic medals, 14 World Championship medals, and 21 European Championship medals.
In 1998 in Portugal, she won the European Championships when she was 15 years old.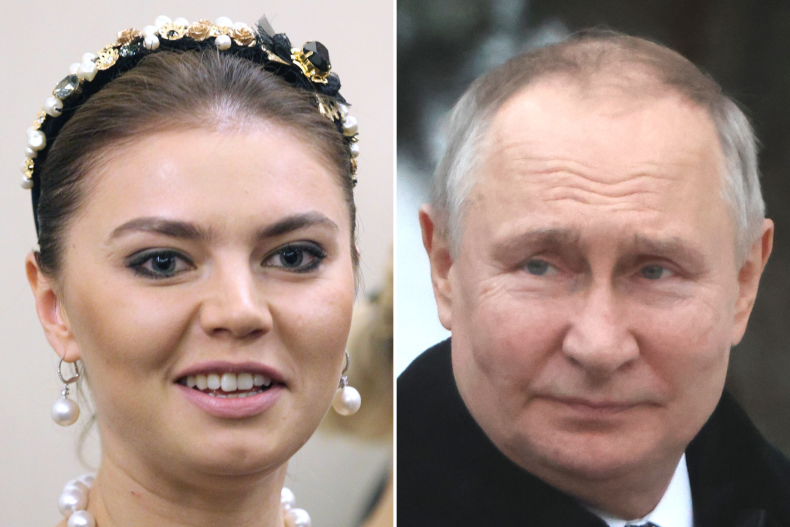 Prior to her retirement from the sport in 2004, she and teammate Irina Tchachina were found guilty of using the banned substance furosemide. They were prohibited from taking part in any competitions between August 2001 and August 2002.
After leaving the sport for good, Kabaeva was a member of the Russian Duma, or parliament, from 2007 to 2014 as part of Putin's United Russia party.
Her work in parliament included advocating for a law stopping many Russian orphans from being able to be adopted abroad, NPR reported.
Kabaeva is believed to have met Putin in the mid-2000s.
In 2008, Putin divorced his wife, Lyudmila Shkrebneva, after about 25 years of marriage. They have two daughters together. The divorce was not acknowledged by the Kremlin until 2013.
Rumors circulated around the time of the divorce that Putin and Kabaeva had secretly gotten engaged.
Days after Russia's February 24, 2022, invasion of Ukraine, the New York Post's Page Six reported that Kabaeva and the couple's alleged four children together—two daughters and two sons—went into hiding at a Swiss chalet.
People reported that Kabaeva made a public appearance last April at a gymnastics exhibition in Moscow. She reportedly delivered remarks in support of the Russian invasion.
On August 2, 2022, the U.S. Treasury sanctioned Kabaeva and numerous other Russian "elites." She was previously sanctioned by the European Union and United Kingdom.
Financial records and tax documents uncovered by The Washington Post in 2021 also purported to show that Putin has a child with an additional mistress named Svetlana Krivonogikh.