Putin Easter Church Service Video Prompts Speculation TV Footage Was Staged
A video of an Easter church service in Russia on Sunday has sparked questions about whether Russian leader Vladimir Putin was actually in attendance.
The footage from the church service, which has been viewed over 530,000 so far, cuts to Putin multiple times. At one point, it cuts to Putin doing the sign of the cross gesture while holding a candle.
Ukrainian race car driver Igor Sushko posted the clip on his Twitter page and accused Russia of spreading "propaganda" as the country enters the ninth week of its invasion of Ukraine.
"Russian propaganda fake: Easter on Russian state TV. Putin was too much of a coward to be present in the church during the actual event," he tweeted. "Pre-recorded footage of him added in, and quite poorly. He is missing next to the painting of a crown on a red table on the wall."
Other footage has emerged on Twitter that appears to show Putin doing this gesture in an empty church. The managing director of the TLFRD Baltics consultancy firm, Mykhailo Golub, alleged on Twitter that Putin's footage was shot separately. "Someone in the Kremlin leaked how the Easter church service was filmed. The footage of Putin was filmed separately," he tweeted.
Sushko also tweeted the video and claimed Putin's appearance was prerecorded.
"Someone captured Putin on video during the pre-recording of him in an emptied church protected by his body guards. This footage was then broadcast as 'live' on Russian state propaganda TV, sprinkled into the actual footage of Easter services."
However, BBC journalist Shayan Sardarizadeh dismissed these theories and said the Twitter thread was spreading false claims. He also shared photos from the church event that are on the media company Getty's website to illustrate the fact that Putin was at the event in person during the service.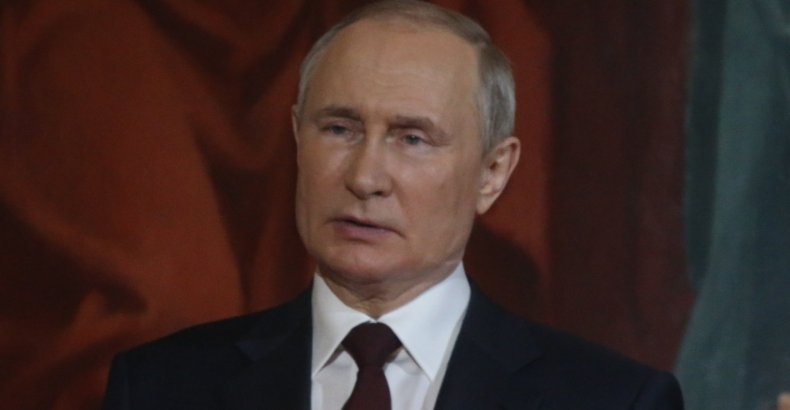 "It's day 60 of war in Ukraine. A Viral Twitter thread falsely claims footage of President Putin at the orthodox Easter mass was pre-recorded and edited in, incidating he wasn't there, " Sardarizadeh tweeted. "Agency photos from the mass clearly show him at the event wearing the exact same suit and tie."
The Associated Press Fact Check Twitter page also tweeted that Putin was at the event.
"Russian President Vladimir Putin did attend an Orthodox Easter service in Moscow on Sunday, contrary to false online claims. The Associated Press photographed him at the service."
The report that the AP shared alongside its tweet said that both Reuters and Agence France-Press also published their own photographs of Putin from the service.
Newsweek has contacted the Russian Foreign Office for comment.