Putin, Who Says Russia Beat COVID-19, Puts Visitors in Disinfection Tunnel
With some key members of his team coming down with the coronavirus, it appears that the Russian President Vladimir Putin is taking no chances with visitors. Those seeking an audience with the Russian head of state are required to pass through a disinfection tunnel where they are sprayed with a fine mist.
Described as a "disinfection tunnel" the contraption was developed by a company in the Penza region and has been installed at the president's residence in Novo-Ogaryovo, outside the Russian capital where the president receives visitors.
Resembling an airport scanner, video on state-run news agency RIA Novosti shows a demonstration of a man walking through the device and being sprayed with a fine mist from above, and to the side of, his head.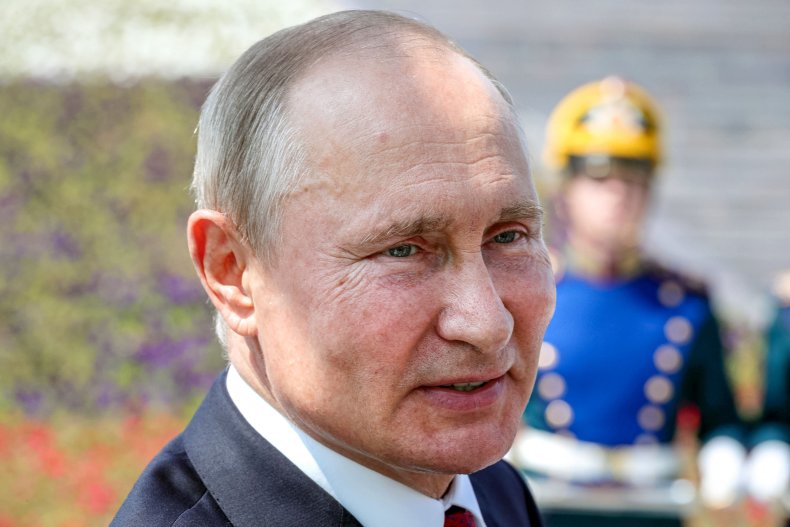 As the agency reports, everyone passing through the device is covered with a "fine water mist" which covers clothing and all exposed parts of the body with a disinfectant solution.
In April, Kremlin spokesman Dmitry Peskov said everyone who met Putin was given a coronavirus test. The president has not ruled out face-to-face meetings although they have been minimized and they are undertaken with respect to social distancing.
Peskov himself was hospitalized with the disease in May, joining three other members of the government who had been infected—the prime minister Mikhail Mishustin, construction and housing minister, Vladimir Yakushev, and culture minister Olga Lyubimova.
Russia has been opening up gradually, with the pomp of the postponed Victory Day celebrations due to go ahead on June 24 ahead of a vote on constitutional changes that look set to cement Putin's power, paving the way for his holding office until 2036.
However, he has faced criticism at his decision to outsource the response to the virus to governors, without providing them with enough resources.
Health professionals at the frontline of the virus have complained about inadequate COVID-19 protections and bonuses that they have not received.
There have also been question marks directed at official statistics, which as of Wednesday, stated there had been over 545,000 positive cases—the third highest in the world—but only around 7,200 deaths.
Russian officials have rejected doubts at such a low death rate, such as from the World Health Organization, saying that because autopsies are mandatory, often a patient's underlying condition was ruled to be the primary cause of death.
Putin, whose popularity fell to 59 percent in May, said during a videoconference this week that he believed his government had succeeded in protecting people's safety while minimizing the disease's social and economic consequences "which in general we have managed to accomplish," according to a transcript on the Kremlin website.
The graphic below provided by Statista lists the countries with the most COVID-19 cases as of June 17.