Putin Is on First Name Terms with Trump: 'He Calls Me Vladimir, I Call Him Donald'
Russian president Vladimir Putin has said that he and his U.S. counterpart president Donald Trump are on first-name terms and credited Washington for its co-operation with Moscow on terrorism.
In the latest installment of a pre-recorded interview with state-run news agency Tass, which was released on Wednesday, the Russian president was asked about his relationship with the four men who have been U.S. president over the 20 years Putin has been in power.
When asked by the interviewer Andrei Vandenko how he addresses the current White House resident, Putin said, "He calls me Vladimir, I call him Donald."
After a question about how he got on with each of the four previous presidents, Putin said he had "good relations with [George W.] Bush," but disagreed with Barack Obama's stance that the U.S. "is an exceptional nation, with special, exclusive rights in the world."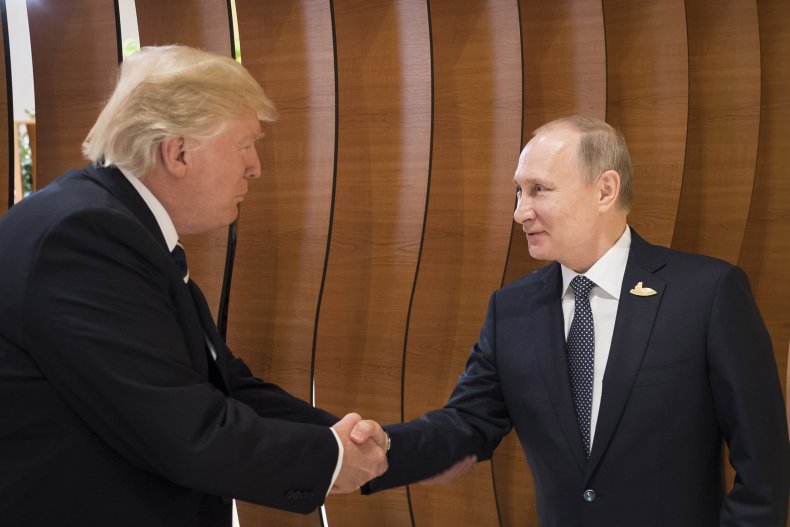 "I cannot agree. God created us all equal and gave us equal rights. So, I think it is absolutely ungrounded to say that some people should have exclusive rights to anything."
When asked to give a mark out of five to the current state of relations between Moscow and Washington, Putin said, "between a two and three, more like a three though."
A number of Russian officials face sanctions over claims that Russia interfered in the 2016 U.S. election. Ties also deteriorated following Russia's annexation of Crimea in 2014. In December, Putin's chief spokesperson Dmitry Peskov said that ties between the countries were "harsh and cold," although he did praise the personal relationship between their leaders.
In the interview with Tass, Putin gave credit to Washington for its co-operation on terrorism, saying that he "called Trump to thank the U.S. for giving us information" about a terrorist attack plot in St. Petersburg on December 27. Russian news agencies reported that two Russians were arrested on suspicion of plotting attacks during New Year celebrations in the country's second city.
"They were the ones who tracked this case down. That time, we did not. Our services track down a lot of them, thus preventing dozens of terrorist attacks, they catch and intercept them. Several dozen a year.
"That specific case was detected by the U.S. I would like to thank them a lot for sharing that information with us," Putin said. Newsweek has contacted the White House for comment.
The interview was part of a series called "20 questions with Vladimir Putin," to mark the the 20th anniversary of his position at the top of Russian politics and was recorded before lawmakers backed constitutional amendments that could see him stay in power until 2036.
On Wednesday, the Russian parliament's lower chamber, the State Duma, approved the third and final reading of the bill allowing Putin to run for a fifth presidential term in 2024, the Associated Press reported. The legislation will be reviewed by Russia's Constitutional Court and will go to the public for a referendum on April 22.
Putin Is on First Name Terms with Trump: 'He Calls Me Vladimir, I Call Him Donald' | World