Russian War in Ukraine Gives Putin Reason to Interfere in Midterms: Experts
As the United States edges closer to the midterm elections, intelligence officials expect Russia to ramp up interference efforts in an attempt to disrupt the political process. Some experts believe the Kremlin will engage in cyberattacks and disinformation campaigns with even more fervor this year due to the war in Ukraine.
Intelligence reports have laid out significant evidence that Russian President Vladimir Putin authorized cyberattacks and the spreading of propaganda during the 2016 and 2020 presidential elections in an effort to undermine former President Donald Trump's opponents. The intelligence community is once again concerned about Russia interfering with U.S. elections, and experts believe politicians who are outspoken critics of Putin's war in Ukraine will be the biggest targets.
The Kremlin understands that President Joe Biden "played a key role in unifying our allies behind strong sanctions against Russia and strong support for Ukraine," Brian Taylor, an expert on Russian politics and a political science professor at Syracuse University, told Newsweek. "A poor midterm performance by the Democrats would be perceived as weakening Biden politically, which would be in Russia's interests."
The Cybersecurity and Infrastructure Security Agency (CISA)—the division of the Department of Homeland Security (DHS) that is tasked with defending and securing the internet—recently warned lawmakers about the danger. Jen Easterly, the director of CISA, told the House Committee on Appropriations in April that her agency is working to combat Russian disinformation campaigns in relation to the midterms, saying security for this fall's elections is "one of our top priorities."
Joseph Bodnar, a cybersecurity expert at the German Marshall Fund, told Newsweek that Russia's cyber meddling in the upcoming congressional elections will likely look different than its previous efforts to disrupt the races for the White House.
"The midterms don't lend themselves to widespread disinformation campaigns in the same way that presidential elections do," Bodner said. "There's no single candidate or issue to target, so Russia will likely attempt to insert itself in close, high-stakes races. One of the best ways to do that is by hacking a candidate and leaking compromising information, and it's entirely possible they'll attempt to do that this year."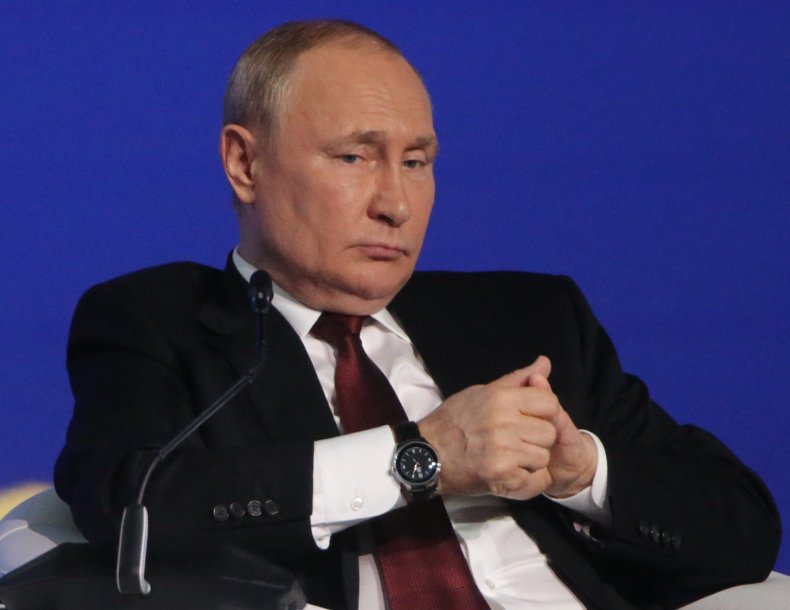 Evidence has been found that Russia has recently increased its online meddling. Microsoft released a report about Russia's cyber warfare against the United States and Ukraine on June 22. The tech giant found Russian intelligence agencies attempted cyber espionage on 42 countries, and the U.S. was the top target. The report also noted that since the start of the invasion of Ukraine in late February, Russia had escalated its hacking efforts against U.S. and allied government computer networks to gather intelligence related to the war.
Lawrence C. Reardon, an associate professor of political science at the University of New Hampshire, cited the Microsoft report as showing that the increase in Russia's cyber activities will likely cross over into the midterms.
Putin's goal is to undermine U.S. "power and influence," Reardon said to Newsweek. One way he could do this is by having intelligence agents increase interference in America's political process by sending out spam email messages to Americans with subject lines such as "Biden secret emails."
Russia also uses "far-reaching bots, trolls and viral campaigns" to influence social media users, according to Leeza Garber, a cybersecurity attorney who authored the book Can. Trust. Will.: Hiring for the Human Element in the New Age of Cybersecurity.
"This is only one arrow in Russia's cyberwar quiver, as malicious nation-state actors can also target official federal and state databases, emails and social media accounts. Anything connected to the Internet can be hacked, plain and simple," Garber said.
Given how large the political division is in America, as well as the added influence of social media on public discourse, Bodner told Newsweek that Russian operatives have "a lot of opportunities to pour fuel on the fire." These agents could use deceptive messaging and other means to push "fringe elements in the United States" so that extreme beliefs "dominate the news," which could further divide Americans politically and "undermine faith in U.S. democracy generally."
Bodner said the U.S. should be devoting large amounts of resources to thwart any efforts by the Kremlin to sow chaos into the nation's election cycle. This is particularly important because Putin may be eager to "prop up politicians who are sympathetic or ambivalent towards Russia's war in Ukraine."
While Garber believes there's no reason to doubt Russia will attempt to influence the midterm elections, she noted the U.S. has the ability to fight back against potential cyberattacks and propaganda campaigns from Russia.
"The United States has magnificent resources and personnel tasked with protecting our confidential information and electoral systems, but we still see vulnerabilities exploited constantly," she said. "It is important to be proactive in maintaining cyberhygiene, and remain vigilant in a world where cybersecurity is a moving target."