Russia Reacts to U.S Claims of Pro-Trump Election Interference
Moscow has rejected as "groundless" a report which concluded Russia had tried to influence the 2020 election in favor of former President Donald Trump.
The 15-page document by the Office of the Director of National Intelligence, said that Russian President Vladimir Putin and other senior Russian officials "were aware of and probably directed" influence operations that were "aimed at denigrating President Biden and the Democratic Party."
It described how Russian intelligence services had worked with Ukraine-linked individuals to perpetuate a narrative alleging corrupt ties between Biden, his family and other U.S. officials with Ukraine.
The report also said that Russian online actors "sought to affect U.S. public perceptions of the candidates, as well as advance Moscow's long-standing goals of undermining confidence in U.S. election processes."
In addition, it said Iran had tried to undermine Trump although it did not try to promote Biden and their efforts were smaller than the Russian operation. The report concluded that no foreign government had compromised the final results.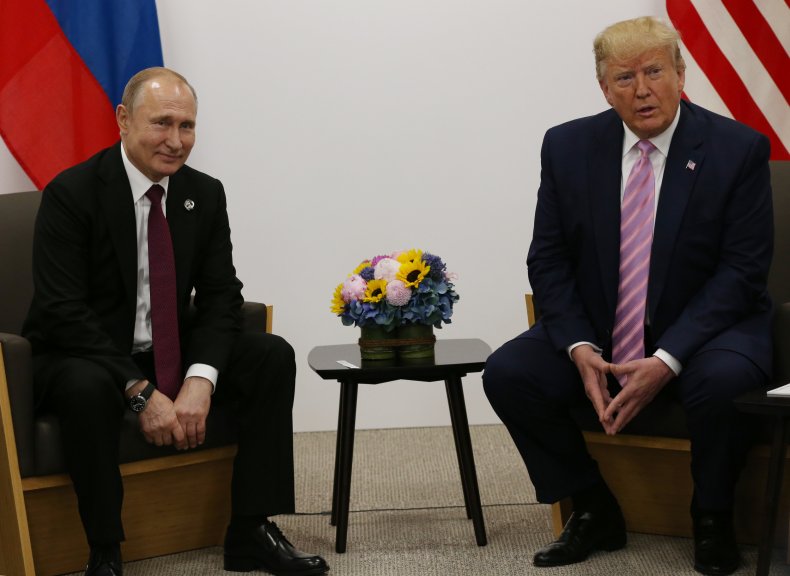 However, the Russian embassy in Washington, D.C. hit back at the findings, saying they formed "another set of groundless accusations against our country of interfering in American internal political processes."
According to Moscow, the report was based "solely by the confidence of the intelligence services of their self-righteousness" and that "no facts or specific evidence of such claims were provided."
"We state that Washington continues to practice 'megaphone diplomacy,' with the main goal to maintain a negative image of Russia. This attitude of the administration hardly corresponds to our proposed equal and mutually respectful expert dialogue in search of solutions to the most pressing issues.
"Washington's actions do not lead to the normalization of bilateral relations," added the statement which was published on the embassy's Facebook page and widely reported by Russian media.
Putin only congratulated Biden for defeating Trump after the Electoral College certified his win in December. In 2019, the then U.S. Special Counsel Robert Mueller said that Moscow had deployed a social media influence campaign to try to sway the 2016 U.S. presidential vote in Trump's favor.
The Kremlin has repeatedly denied claims of interference in the American electoral process.
In light of the latest intelligence findings, the U.S. is expected to slap further sanctions on Moscow, perhaps by next week, CNN and Reuters have reported, in measures that would also target Iran and China.
This follows sanctions against Russia for the poisoning and jailing of Kremlin critic and opposition figure, Alexei Navalny, which has been blamed on the Kremlin.
"You've already seen us take a number of actions in response to Russia's use of a chemical weapon in the attempted murder of Alexei Navalny, there will be more soon," a Biden administration official said, according to Reuters.
Newsweek has contacted the White House for comment.
The graphic below, provided by Statista, shows Russian President Vladimir Putin's time in power.