Vladimir Putin Says Navy to Get New Zircon Hypersonic Missiles in Months
Russian President Vladimir Putin has announced that the Russian Navy will receive Zircon hypersonic missiles within months.
Putin made the claim during a Navy Day parade in his home city of St. Petersburg where heaped praise on Tsar Peter the Great for transforming Russia into a sea power.
The president said the Zircon cruise missiles would be deployed in the upcoming months and said it would allow the Russian Navy to quickly engage with threats.
Putin said: "The delivery of these (missiles) to the Russian armed forces will start in the coming months.
"The Admiral Gorshkov frigate will be the first to go on combat duty with these formidable weapons on board."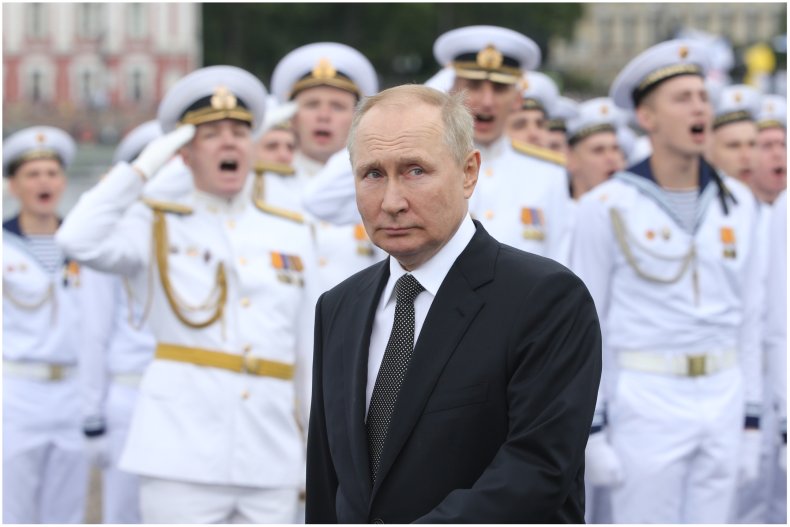 According to Reuters, Putin continued: "The key thing here is the capability of the Russian Navy…It is able to respond with lightning speed to all who decides to infringe on our sovereignty and freedom."
Russia first tested the Zircon in January 2020 and claimed it could reach speeds upwards of 6,600 mph and strike targets within a range of 1,000 kilometers (620 miles). This claim has not been independently confirmed.
Newsweek has contacted the Kremlin for comment.
Putin's announcement comes amid heated exchanges and alleged attacks between Ukraine and Russia.
On Sunday, July 31, Sevastopol Governor Mikhail Razvozhayev said in a
Telegram post that five people were injured in an alleged Ukrainian drone attack on the
Black Sea Fleet headquarters in Russian-occupied Crimea.
Razvozhayev later confirmed Navy Day celebrations in the city would be canceled following the alleged attack.
Ukrainian official Serhiy Bratchuk, head of the Odesa regional military administration, denied Russian claims of an attack and called it a "provocation."
According to the BBC, Bratchuk said: "The liberation of our Crimea will take place differently and more efficiently."
Russia drew international condemnation after more than 40 Ukrainian prisoners of war were killed in a shelling in Olenivka, part of the Russian-backed self-declared Donetsk People's Republic.
Ukrainian officials claimed Russia had slaughtered the prisoners of war and denied Moscow claims that Kyiv fired high mobility artillery rocket systems at the location.
A video shared earlier this week that allegedly showed a Ukrainian prisoner of war being mutilated by a Russian soldier also caused widespread outrage.
While Newsweek has not independently verified the clip, the Times of London's assistant foreign editor, Maxim Tucker, tweeted the video is "genuine," according to the investigative website Bellingcat.