Russia Shelled Already Taken Territory to Cover Up War Crimes: Officials
Ukrainian officials accused Russia of shelling a separatist region in the east of Ukraine, which Moscow already controls, in an effort to cover up war crimes.
The accusation from Kyiv came after Russia alleged that Ukrainian-fired HIMARS [High Mobility Artillery Rocket Systems] had killed more than 40 Ukrainian prisoners of war detained in Olenivka, which is part of the Russian-backed self-declared Donetsk People's Republic.
"Ukrainian security forces fired [U.S.-supplied] HIMARS rockets at a pre-trial detention center near Olenivka tonight," Russia's defense ministry said Friday, according to The Moscow Times. It reported that 40 Ukrainian POWs were killed and more than 80 others were wounded.
Top Kyiv officials rejected the claim, saying that Russia had slaughtered the POWs and then falsely blamed the violence on Ukraine's HIMARS.
HIMARS have been widely touted by Ukrainians and western analysts as a game-changer in the war. The U.S. has provided HIMARS to Kyiv's forces as part of billions of dollars in military and humanitarian aid. Last week, a senior U.S. defense official told reporters that HIMARS had been used to destroy more than 100 "high value" Russian targets including ammunition depots, long-range artillery positions, command posts, air-defense sites and radar and communications nodes.
"With the barbaric overnight shelling in #Olenivka the russian occupiers tried to destroy evidence and cover up the torture and execution of Ukrainian prisoners of war. They failed. These criminals will be identified and punished!" Ukraine's defense ministry posted to Twitter on Friday.
"The Russians launched a missile attack on the colony in Olenivka, where Ukrainian prisoners of war were reportedly held. A cynical and despicable crime that will go down in history under the name 'Olenivsky terror attack,'" Andriy Yermak, head of the office of Ukraine's President Volodymyr Zelensky, wrote on Twitter, according to an English translation.
"The executioners continue to kill the Ukrainian people. Civilians or prisoners of war, the Russians don't care who they kill. For them, the murder itself is important—and the constant lying to hide the evidence," Yermak added.
The Ukrainian official contended that "the need to define the Russian Federation as a state sponsor of terrorism is long overdue." He said that Moscow must be "punished for every crime they commit against humanity."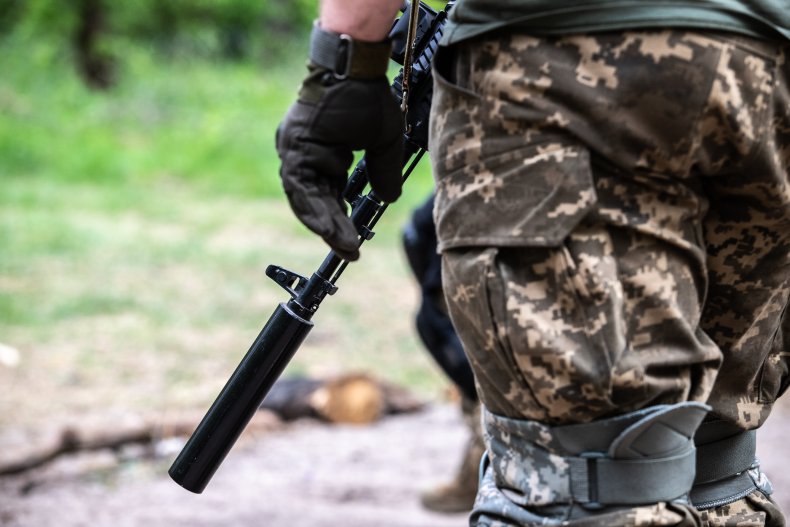 The Eastern European nation's Foreign Minister Dmytro Kuleba shared the same accusation in a Twitter thread.
"Russia has committed another petrifying war crime by shelling a correctional facility in the occupied Olenivka where it held Ukrainian POWs. I call on all partners to strongly condemn this brutal violation of international humanitarian law and recognize Russia a terrorist state," Kuleba wrote.
Newsweek could not independently verify Ukraine's or Russia's accusations. Newsweek reached out to the Russian foreign ministry for comment.
Reuters reported a video shared by a Russian war correspondent showing Moscow-backed military personnel searching through what was left of what was reportedly a prison. The roof was hanging down and bodies were visible in the rubble.
Western and Ukrainian leaders have repeatedly accused Russia of war crimes in the war. President Joe Biden has alleged that Moscow is committing "genocide" against the Ukrainian people.
Independent journalists have reported incidents of mass graves of Ukrainians as well as bodies of civilians who appeared to have been shot in the back of the head with their hands tied behind their back. A gruesome video circulated widely online this past week appeared to show a Russian soldier castrating a Ukrainian POW.
Russia's President Vladimir Putin and other Kremlin officials reportedly believed that they would swiftly take control of most of Ukraine and topple the government in Kyiv when they launched the invasion over five months ago on February 24. Following the start of the full-scale assault, Moscow's forces struggled to make significant gains and failed in the initial phase of the war. The Russians then walked back their efforts, focusing on the southeast of the country.
Kremlin leaders continue to attempt to justify the attack on Ukraine by bizarrely claiming that the country is run by Nazis. In reality, Ukraine's president is Jewish and had family members who died during the Holocaust. When Zelensky was elected with nearly three-quarters of the vote in 2019, Ukraine's prime minister was also Jewish.