Vladimir Putin Snubs Joe Biden's Virtual COVID Summit
Vladimir Putin will not be attending the global COVID-19 summit to be hosted by President Joe Biden later this week.
The ​​Russian president was said to have received an invitation to the virtual summit last week but does not plan to participate, his press secretary Dmitry Peskov told reporters, according to state-owned news agency RIA.
Biden is set to convene a virtual summit of world leaders and global health officials on Wednesday, September 22, on the margins of the United Nations General Assembly, the White House said in a statement issued on Friday.
This meeting is to rally civil society, NGOs, philanthropists, industry and world leaders to align on a common vision for defeating COVID-19, the statement reads.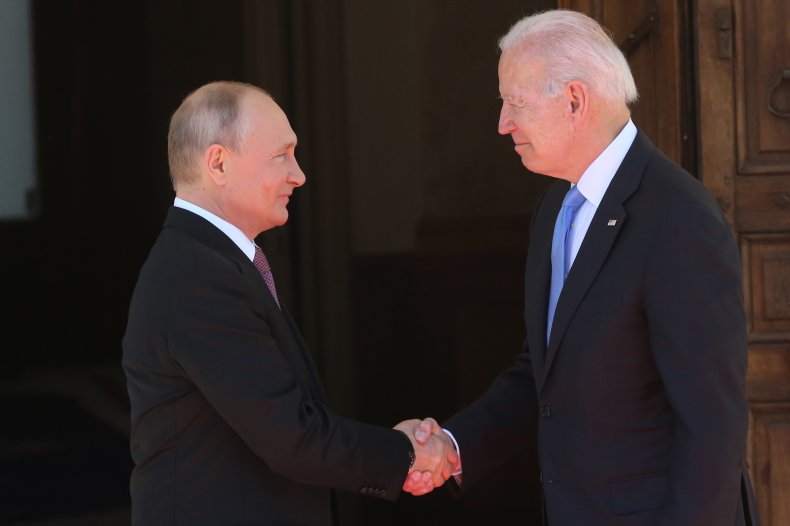 Participants will be asked to commit to "a higher level of ambition" across four themes, including vaccinating the world by enhancing equitable access to vaccines and saving lives by solving the oxygen crisis, and making tests, therapeutics and PPE more available.
Biden is also expected to call on world leaders to commit to vaccinating 70 percent of the world's population against COVID-19 within a year, according to a person familiar with draft targets outlined by the administration who spoke with the Wall Street Journal.
Putin will be working in self-isolation this week after "several dozen" coronavirus cases were identified in his inner circle.
"He feels great and continues working. However, events mostly in the videoconference mode will continue this week," Peskov told reporters on Monday, as cited by Russian news agency Tass.
Peskov later confirmed that Putin had tested negative for the virus and that "the president is absolutely healthy," but did not specify who was infected, or whether they were his relatives, guards or protocol officers.
Despite apparently declining to participate in Wednesday's COVID-19 summit, Putin is set to appear via video conference in his upcoming session of the Collective Security Council (CSTO) and make a remote appearance at a meeting of the Council of Heads of State of the Shanghai Cooperation Organization, Tass reported.
The news comes amid Russia's parliamentary elections which kicked off on Friday, September 17, where Putin's United Russia party claimed a landslide victory, the Moscow Times reported.
Andrei Turchak, United Russia's general council secretary, said the results as of early Monday showed the party gaining 315 seats in the 450-seat State Duma, Russia's lower house of parliament, according to Russian news agency Interfax.
"As of 8 a.m., according to the lists, United Russia is gaining more than 48 percent of the votes, which allows us to get 120 mandates. Our candidates win in 195 single-mandate constituencies," Turchak told reporters.
The preliminary results indicate the party will receive about 315 seats in the country's State Duma, or parliament, which provides it with a constitutional majority.
The graphic below provided by Statista shows the length of time Putin has been in power in Russia.