Why Any Putin-Zelensky Summit Is an Unlikely End to War
Two weeks on from the war in Ukraine, the Kremlin suggested it was open to what President Volodymyr Zelensky has been repeatedly calling for: a summit with his Russian counterpart. But just how willing is Vladimir Putin to come to the table?
His spokesman Dmitry Peskov ambiguously said on Friday that a meeting between the leaders was "conceptually possible" although would only follow the negotiations going on by officials from Kyiv and Moscow, which are yet to yield a major breakthrough.
In media interviews published this week, Zelensky said only direct talks between him and Putin could end the war; however, experts have told Newsweek that such a prospect is unlikely with one former diplomat saying there was "little chance" it would happen soon.
This week, Zelensky deflected a question about whether in return for peace, he was prepared to accept Moscow-annexed Crimea as Russian, and the independence of the breakaway republics in the Donbass in the east of Ukraine.
"Compromises can be made," he told German newspaper Bild.
That remark followed an apparent change of tack from Russia, with foreign affairs spokeswoman Maria Zakharova insisting that Moscow did not intend to overthrow Zelensky's government, nor occupy Ukraine—a marked difference from Putin's rhetoric at the start of the war.
Putin's invasion has been hit by strategic blunders and he has faced fierce Ukrainian resistance, which might add to Zelensky's bargaining power. Yet the prospect of the leaders meeting imminently seems to be a distant one.
"I see little chance that Putin would meet with Zelensky in the near term," said former U.S. ambassador to Ukraine, Steven Pifer.
"The Kremlin has shown no serious interest in negotiation, making maximalist demands simply for a Russian ceasefire. It appears that Putin is set on a military operation to seize Kyiv and occupy the eastern part of Ukraine," he told Newsweek.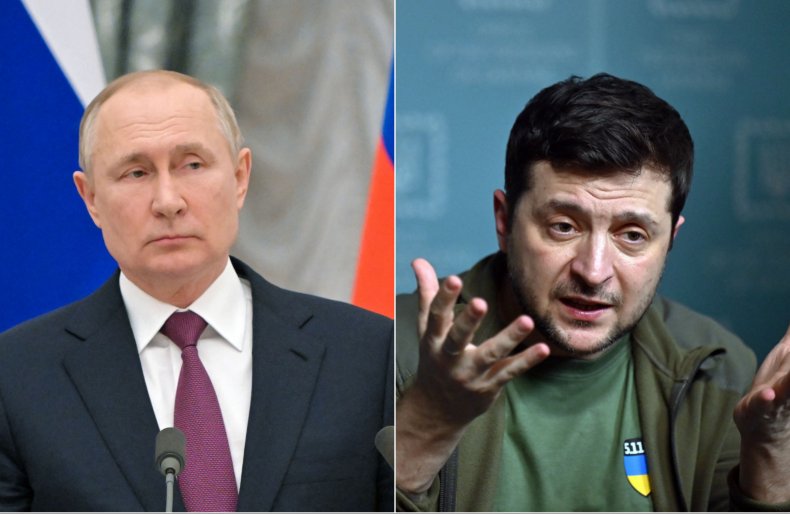 Pifer suggests that should the Russian military take Ukraine and Moscow puts in place a puppet government in Kyiv, what will follow will be a "long, costly occupation of an angry, hostile population." There will also be political isolation internationally "and the continuation of economic sanctions that will greatly damage the Russian economy."
"I would not consider that a 'win' for Russia, but that appears to be what Putin is aiming for," said Pifer, adjunct professor at the Stanford Center for Security and Cooperation.
Zelensky's immediate priorities would be upholding humanitarian corridors and a ceasefire that holds for the embattled cities, in particular, Mariupol, which continued to be bombarded.
On Saturday, Zelensky told a news conference in Kyiv that negotiations with Russia cannot begin until a ceasefire is agreed.
He also said he had discussed the possibility of negotiations being held in Jerusalem with Israeli Prime Minister Naftali Bennett.
"I do not know the likelihood that Vladimir Putin will meet with Volodymyr Zelensky—I don't think anyone knows, given how isolated and unpredictable Putin has been over the last months," said Susanne Wengle, associate professor of political science at the University of Notre Dame.
"It would be rational to agree to talks, but there is really no way of knowing if this will happen," she told Newsweek.
As he announced that 1,300 of his troops had been killed, Zelensky welcomed on Friday to Putin's view expressed that "positive shifts" had been made by negotiators.
Could a Putin-Zelensky Summit Work?
Separate talks between Ukrainian foreign minister Dmytro Kuleba and his Russian counterpart, Sergei Lavrov, collapsed on Thursday.
But that they took place might show "something is going on behind the scenes," according to Sergey Radchenko, a Russia expert and professor of international relations at the U.K's Cardiff University in the U.K.
"It seems that Russia's strategy at the moment is to continue putting their faith in the military in achieving a decisive military breakthrough on the ground so as to dictate from a position of strength," he told Newsweek.
This did not necessarily mean that Russian troops had to capture Kyiv, he said, but Moscow might be banking on Zelensky feeling forced to negotiate to avoid "a complete Russian occupation."
"I am not sure how far we can see a summit succeeding with Zelensky because he has brought together the entire country against the invasion. There is a national consensus on the need to fight the Russians."
Also in the event of a summit, Zelensky will have to balance how to end the devastation for his country and what the compromises he told Bild he was prepared to make.
"Zelensky is a democratically elected president and he responds to the electorate," said Radchenko. "He will have to figure out what is the mood of the electorate, what is the general sense in the country, can Ukraine allow this sort of sacrifice? That is unclear."