Vladimir Putin's New Bulletproof Limo Fleet Cost $192 Million and Russia Wants to Sell Hundreds of Them
Russian President Vladimir Putin used his inauguration to unveil his long awaited, armored limousine—the first of its kind in post-Soviet times.
The car is one of a fleet that cost $192 million to develop, which has been in production since 2012, and manufacturers hope to launch an entire brand off the publicity around it.
Although the limo was only driven for around 200 yards at Putin's inauguration celebration on Monday, Kremlin officials have already begun singing the car's praises.
"He liked it," Putin's spokesman Dmitry Peskov told state news agency Itar-Tass when asked how the president felt about the Cortege. "The president will be using exactly these automobiles in future drives."
The multimillion dollar price tag has been spent on developing a fleet of cars to enter the government's state garage, the Ministry of Trade told state news channel Rossiya 24. The ministry expects to test 16 models in the first half of 2018, out of a total of 70 to be produced this year. It is not clear how many of those will remain in the government's possession.
The presidential Cortege is covered in armored plating and weighs a total of six tons. The car runs on a 6.6 liter V12 engine, with a reported horsepower of 860, according to its manufacturers, but media outlets have estimated more modest specs.
Related: Putin wants to redraw the map of the world to reflect Russia better
The new vehicle is the first Russian-made presidential state car since the ZIL-41047 used by the Soviet Union's final leader, Mikhail Gorbachev. His successor, Boris Yeltsin, transitioned to German-made luxury cars and both Putin and his one-time successor Dmitry Medvedev used them.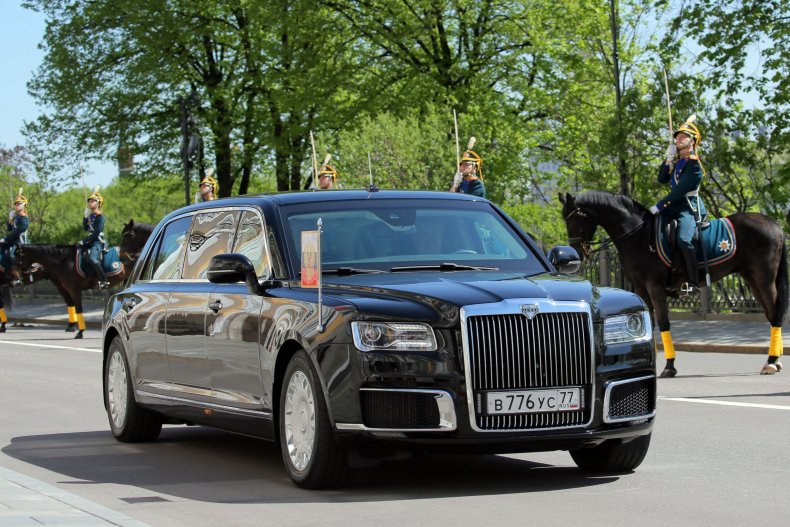 "Today it was thrilling to watch the president ride on this car over the course of his inauguration," Trade Minister Denis Manturov told Itar-Tass. "For us it was a very important moment in ensuring the timely delivery of these vehicles."
The government expects to win back some of the millions poured into developing the car by releasing consumer versions of the luxury vehicle for sale. The car, which bears a strong resemblance to the Rolls Royce Ghost limo, will be available in at least three different models under the Aurus brand. The name is a portmanteau of the Latin word for gold and the first syllable of Russia, Itar-Tass reported. Each of the three models will bear the name of a tower in the Kremlin fortress: Senate, Arsenal and Commandant.
The manufacturer hopes to produce another 200 models next year and another 300 the year after. The price of each vehicle will reportedly range between $95,500 and $111,500, staying competitive with established luxury brands.