Vladimir Putin Is Redrawing the Map of the World to Reflect How Russia Sees It
Russian President Vladimir Putin wants to redraw the map of the world to better showcase his country's presence, literally.
The Russian leader has called on state geographers to compile a new atlas of the world, which better upholds the "historical and geographic truth" compared to foreign-made maps. Speaking to Russia's Geographical Society, Putin suggested that international cartography was slowly phasing out Russian names and markers.
"Today we encounter a situation in which Russian names given [to places] in previous decades and centuries by our explorers and travelers are gradually vanishing from the map of the world, meanwhile the memory of Russia's contribution to the study of the sciences and the planet, are being erased," Putin told Russia's state news agency, Itar-Tass.
Read More: Putin's bridge to Crimea may go over budget by a billion dollars
Among the places which Putin thinks should regain Russian names are islands near the South Pole. A Russian expedition to the region in 1820 labeled Livingstone island Smolensk, while nearby Smith Island was originally called Borodino by Russian explorers.
English and American exploration missions sailing the area at the time also claimed to have first sighted the Antarctic land. Although those claims clash with the Russian expedition's, according to the Britannica encyclopedia, Putin doubled down on his country's claims.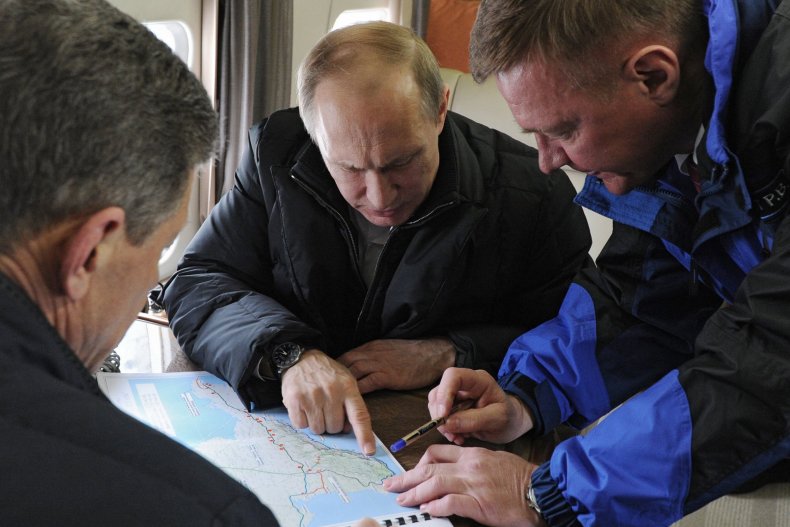 "In 2020 we are going to celebrate the anniversary of Antarctica's discovery, which was done precisely by Russian sailors," Putin said. "There are examples of name changes not only in faraway Antarctica. There are examples much closer but I am not going to dwell on that right now."
Some commentators have taken this as a hint that Putin's goal goes beyond renaming unpopulated islands on the other side of the world, but will also restore Russian Soviet and Imperial names in Russia's former sphere of influence. A notable example is Ukraine, Russian business daily newspaper Vedomosti reported.
Following Russia's annexation of Crimea from Ukraine in 2014, Kiev passed a law to rename places that honor the Soviet Union—a move that many other ex-communist states have taken. Hundreds of Ukrainian villages, towns and cities have abandoned Soviet-era monikers honoring the likes of Communist Manifesto co-authors Friedrich Engels and Karl Marx, Soviet leader Vladimir Lenin, secret police chief Felix Dzerzhinsky and renowned propagandist Demyan Bedny.
Putin did not address the annexation itself, but its portrayal on maps is another major point of contention between Russian and international cartographers. According to U.N. records, the territory cannot be shown as a legitimate part of Russia because it seized the territory through military means before holding a snap, self-styled referendum without Ukraine's consent.