Vladimir Putin's Trip to Crimea Jazz Festival Angers Ukraine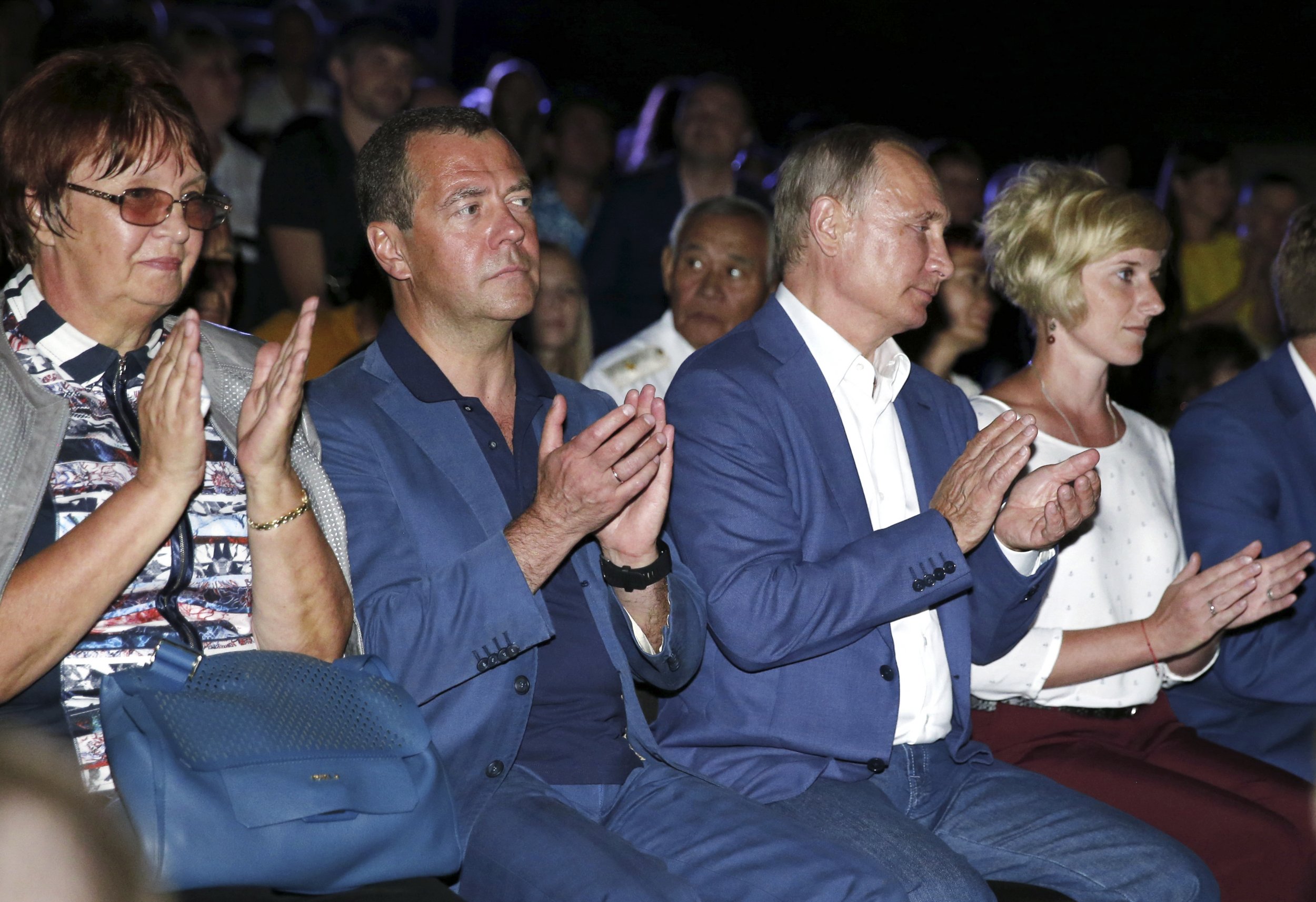 Russian President Vladimir Putin found another way to twist the knife over Russia's annexation of Crimea from Ukraine, as his latest appearance in the region injected politics into a jazz music festival.
During a weekend visit to Crimea, the Russian leader played lip service to bringing people together through music in a surprise appearance at a music event. His arrival in Crimea already sparked disaproval in Kiev, where the government views such visits as violations of Ukrainian law. Russia seized control of the region in 2014, but internationally it continues to be recognized as Ukrainian.
Related: Putin's possible replacements ranked by odds and ability
The visit was a "severe violation of the sovereignty and territorial integrity of Ukraine by Russia," Ukraine's Ministry of Foreign Affairs concluded in a statement. Such crossings into Crimea from Russia without permission from Kiev are regarded as a violation of Ukraine's law and one that has earned other public figures, such as the former prime minister of Italy, Silvio Berlusconi, travel bans from Ukraine.
It was Putin's appearance onstage at the Koktebel Jazz Party music event on Sunday that found a new way to encroach on Ukrainian claims, through his polite greetings and musings about the worth of music.
"Music is a kind of Esperanto, an international language that needs no translation, a language that brings people together," Putin said in a video broadcast by the Kremlin. "We are grateful to our guests, the musicians and also the festival's organizers. Congratulations on this wonderful festival."
The event at which Putin spoke, although a music festival, has a political significance of its own that parallels Russia and Ukraine's conflicting claims over Crimea.
"I believe this wonderful festival was held for the first time 15 years ago, in 2003," Putin said as he welcomed the audience from the stage. "Since then, 150 leading musical groups from all over the world have performed here, and this time you will be able to listen to 10 glorious groups, 10 jazz bands who are our friends."
Ukrainian fact checkers were quick to pick up the issue. The long-running festival that Putin referred to is not quite the event he attended. The Koktebel Jazz Festival is a Ukrainian-held event which has been forced to relocate from Crimea to Ukraine's Odessa region since the annexation. It began running in Crimea 15 years ago, and its latest installment is scheduled to take place on Ukraine's Black Sea coast this weekend.
The event Putin attended on Sunday is the subtly titled Koktebel Jazz Party, running a week before the festival whose legacy Putin claimed, award-winning Ukrainian news site Ukrainska Pravda noted.
The jazz party, which has been running only since 2014, went ahead under the curious tagline "Same place, same jazz."
Russian state news agency RIA Novosti backed up Putin's claims over the festival, arguing that the annual Koktebel event has merely "split" between Russia and Ukraine and questioned if it is appropriate to name an event after Crimea's Koktebel if it is held elsewhere.
"But then why create a new brand, why pour efforts into creativity when you can just keep restating that Koktebel is right here, outside Odessa?" the festival review chided sarcastically.
A spokesperson for Koktebel Jazz Festival was not immediately available to comment.