Russia State TV Calls Trump a Cult Leader: MAGA's a 'Fascist' Slogan
A Russian television host blasted former President Donald Trump and his campaigns for the White House, stating that they showed signs of fascism.
Vladimir Solovyov, a host on Russian state TV, aired his grievances about a New York Times opinion piece entitled "We Should Say It. Russia Is Fascist," written by Yale history professor Timothy Snyder. In the article, Snyder pointed to several signs connected to Russia's invasion of Ukraine that he said indicated fascism.
Solovyov, in response to the article, slammed the United States, according to a subtitled video posted on Twitter. He stated that instead of Russia, America has been the nation that has been "offering the hallmarks of a fascist state." As his example, the host pointed to Trump and his campaigns for president.
"Down to the slogan, 'Make America Great Again,'discussions of former greatness. Donald Trump: 'Make America Great Again,' cult of one leader," he said.
Solovyov also attracted headlines last week for railing against Italy on air after having three of his villas in the Mediterranean country seized over the Ukraine war. The television host's comments bashing Trump as a cult leader came the same day as other remarks he made warning that Russian forces are "never leaving" Ukraine.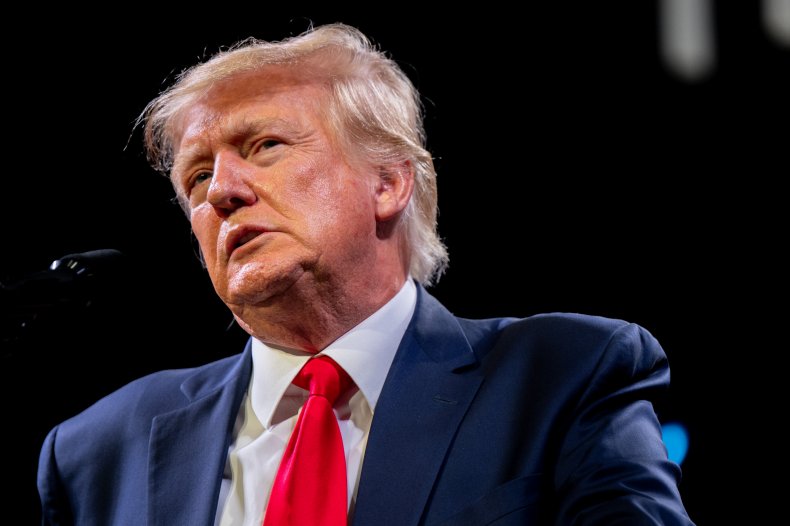 In his discussion of Trump, Solovyov talked about the popular red hats Trump supporters commonly wear as well as the many Trump rallies.
"Visual symbols as a sign of belonging. What about Donald Trump's red hats? Mass events in support of the leader. Do you want me to play a clip of the dancing Trump? Hate speech towards a certain group of people. Look at what Trump used to say about liberals," he said.
Solovyov, upset by Snyder's article, also criticized the Yale professor, saying Snyder is a "pseudo-professor" at a "pseudo-university" and that he "knows nothing, understands nothing" and is "just a regular liar."
The subtitled video finishes with Solovyov calling Snyder a "cretin."
Snyder told Newsweek that he had not been following the Russian TV response to his article. However, he added, "The one thing I have certainly noticed in the Russian TV I have watched these last few weeks is the recurrent genocidal language."
Solovyov's recent comments, though critical of the former president, are far from the first time that a Russian TV host has brought up Donald Trump with a controversial remark.
In a report published on May 1, Russian political scientist Dmitry Kulikov explained his dislike of President Joe Biden during a segment on state-run Russia-1 and personally thanked Trump for giving Russia "those four years."
In late March, another Russian state TV host, Evgeny Popov, called on America to reelect the former president, reportedly saying that it's time "to change the regime in the United States" and "to again help our partner Trump become president," according to the Independent.
Newsweek reached out to a representative for Trump for comment.