'Trump Gave Us Those Four Years'—Russian TV Analyst Touts Ex-President
An analyst on Russia's state-run television gave a big thank-you to former President Donald Trump, contending that he had upended a decade-long plan supported by President Joe Biden to oust President Vladimir Putin from the Kremlin.
Trump repeatedly spoke favorably of Putin during his tenure as a 2016 GOP presidential candidate and while serving as president. The former president and a number of his 2016 campaign officials were investigated over concerns surrounding their ties to Russia and Russian officials. While many Democrats claimed Trump was compromised and aligned with Putin, no evidence emerged corroborating this narrative.
Biden, conversely, has been highly critical of Putin, calling him a "killer" and a "war criminal." The president has accused Russia of committing genocide in Ukraine and said that he supports Putin's removal from power, while clarifying that there is no U.S. effort or policy to oust the Russian president.
Political scientist Dmitry Kulikov, speaking on Russia's state-run Russia-1, alleged that Biden has been working to remove Putin for at least a decade. A clip of the comments were shared to Twitter Sunday by The Daily Beast columnist and Russian Media Monitor creator Julia Davis.
"I am certain that a decision to destroy us was reached in 2012 by the same group to which Joe Biden belongs," Kulikov said, according to English subtitles included with the video. "When he told Putin he has no right to run for reelection, and Putin rejected his demand, from that point on, everything was decided."
"And it would have worked if not for Trump," the Russian analyst assessed. "Trump gave us those four years. Thank you very much." Kulikov described that period from January 2017 to January 2021 as a "malfunction" in the plan to oust Putin.
Newsweek reached out to Trump's press office for comment.
While Kulikov said 2012, it appears that he was referring to comments reportedly made by Biden in 2011.
Russian political opposition candidates said in 2011 that Biden had told them during a meeting that it would be better for the country if Putin did not seek to become the president again. "At the end of the meeting, Biden said that in Putin's place he would not stand for president in 2012 because this would be bad for the country and for himself," then-opposition leader Boris Nemtsov wrote in a blog post, the English-language publication The Moscow Times reported on March 10, 2011.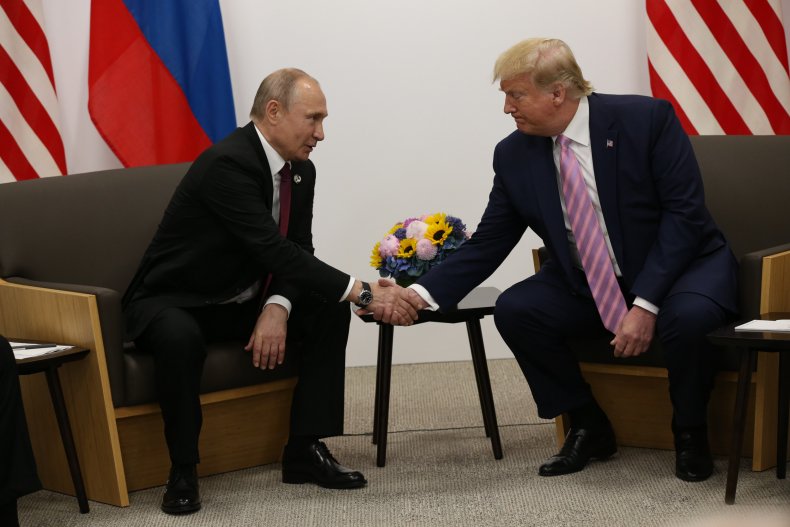 Leonid Gozman, who was the co-leader of the Kremlin-linked Right Cause party at the time, confirmed Biden's remarks to the Moscow-based publication. Gozman additionally said that Biden had said he'd "looked into Putin's eyes and saw no soul."
Biden later confirmed that he'd told Putin in 2011 that he did not believe he had a soul. "I said, 'Mr. Prime Minister, I'm looking into your eyes, and I don't think you have a soul,'" the then-vice president told The New Yorker magazine in 2014. "He looked back at me, and he smiled, and he said, 'We understand one another.'"
Putin served as prime minister of Russia from 2008 to 2012. Prior to that he was president of the country from 2000 to 2008. He has again been serving as president since May 7, 2012.
Although Trump has criticized Putin's full-scale invasion of Ukraine, he described the Russian president as a "genius" and "smart" just before it began at the end of February. The former president's remarks, as well as those of right-wing Fox News host Tucker Carlson and Trump's former Secretary of State Mike Pompeo, speaking favorably of Putin have been utilized as propaganda on Russian state TV.
In late March, Russian state TV host Evgeny Popov said that Biden should be removed from office and replaced by Trump, whom he described as a "partner" for Moscow.