VOA Condemns Russian Attempts to 'Interfere in Free Flow of Information'
The Voice of America (VOA) has condemned Russia's attempts to "interfere with the free flow of information" after the country censored several news sites and told VOA to remove an article reporting on the invasion of Ukraine from its Russian language website.
The censorship has occurred amid a larger crackdown by the Russian government censoring any news describing Russia's actions as an "assault," "invasion" or a "declaration of war," as well as any articles mentioning antiwar protests, attacks on cities or the killing of civilians.
The Russian government's media regulator, Roskomnadzor, told VOA to remove an article from the VOA's Russian news website, golosameriki.com, which reported on the second day of the Russian invasion.
The article included "widely reported facts regarding Russian bombardment of cities, a Russian claim to have captured an airport close to Kyiv, and statements from witnesses as well as reporters inside Ukraine," the VOA said in a statement.
However, the media regulator said the article contained "false messages about terrorist attacks or other kind [sic] of information of public concern." Roskomnadzor has said that journalists can only find reliable information about Russia's actions from "official Russian information outlets."
"Any attempts to interfere with the free flow of news and information are deeply troubling. We find this order to be in direct opposition to the values of all democratic societies," the VOA's Acting Director Yolanda Lopez said in a statement.
"The Russian people deserve unfettered access to a free press and, therefore, we cannot comply with the Roskomnadzor's request," Lopez's statement concluded.
The VOA is a U.S. government-owned international broadcaster. It produces digital, TV and radio content distributed in 47 languages around the world.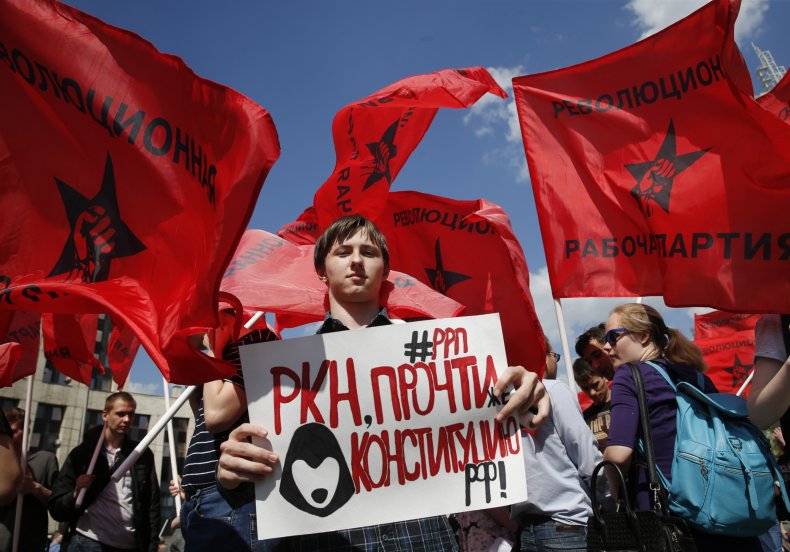 The Russian government only allows articles that refer to the war as a "special military operation" in the Donbas region of eastern Ukraine. Roskomnadzor has threatened to block access to websites if publishers refuse to delete reports that the regulator forbids.
The regulator recently shut down two widely read Russian news organizations, Echo Moskvy and Dozhd, as well as the website Current Time, a joint production of VOA and Radio Free Europe/Radio Liberty.
A number of other Russian media outlets—including TV Rain, Echo of Moscow and Novaya Gazeta—have all received letters from Roskomnadzor asking them to delete articles about the war in Ukraine, Natalia Smolentceva, a journalist with German broadcaster Deutsche Welle, reported.
The Russian parliament will convene this Friday to consider a bill that would make "unofficial" reporting on the Russia-Ukraine war punishable by up to 15 years in prison, the U.S. State Department said on Wednesday. The State Department said that Russian authorities are engaged in "full assault on media freedom and the truth."
"The people of Russia did not choose this war. Putin did. They have a right to know about the death, suffering and destruction being inflicted by their government on the people of Ukraine. The people of Russia also have a right to know about the human costs of this senseless war to their own soldiers," State Department spokesperson Ned Price said.
Roskomnadzor also told Meta (previously known as Facebook) to stop the fact-checking and labeling of content posted to Facebook by four Russian state-owned media organizations: RIA Novosti, state TV channel Zvezda, and news sites Lenta.ru and Gazeta.ru.
Roskomnadzor accused Meta of "the violation of fundamental human rights and freedoms, as well as the rights and freedoms of Russian citizens." In response, the media regulator said it would slow down and "partially restrict access" to Meta's platforms, including Facebook and Instagram.
The regulator has also reduced access to Twitter. Russian citizens use the aforementioned social media platforms to access nongovernmental information and opinions as well as to organize and connect with the outside world.
Last week, the International Press Institute (IPI) condemned Russia's efforts to censor independent coverage of the invasion. Over 200 Russian journalists signed an open letter opposing the Kremlin's so-called special military operation.
"We strongly oppose the attempts by the government and security forces to threaten media outlets into silence with fines or stifle independent journalism which threatens to puncture the Kremlin's narrative," IPI's deputy director Scott Griffen stated.
"The arrest of clearly identifiable journalists who were simply covering a peaceful anti-war demonstration is a worrying sign of the increasing censorship likely to follow," Griffen added.
Newsweek has reached out to VOA for further comment.