'The Voice' 2019 Semi-final Performances & Elimination Predictions: Who Will Be Saved Tomorrow Night?
The Top 8 semi-finalists will perform Monday night during The Voice Season 16, episode 21. Find out everything you need to know about tonight's performances and who may be eliminated Tuesday evening.
The Voice Season 16 semi-finals have arrived as tonight, the Top 8 will vie for spots in next week's finale show. Only three coaches have singers performing in tonight's semi-finals as last week, all of Team Adam's performers were eliminated. This evening's two-hour show will be a special event featuring each of the Top 8 performing two songs: a solo performance and a special Beatles duet with another semi-finalist.
How The Semi-Finals Work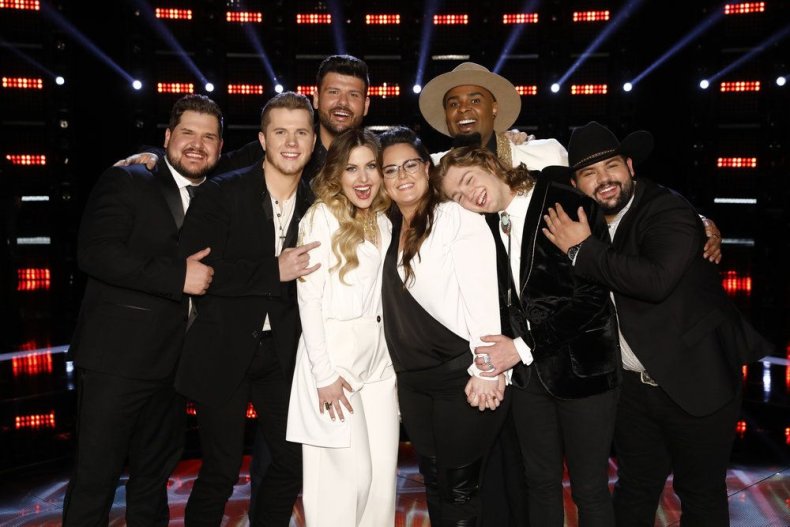 During the show, fans will be given the opportunity to vote for their favorite singers via the official The Voice app or online. Voting remains open until 7 a.m. ET on Tuesday. Viewers can give up to 10 votes per performer in the app or online, but they can register an additional ten votes by downloading and streaming their favorite artists' songs via iTunes. Once the votes have been tallied, the results will be presented throughout Tuesday night's elimination show. The three singers with the most votes will be instantly saved. The bottom two will be eliminated, and the middle three will perform once again in hopes of being saved by the audience. After Tuesday night's performances, viewers can vote for their favorite singer via Twitter. Results will be tallied, and the singer with the most votes will be awarded an Instant Save and added to the Final 4. These finalists will then move on to next week's finale.
Below, we've put together a complete guide to Monday night's show, including live updates posted during and after the show: what songs were performed, iTunes links to download them and predictions about who is in danger of elimination tomorrow night. Once results are announced Tuesday evening, we'll update this post with the names of the four performers moving on to next week's finale. In the meantime, if you need to get caught up on what happened during last week's elimination show, you can check out our recap and results post, here.
RELATED: iTunes Top 100 List Hints at 'The Voice' 2019 Top 4
'The Voice' 2019 Top 8 Semi-Finalist Performances & Elimination Predictions: What Songs Were Performed? Who Is In Trouble?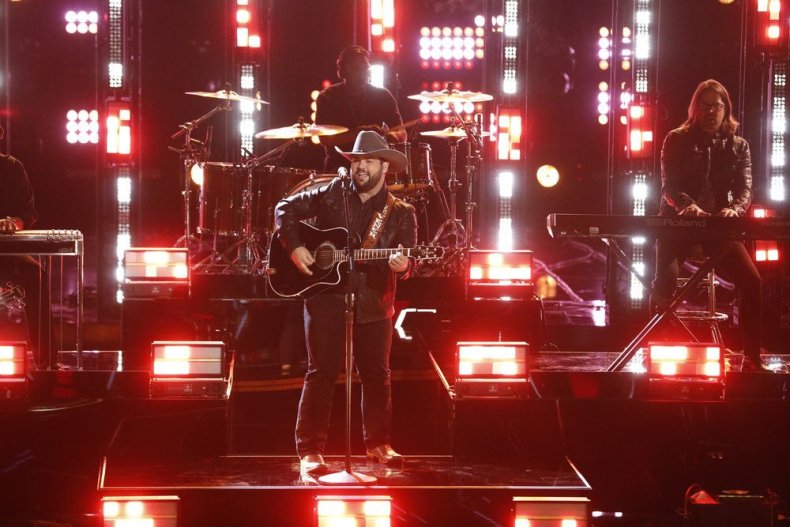 Performance #1 - Andrew Sevener (Team Blake)
The first performance of the evening is by Team Blake's Andrew Sevener. Sevener performed Charlie Daniels' "Long-Haired Country Boy." The performance was strong and received accolades from all of the judges.
"I feel like we were just at your show ... you are so talented," said Kelly.
"I don't know if you've been holding back or not ... that by far was your best performance," said Blake.
Performance #2 - Kim Cherry & Shawn Sounds (Duet)
The first duet pairs rapper Kim Cherry with soul singer Shawn Sounds. The duo performs "Eleanor Rigby" by the Beatles. This was an excellent pairing. Kim's rougher rock sound is smoothed by the soothing buttery tones of Shawn Sounds. We love the song choice, but there are moments where it is a bit boring. While the song is well executed, we aren't sure it will cement these two contestants in the audiences minds as top picks for the Final 4.
Performance #3 - Gyth Rigdon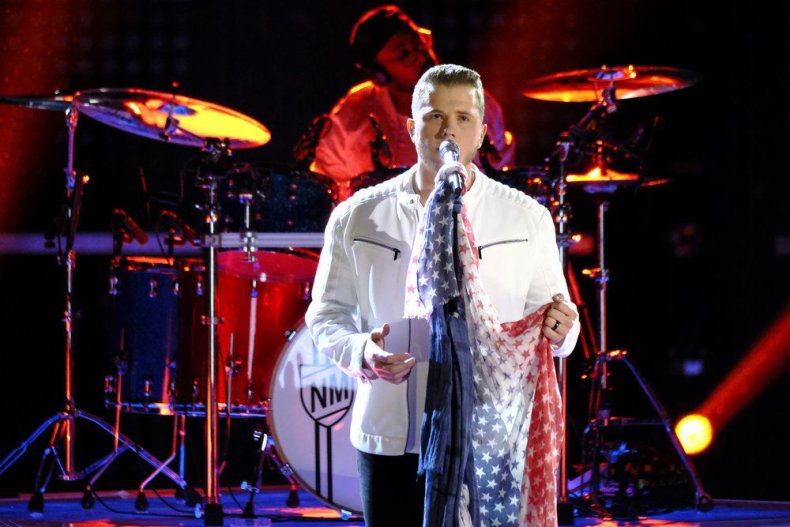 The third performance of the evening is country powerhouse, Gyth Rigdon. Rigdon performs "God Bless the U.S.A." by Lee Greenwood. Rigdon is a strong performer, but this wasn't our favorite performance by Gyth. The song picked up momentum towards the end and the audience appeared to truly enjoy the offering.
"This wasn't my favorite vocal of the season," said Kelly.
"This was not my favorite performance, but it was a powerful rendition," said John.
Blake had a different opinion, however.
"I think it was far and away your best performance of the season ... welcome to the finale, brother," said Blake.
Performance #4 - Kim Cherry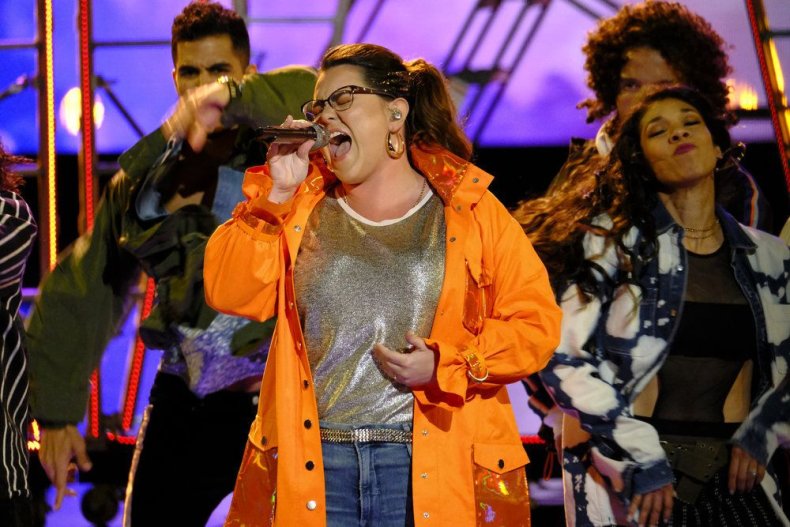 The next performance of the evening is by Team Blake's Kim Cherry. She performs "Together Again," by Janet Jackson. Kim goes soft on this song and we get another sample of her piano skills. The performance finally showcases what Kim is capable of. She has an excellent range and is a confident performer. We think this may have been one of Kim's best performances of the season. There were some big notes at the end and she hit everyone like a pro.
"OMG, thank you for singing!" said Kelly. "You have such a huge voice!"
"You are very multi-talented and it's impressive," said John.
Performance #5 - Maelyn Jarmon & Rod Stokes (Duet)
The next duet of the evening features Maelyn Jarmon and Rod Stokes. The two perform "Yesterday" by the Beatles. The song starts with a beautiful vocal by Maelyn Jarmon. Rod comes in with his raspy country rocker tone, creating a beautiful contrast. While at this point, Maelyn has been our favorite performer of the season, it feels like Rod is really owning this one. The two compliment each other beautifully. The song is easily the best performance of the evening thus far.
Performance #6 - Carter Lloyd Horne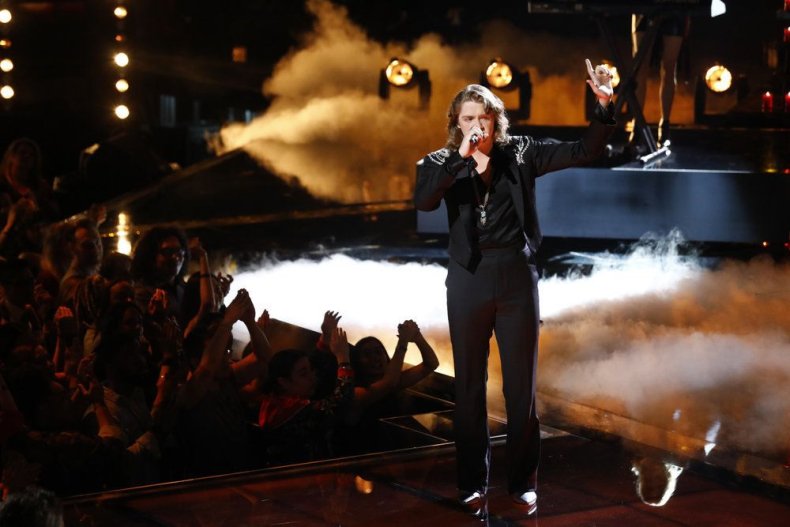 Up next is one of the youngest performers in the season, Carter Lloyd Horne. The country crooner performs "Take Me To Church" by Hozier. This song starts off rough. Carter struggles with finding the key and with some of the lower notes. Kicking into the chorus, Carter hits his stride. Unfortunately, at this point in the competition, there's no room for error.
"I felt it was a little pitchy in the beginning ... but you have a really rad voice," said Kelly.
Performance #7 - Rod Stokes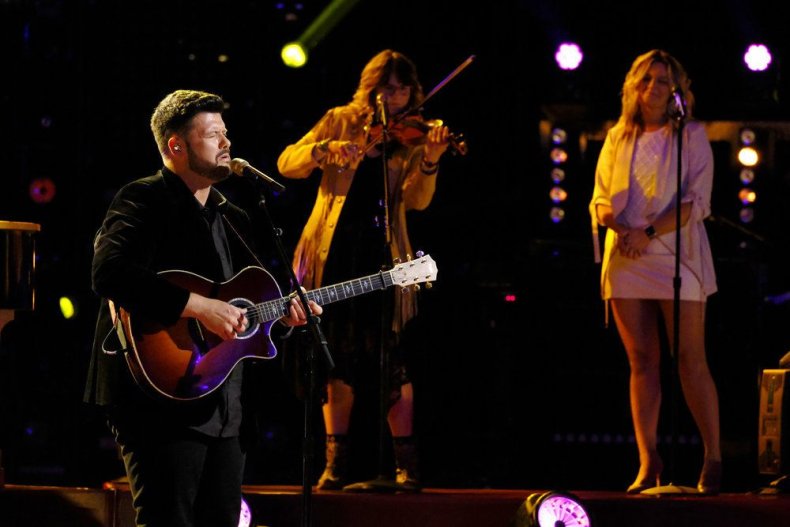 Next up is Rod Stokes performing "Go Rest High on That Mountain," by Vince Gill. Rod gives a stirring performance and truly deserves to be in the Top 4. Slower songs don't always go over great with audiences, but hopefully, Rod's will resonate with the crowd.
"I don't think this was your technical best, but I felt like the emotion was the best you've ever had," said John.
"I love how connected you were to that song," said Blake.
Performance #8 - Gyth Rigdon & Dexter Roberts (Duet)
Up next is a duet by Gyth Rigdon and Dexter Roberts. The fellows put a country twist on the song and it actually works out nicely. How can you go wrong with The Beatles, though, right? We wouldn't call it the best duet of the evening, but it was a solid offering.
Performance #9 - Maelyn Jarmon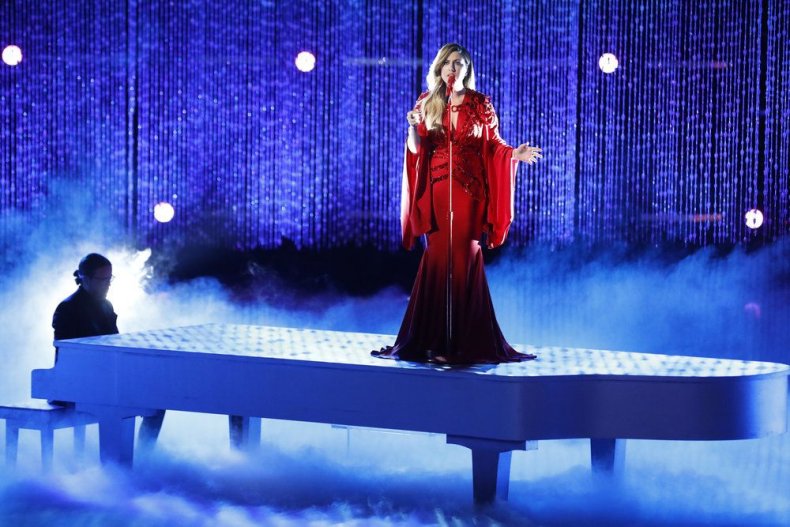 Up next is Texas native, Maelyn Jarmon. Maelyn performs Rihanna's "Stay." This is a challenging song to perform well, but Maelyn takes it and manages not only to perform it powerfully but also put her own unique mark on it. We hear a rougher, more emotional side of Maelyn's voice that hasn't been showcased before. All the coaches give her a standing ovation. This is hands down the best performance of the evening.
"You should totally win The Voice," said Adam. "You are the absolute forerunner and the best we've got out here."
"The control and poise you have, nothing rattles you. You are absolutely spot on every time you hit the stage," said Blake.
Performance #10 - Carter Lloyd Horne & Andrew Sevener (Duet)
The final duet of the evening pairs Carter Lloyd Horne and Andrew Sevener. The song has a fun vibe, though Carter struggled a bit in the intro. The two seem to enjoy performing together.
Performance #11 - Dexter Roberts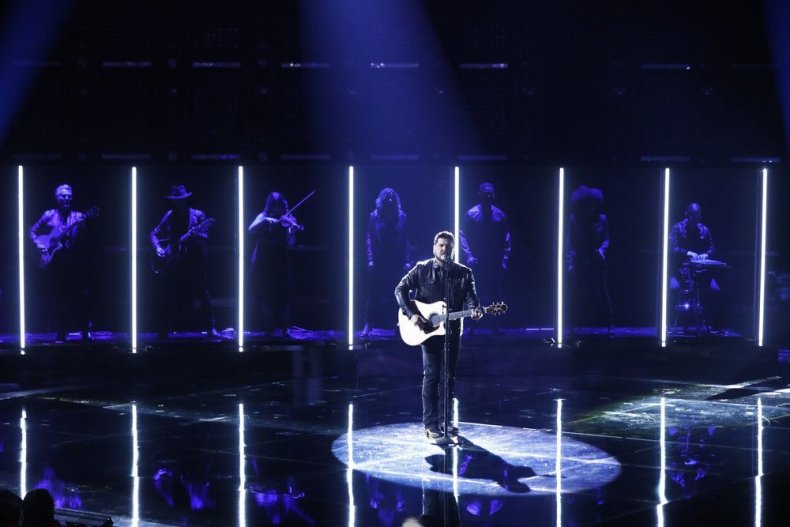 Up next in Alabama singer, Dexter Roberts. For tonight's show, Dexter is performing "Here Without You" by 3 Doors Down. This is the only non-country songs he's performed this season. The song is well suited to Dexter's raspy tone. Dexter really puts himself into this performance. We think it was a smart song choice at this point in the competition.
"Your voice is one of my country voices. It just cuts through," said Blake. "I love it."
Performance #12 - Shawn Sounds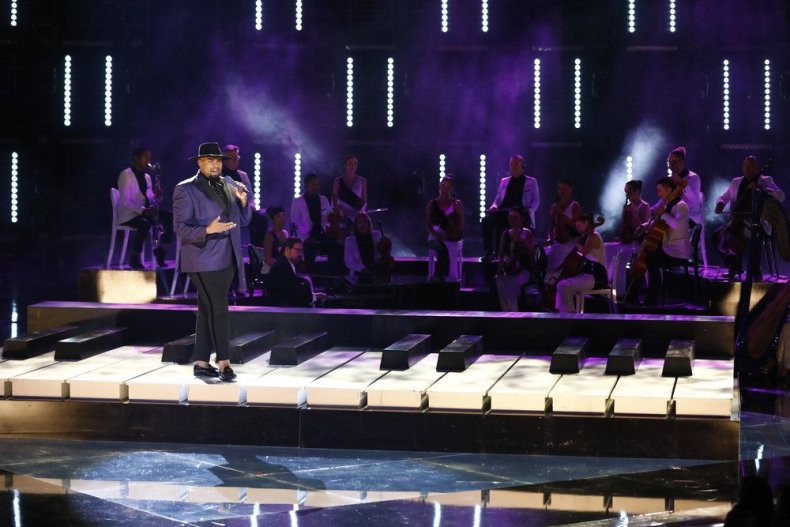 The final performance of the evening is by powerhouse singer, Shawn Sounds. He performs Donny Hathaway's "A Song For You." Shawn puts on an emotional performance. He's dedicated it to the students in his school. There are some beautiful, soaring notes through the middle that really showcase the beauty of Shawn's vocal range. John is on his feet throughout the performance. At the very end, Shawn hits some impossibly high notes that put the seal of excellence on it.
"I want to thank you, Shawn. You put on a singing clinic here tonight," said Adam. "That was the craziest performance of the night."
"You have sung your tail off this entire season, but that was my favorite by far," said Kelly.
When Does The Voice Air Next?
The Voice will return Tuesday, May 14 at 9 p.m. EDT on NBC, where the Top 8 semi-finalists will find out who made the Top 4. Be sure to tune in to watch your favorite singers perform.