'The Voice' 2020 Top 9 Performances & Predictions: Who Will Be Saved or Eliminated Tomorrow Night?
The Voice Season 18's Top 9 contestants will perform during episode 14. Check out our live-blogged recap of every performance, plus predictions for who will stay and who will be eliminated, here.
It's Fan Week week on the second round of The Voice Season 18 live shows from home.
Each of the Top 9 artists—Joanna Serenko, Todd Tilghman, Toneisha Harris, Megan Danielle, Micah Iverson, CammWess, Zan Fiskum, Allegra Miles and Thunderstorm Artis—will perform a special song in tribute of one of their biggest fans, whether it be a family member, friend or someone in their hometown currently under quarantine on Monday night. Viewers will be able to vote for their favorite artists on The Voice's website and app until Tuesday morning, and later that night, America's votes will determine which contestants move on to the final round of the competition.
Like the first live show of the season, The Voice artists and coaches Blake Shelton, Kelly Clarkson, John Legend and Nick Jonas all have their camera equipment and will appear on the show via web video. Artists' performances will be pre-recorded from their homes across various towns in the U.S., while coaches will give feedback live from their humble abodes. As for Carson Daly, he'll be hosting live from a small studio in Hollywood.
As usual, we'll be on hand providing live-blogged coverage of tonight's show. If you missed last week's live results show, you can find out more about who was eliminated here.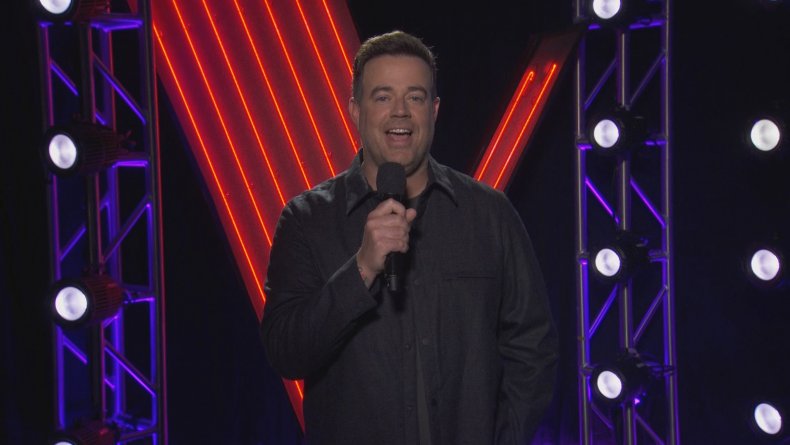 The Voice Season 18, Episode 14 Live Show Round 2 Live Blog
8:00:
It's showtime folks! Just like last week, tonight's episode of The Voice opens up with our coaches Blake Shelton, Kelly Clarkson, John Legend, Nick Jonas and their respective team members singing a song dedicated to medical and essential workers. It's an uplifting and energetic cover of Sly & The Family Stone's hit song, "Everyday People."
8:04:
Carson Daly takes the stage at his mini-studio in Hollywood. He introduces the coaches who are all cozied up at home. Thanks to Window's Teams, we're able to see each of the coaches, Carson and the contestants live.
8:05:
It's time to get to our favorite part of the show: the singing. Team Blake's Joanna Serenko is up first. A pre-recorded video of Joanna at home reveals what song she's chosen to sing during Fan Week. She's picked "Lean On Me" by Bill Withers and is dedicating the song to her half-sister Jamie, who lives in Portland, Oregon. Blake approves her choice and says, "This is the performance that can lead you to the finale"
8:08:
Jamie introduces her half-sister, and a video of Joanna singing her bluesy cover of "Lean On Me" outside at her home in St. Louis, Missouri.
8:11:
Carson asks for feedback from the coaches, and they had nothing but praise for the young singer. "Even from afar, know that you have a fan in me," Nick said.
John said he just loved how much "heart, honesty and soul" she has in her voice. He could feel those qualities, especially in her performance tonight. As for Joanna's coach, he was proud of Joanna's powerful performance.
"Your voice literally floats like a butterfly," Blake said.
8:14:
We're back from a quick break. Next up is Team Kelly's Micah Iverson. He's at home in Atlanta, Georgia. He's decided to sing "I Will Follow You Into the Dark" by Death Cab For Cutie, and he's dedicating the song to the one person who's believed in him from the very start: his coach Kelly.
8:17:
Another big fan of Micah's, Joel from Singapore, introduces the singer. The video turns to black and white, and Micah appears in a dark room singing his heartwarming rendition of "I Will Follow You Into the Dark."
8:20:
Nick was first to give his impression of Micah's performance and the Jonas Brothers singer only had praise for Micah's creativeness and execution as a vocalist. Kelly was equally impressed.
"You are not just a great vocalist, you are an enormously great artist," Kelly said.
8:26:
The next contestant to perform is Team Blake member Todd Tilghman. He'll be performing from his home in Meridian, Mississippi with his biggest fans—his family—right beside him. It shouldn't come to surprise that the family-man is dedicating his cover of "Love, Me" by Collin Raye to his eight children.
8:32:
The coaches were moved by Todd's performance, especially Blake.
"That was amazing to see all the kids surrounding you," Blake said. "I'm so glad to see this side of your personality."
8:38:
We're back from a commercial break, but before another contestant performs, Carson says we'll get a special performance from Kane Brown. He's singing his new single, "Cool Again."
8:42:
Carson says performances from Team Legend's Zan Fiskum and Team Nick's Thunderstorm Artis are up next. But first, a quick word from The Voice sponsors.
8:47:
Back from break and Zan's set to perform next. She's at her parents' house in Seattle, Washington. She's going to sing "Never Be the Same" by Camila Cabello, and John couldn't be more pleased with her song choice. She's dedicating her performance to her little brother, who loves pop music.
8:50:
One of Zan's big supporters and best friends, Anna Catherine, introduces the singer who is perched outdoors on a red bench. She shows off a range of vocals from her fluttering and soft head-voice to powerhouse high notes.
8:53:
Nick admits Zan's choice was "not an easy song to sing" but she did a "great job." Zan's coach John completely agreed.
"When she sings she's giving you master class in how to jump between your head-voice and your chest-voice, all these incredibly high notes," John said. "It's just incredible and very few singers can accomplish what she's doing."
8:59:
Up next is Thunderstorm from Team Nick. He's dedicating his song, "Home," by Michael Bublé, to his new wife, Faith Artis. He's performing the song from his backyard, which is lit up by string lights and lanterns, in Portland, Oregon.
9:05:
Blake said he was "really kind of zoned in" on what Thunderstorm was doing. He thought the young newlywed did a great job, and he really enjoyed the creativity Thunderstorm brought to the song. Nick also appreciated the fact that Thunderstorm made the song completely his own.
9:11:
Team Kelly's Megan Danielle will perform next. She's been spending the quarantine at home with her family in Douglasville, Georgia. That's who she's dedicating her Fan Week song to. She's singing "What Hurts the Most" by Rascal Flats, and, boy, does she bring on the emotions with that bluesy and powerful voice of her's.
9:17:
Someone pass Kelly the tissues. Megan's performance had her coach on the verge of tears.
"I think that you are so magical. I think your tone is so distinct," Kelly said. "No one on the planet sounds like you."
9:22:
Back from a commercial break and we get a delightful performance by Doja Cat. She's singing her latest single, "Say So," which topped the Billboard Hot 100 chart earlier today.
9:25:
Carson says Allega Miles and Toneisha Harris will be performing right after another short break.
9:29:
Allegra of Team Nick is the next contestant on The Voice to perform. She's singing "Overjoyed" by Stevie Wonder, which is one of Nick's favorite songs. Allegra's dedicating the song to her 92-year-old grandmother, who she hasn't been able to visit in the midst of the coronavirus pandemic.
9:35:
Carson asks John what he thought about Allegra's performance, and John had one thing to say: "Allegra you sang that song!"
Her coach Nick also thought she did a stellar job. "Every performance has been incredible and you just came out and gave—I think—one of your best performances yet in this competition," Nick said.
9:40:
And now for another special performance—this time it's by The Voice Season 18 Mega Mentor James Taylor. He's singing his classic song "Moon River" alongside his son Henry.
9:43:
Next up is Team Blake member Toneisha Harris. She's singing the Celine Dion classic, "Because You Loved Me." She's dedicating the song to her husband, with whom she just recently celebrated 24 years of marriage.
9:49:
Toneisha completely blew the coaches away with her soulful rendition of the song. Even though Toneisha wasn't Kelly's team, the award-winning singer was so moved by Toneisha's performance that she asked The Voice contestant to come and sing at her live show in Las Vegas when it's back up and running. Toneisha's coach Blake also extended an invitation for Toneisha to join him on the stage once he starts performing live again.
9:55:
Team Legend member CammWess is the last contestant to perform tonight. He's chosen to sing "Rainbow" by Kasey Musgraves, and he's dedicating his performance to his 5-year-old cousin Ariana who is suffering from short gut syndrome.
10:00:
John was full of praise for his team member.
"It was stunning. "It was emotional. You took us on a journey," John said. "America, you know what to do. Vote for this man!"
The Voice Season 18, Episode 14 Live Show Round 2 Predictions
While each of the Top 9 artists delivered stand out performances, only five of them will make it on to the finals. Check out our picks for the contestants we think will make it through Tuesday's elimination show below.
Team Blake
Joanna Serenko— Safe
Todd Tilghman— Safe
Toneisha Harris— Eliminated
Team Kelly
Micah Iverson— Safe
Megan Danielle— Eliminated
Team Legend
Zan Fiskum— Eliminated
CammWess— Safe
Team Nick
Thunderstorm Artis— Safe
Allegra Miles— Eliminated